SECRET DOCUMENTS: TRUMP'S ORIGINAL PLAN FOR SAVING AMERICA IS SURFACING [DESPITE GOVERNMENT ASSASSINATIONS CONNECTED TO SECRET FBI AGENTS]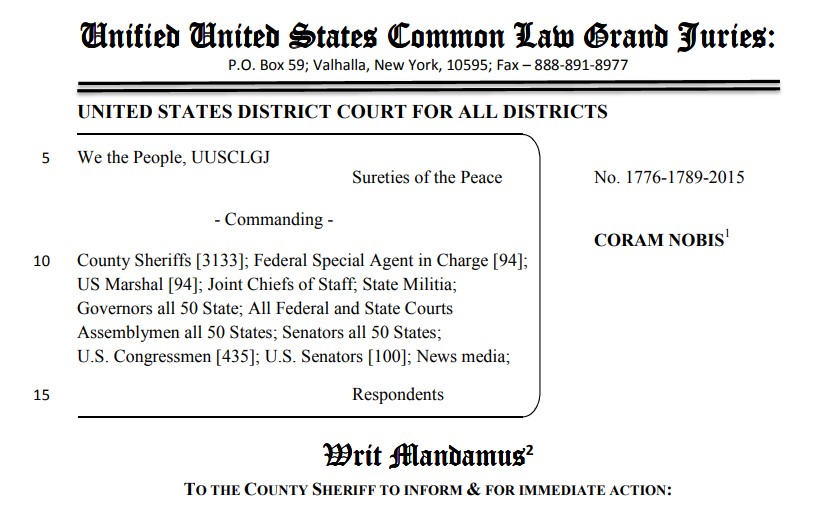 by Pentagon Pedophile Task Force on September 21, 2022 – USA
The following Writ Mandamus was drafted, prepared, and properly served by Congressional Defense Contractor Christopher E. Hallett, CEO, E~Clause LLC, Florida.
BACKSTORY
Hallett filed documents in U.S. Court – Florida's Middle District on November 2, 2020.
Hallett was assassinated in his Ocala, Florida home on November 15, 2020.
Hallett's colleague Neely Petrie-Blanchard was immediately charged with 1st Degree Murder.
Following Hallett's assassination, the documents he filed on November 2, 2020, in U.S. Court VANISHED. The existence of the filing is proven by a receipt from the U.S. Court Clerk that Hallett sent to his colleague Randi Lynn Erickson, Minnesota.  The disappearance of the files was investigated by Attorney Charles Baron, Florida. Baron telephoned the Clerk, and the files could not be located.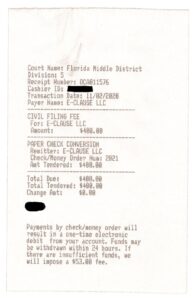 THE PATSY – NEELY PETRIE-BLANCHARD 
According to Logan County Sheriff Stephen Stratton in Kentucky, in March of 2020 the U.S. Secret Service was involved in hunting down Neely Petrie-Blanchard in Kentucky when she took her kids camping (utterly ridiculous).  Blanchard, an agent of E~Clause LLC, was thereby introduced to the American public via an AMBER ALERT scam as a dangerous nut via the Fake News.
~begin snippet~
"Twin girls have been returned to their home after a long day of hard work by law enforcement that ended with an Amber Alert being issued and help by the United States Secret Service," OJ Stapleton reported.
~end snippet~
The FBI was involved in interviewing Blanchard after the Hallett assassination.
Evidence shows there was a well-planned conspiracy to assassinate Hallett.
Ashley Cooper Brown, Minnesota, is an agent of the Florida BAR Association working with the Anoka County Sheriff's Office in Minnesota.
"It gets even better now that we Hallett's computer," Brown said, shortly after Hallett's assassination.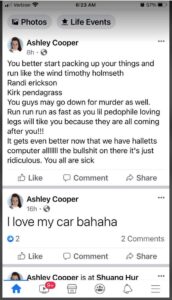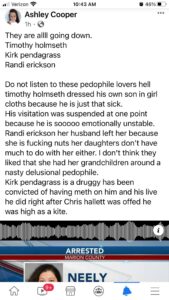 The conspiracy to assassinate Hallett involves William K. Murtaugh, Apopka, Florida. Murtaugh is a media-agent of the FBI who met in person with the Minneapolis FBI regarding publicly announced "Operations" he is running with FBI agents. Murtaugh publicly states the FBI agents he met with in Minnesota told him to keep their names secret.
Retired truck driver in Florida claims to be FBI investigator – says he "predicted" Hallett murder – announces from his trailer home "Neely Blanchard" is "cooperating"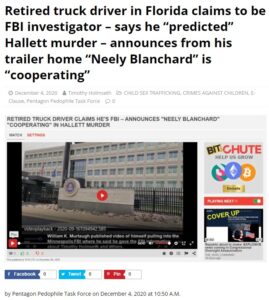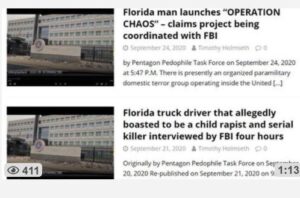 Murtaugh reported that he telephoned the Clerk in Florida's Middle District regarding the Hallett court filing on November 2, 2020. Murtaugh reported the Clerk told him the receipt was a fake. Murtaugh is an operative of the feds whose job is to lie and spread disinformation on the Web to protect government black-ops.
The Fake News advanced the conspiracy to murder Hallett by connecting the murder to what NBC called "QAnon beliefs" and then connecting those 'beliefs' to President Donald Trump.
The following Writ Mandamus by Hallett reveals the sheer magnitude of the work Hallett was doing under Congress and Trump before he was assassinated.
Handbook on the Common Law Grand Jury Hand Book Final