"SO MANY PIECES GOING TO COME TOGETHER NOW" – Jessie Marie Czebotar / July 19, 2022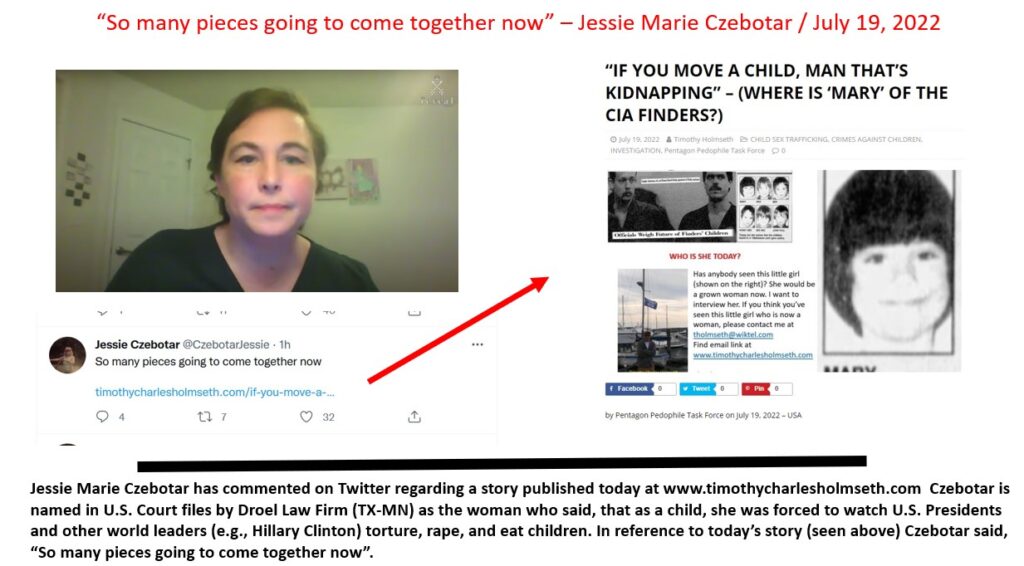 by Pentagon Pedophile Task Force on July 19, 2022 – USA
The following was posted on the GAB account of Timothy Charles Holmseth, today.
~begin~
"SO MANY PIECES GOING TO COME TOGETHER NOW" – Jessie Marie Czebotar / July 19, 2022
by Timothy Charles Holmseth – War Correspondent – on July 19, 2022 – USA
Today I published "IF YOU MOVE A CHILD, MAN THAT'S KIDNAPPING" – (WHERE IS 'MARY' OF THE CIA FINDERS?).
Jessie Marie Czebotar has commented on Twitter regarding a story published today at www.timothycharlesholmseth dot com
Czebotar is named in U.S. Court files by Droel Law Firm (TX-MN) as the woman who said, that as a child, she was forced to watch U.S. Presidents and other world leaders (e.g., Hillary Clinton) torture, rape, and eat children. In reference to today's story Czebotar said, "So many pieces going to come together now".
Believe in me I'm with the High Command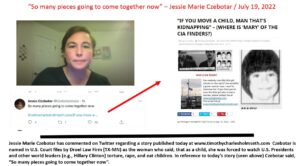 ~end~
About Author