Special Operator: Mike Pence and Gen. John Kelly tried to assassinate President Trump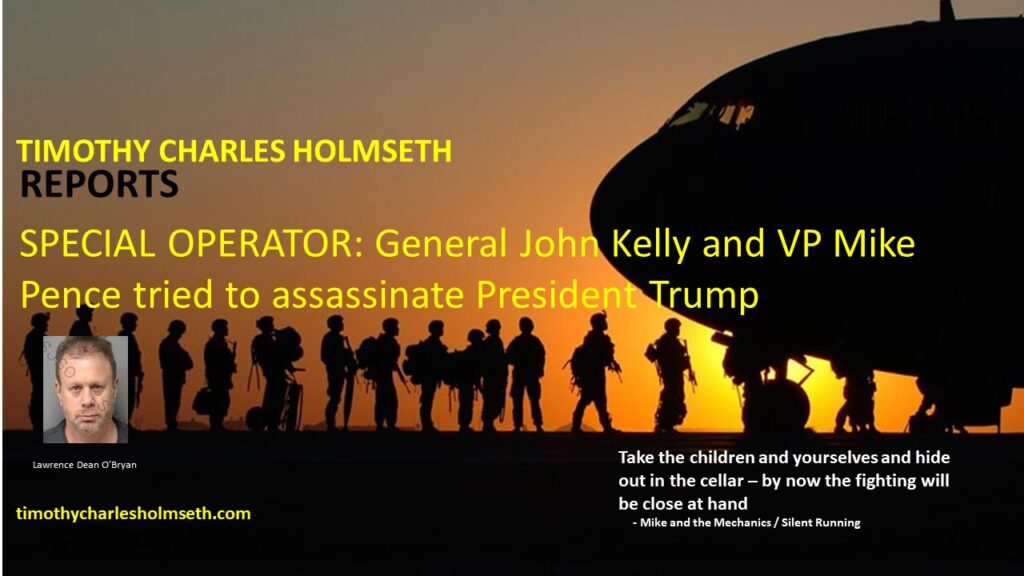 by Timothy Charles Holmseth on February 13, 2020 at 3:27 P.M.
Did General John Kelly and VP Mike Pence attempt to murder President Trump?
According to former special operator Lawrence Dean O'Bryan they did.
There is no doubt there is bad blood between Trump and Kelly.
NBC is reporting President Trump has commented on Kelly. "When I terminated John Kelly, which I couldn't do fast enough, he knew full well that he was way over his head," Trump tweeted. "Being Chief of Staff just wasn't for him. He came in with a bang, went out with a whimper, but like so many X's, he misses the action & just can't keep his mouth shut, which he actually has a military and legal obligation to do."
On February 22, 2018 I (Timothy Charles Holmseth) was contacted by a special operator named Lawrence Dean O'Bryan who served under multiple U.S. presidents.
Go to 37 minute marker and you will hear O'Bryan talk about an attempted coup from within the White House. "Pence has been – Pence, Kelly, I don't know the names of the staff but half the staff were in on trying to force Trump to resign. They try to kill him six times," O'Bryan said.