TEXAS RANGER DPS RECORDS SHOW DAVID STRAIGHT CONNECTED TO SUSPICIOUS FIRE AT PIZZA SHOP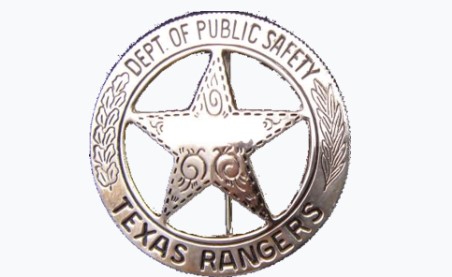 by Pentagon Pedophile Task Force on April 14, 2023 – USA
We are covering the arrests of David Lester Straight and Bonnie Thomas in Johnson County, Texas.
On June 1, 2022, Timothy Charles Holmseth contacted the Texas Rangers at the Texas Department of Public Safety regarding a claim made by David Lester Straight, Keene, Texas, and his (fake) wife Bonnie Straight (Bonnie Thomas) wherein David Straight claimed he and his wife had been chased at high speeds by an assassin who David Straight identified to be a former federal agent, and former member of the U.S. Military.

David Straight said he spoke at an event held at a pizza shop with Allen West; was chased by an assassin; returned and found the piazza establishment had been burned to the ground. David Straight said he saw a flash-bang hand grenade near the burned building and pointed it out to the Fire Marshal.
~begin email~
Timothy Charles Holmseth
www.timothycharlesholmseth.com
xxx.xxx.xxxx
In Re: Arson fire at Allen West campaign site in Texas ignited by flash-bang hand-grenade
June 1, 2022
Texas Rangers
Texas Department of Public Safety
5805 North Lamar Blvd
Austin, TX 78752-4431
Attention Texas Rangers,
I am an investigative journalist and war correspondent.
MY PRIMARY QUESTION:
Was there a building fire at a pizza shop in Texas on September 28, 2021 where Allen West had given a campaign speech only hours before?
FACTS:
On September 28, 2021 Colonel David Lester Straight, Republic of Texas, Texas Rangers (not to be confused with State of Texas, Texas Rangers) and his wife, Bonnie Straight, Counsel General, Republic of Texas, telephoned Randi Lynn Erickson of Minnesota and told me/us the following:
–    The Straight's attended an Allen West for Governor event at a pizza restaurant (I'm not sure of the name of the restaurant or the city) in Texas where Col. Straight was scheduled to speak.
–    Col. Straight observed a man come in and sit down by the door. He said the man was holding something that looked like a Tazer. He took a picture(s).
–    Colonel Straight asked Allen West's people if they recognized the man and they said "no".
–    Col. Straight said he recognized the man as "REDACTED".
–    Col. Straight said he feared "REDACTED" was there to kidnap and murder him.
–    Col. Straight said he and Counselor Straight (his wife) exited out the back of the building.
–    Col. Straight said there was high-speed chase and he got away.
–    Colonel Straight said he returned and the building had burned.
–    Col. Straight said he observed a "flash-bang grenade" next to the building and pointed it out to the "Fire Marshal" who was present. He said he believed the grenade was used to ignite propellant that been placed on the building.
–    I exchanged photos with Col. Straight and told him I thought the photo resembled Vice Admiral Charles W. Moore. He said "no", and insisted it was "REDACTED".
Col. Straight told me has "Secret Service" clearance and that he viewed video of VP Mike Pence raping a little boy.  He said he served on three Presidential Commissions under President Donald Trump including commissions on "Human Trafficking" and "Judicial Corruption".
Col. Straight recently passed a message to me through a third party that he spoke with President Trump's attorney and that Trump wants me stop reporting what I'm reporting because I'm 'ruining something'.
I am not providing a physical address because I (and former Minnesota tribunal judge Randi Lynn Erickson) have been targeted for kidnap and assassination by a paramilitary group comprised of former Navy SEALS, special operators, and former federal agents (see REDACTED – U.S. Court, MN).
Please use email or the telephone number provided above.
Respectfully submitted,
Timothy Charles Holmseth
Investigative Journalist/War Correspondent
Attached: 3 jpgs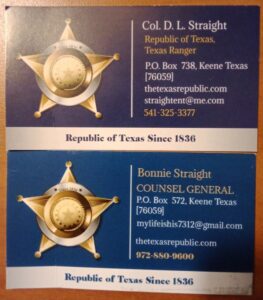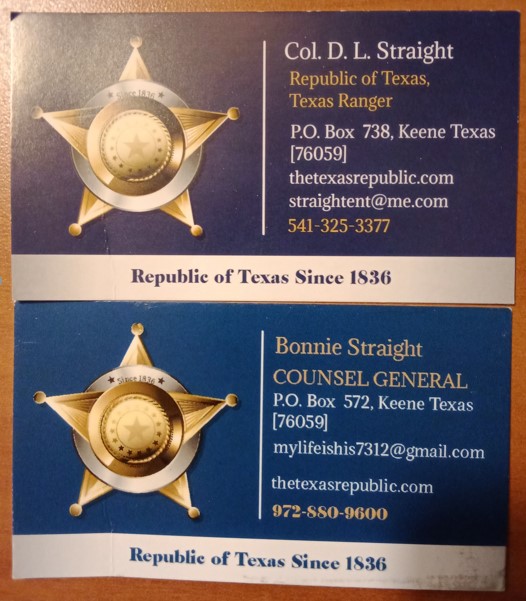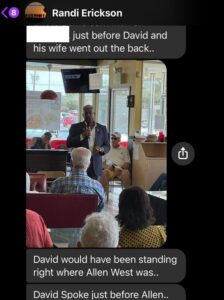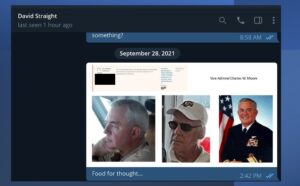 ~end email~
On April 14, 2023, TIMOTHY CHARLES HOLMSETH REPORTS reported, "TEXAS MAN WHO CLAIMED KNOWLEDGE OF MASS MURDER OF 300 CHILDREN ARRESTED (HIS COURT FILES VANISHED FROM THE GOVERNMENT WEBSITE A FEW DAYS LATER)".
The report said in part, "On April 14, 2023, a poster on Telegram using the name Melanie Fletcher said, "Now why doesn't this surprise me? The first time I met David and Bonnie was in Hurst, Texas and they came the same day as Allen West, Tim O'Hare And Sheriff Waybourn our Tarrant County Sheriff to our Texans United for Texas meeting.  Anyone remember hearing about our meeting place burning down? Seems way more suspicious now because David and Bonnie kept trying to convince those of us who visited the rT that they could only keep us safe in their building because it was an Embassy and they had a land patent. They told us if we had meetings anywhere else that they couldn't protect us".