TEXAS MAN WHO CLAIMED KNOWLEDGE OF MASS MURDER OF 300 CHILDREN ARRESTED (HIS COURT FILES VANISHED FROM THE GOVERNMENT WEBSITE A FEW DAYS LATER)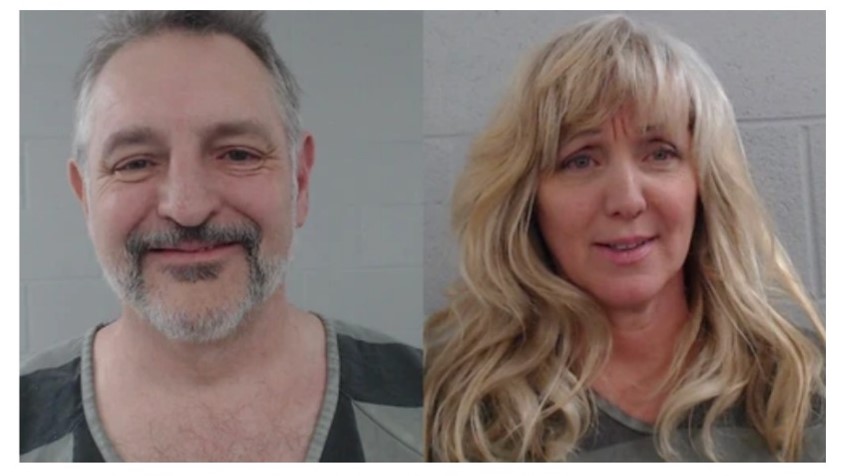 by Pentagon Pedophile Task Force on April 14, 2023 – USA
Mystery surrounds records that abruptly vanished from the online government court records system in Johnson County, Texas, regarding the arrest and incarceration of David Lester Straight.
Timothy Charles Holmseth has reported on Truth Social that investigators with the FBI and Texas DPS are assigned to the matter.
Here's what we know.
DAVID LESTER STRAIGHT and BONNIE STRAIGHT (THOMAS)
Straight has identified himself as U.S. Secret Service, former Navy SEAL, former Deputy Sheriff, member of 3 Presidential Commissions (i.e., Human Trafficking, Judicial Corruption, Space Force) under President Donald J. Trump, Ambassador to New Zealand, and the Colonel of the Republic of Texas – Texas Rangers.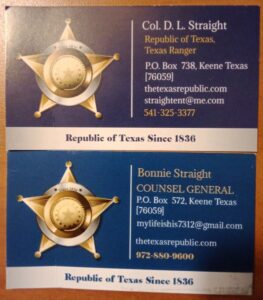 On April 10, 2023, Timothy Charles Holmseth posted on Truth Social that a man named Bobby Lawrence reported on his Telegram social media account that "Bonnie Straight" had been arrested and was in the custody of the Johnson County Sheriff's Office in Texas.
Lawrence said, "Bonnie Straight" had been "arrested" by a "Swat team".
SWAT means Special Weapons and Tactics. Lawrence put out a call to action to the public, asking people to call the Sheriff's Office and encouraging them to ask for the Sheriff to produce proof the warrant used to arrest Bonnie Straight.
Lawrence said Bonnie "Straight" was arrested. However, Lawrence was actually referring to Bonnie Thomas, which is the name published by the Sheriff's Office that features a photo of Bonnie Thomas.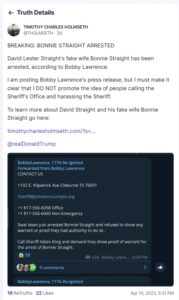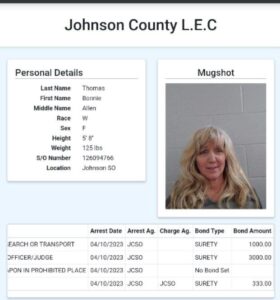 Subsequent reports revealed David Lester Straight, the man who calls Bonnie Thomas his "wife" was also arrested.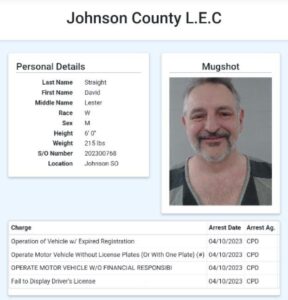 The charges against David Straight are simple and straightforward, as they are Misdemeanor traffic violation type tickets. However, the charges against Thomas are less clear. Thomas is charged with various Misdemeanors of which a bond has been assigned. However, there is a felony count regarding a 'weapon in a prohibited place' for which no bond is assigned and thus – Thomas is still in jail.
PRIOR ARREST FOR WEAPON IN PROHIBITED PLACE IN 2015
On October 24, 2015, the Cleburne Times-Review published "Psych evaluation ordered for alleged pistol packing mom". "A Keene woman arrested Wednesday for allegedly carrying a loaded handgun into the Guinn Justice Center will continue to be held without bond pending the results of a psychological evaluation," the Times-Review reported.
That was 8 years ago.
However…
Public records indicate Thomas was charged with the same firearm offense from 2015, yet again, on April 10, 2023.
On April 14, 2023, Bobby Lawrence posted a challenge on Truth Social for the public to look and see if Straight's name and records still appeared in the court system. They don't.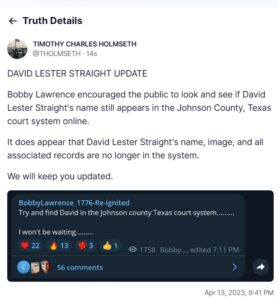 Questions are swirling around the fact that the arrest records of David Lester Straight vanished from the online court records.
Social media is abuzz with questions regarding public records.
Some of the questions people are asking are:
Who made the records vanish?
On what authority did the person who made the records vanish; make the records vanish?
Why did the unknown person make the records vanish?
If David Lester Straight's records can be made to vanish within a few days of his arrest; can everybody else who has court records online have their records be purged, as well?
On April 13, 2023, Timothy Charles Holmseth posted on Truth Social.
~begin~
MASS MURDER O[f] 300 CHILDREN
David Lester Straight told me in 2019 [h]e was U.S. Secret Service and that he assisted the U.S. Marines with the transfer of 2,100 children from their confinement in cages underground in California. He said most of the children had been originally kidnapped by Child Protective Services (CPS).
Straight subsequently told me 300 of the children died. That is mass murder.
Straight now cannot tell me where the children are, or where the dead are buried.
Developing…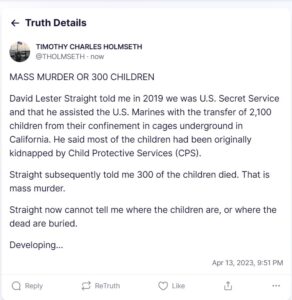 ~end~
On July 15, 2022, TIMOTHY CHARLES HOLMSETH REPORTS published "RELEASED: PRELIMINARY INVESTIGATIVE TIMELINE of COUP AGAINST PRESIDENT TRUMP by INTERNATIONAL HUMAN TRAFFICKING CARTEL".
The timeline contained an entry that said: "SEPTEMBER 28, 2021 – David Straight and Bonnie Straight telephoned Randi Erickson and told her that [REDACTED] came to a speaking event with Allen West and sat by the door with a stun-gun. The Straight's describe a high speed chase whereby the Straight's were chased. David Straight said he returned later and the building had been burned to the ground. Straight said he observed a flash-bang hand grenade on the ground and said he pointed it out to the Fire Marshal".
On April 14, 2023, a poster on Telegram using the name Melanie Fletcher said, "Now why doesn't this surprise me? The first time I met David and Bonnie was in Hurst, Texas and they came the same day as Allen West, Tim O'Hare And Sheriff Waybourn our Tarrant County Sheriff to our Texans United for Texas meeting.  Anyone remember hearing about our meeting place burning down? Seems way more suspicious now because David and Bonnie kept trying to convince those of us who visited the rT that they could only keep us safe in their building because it was an Embassy and they had a land patent. They told us if we had meetings anywhere else that they couldn't protect us".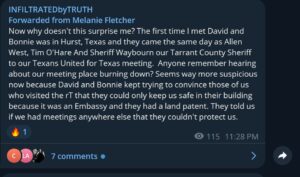 ALLEN WEST AND THE KNIGHTS TEMPLAR
Fletcher posted that David and Bonnie Straight attended a gathering at her establishment with Allen West; and then the building burned to the ground.
Below you will see an image of West in his Military Order of the Temple robe.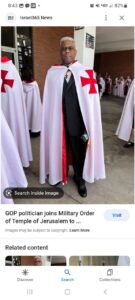 On February 15, 2023, TIMOTHY CHARLES HOLMSETH REPORTS published, "EYEWITNESS TO HILLARY CLINTON TORTURING CHILD AND EATING HER PINEAL GLAND WANTS TO TESTIFY BEFORE CONGRESS (SIGN THE PETITION)".
The article read as follows:
~begin~
by Pentagon Pedophile Task Force on February 14, 2023 – USA
Jessie Marie Czebotar has signed sworn statements for the U.S. Court, swearing that when she was a child she eye-witnessed Hillary Clinton and other world leaders torture, rape, murder, and eat children.
Czebotar eye witnessed Elon Musk being raped with an object connected to a statue of Jesus.
Czebotar has turned over troves of specific details about secret military programs involving the torture of children and crimes against humanity. Czebotar explained a plot by what is called the Sovereign Military Order of Knights Templars. Czebotar has been in TOP SECRET military installations and can describe the interiors.
Czebotar wants to testify before the Weaponization of the Federal Government subcommittee.
There is a growing amount of support for Czebotar online and on social media by Americans who want Congress to take Czebotar's testimony under oath.
Czebotar has published a request which is shown below. She asks you contact her at Czebotarj@gmail.com to have your named added to the Petition.
Czebotar's Twitter – – – Jessie Czebotar (@CzebotarJessie) / Twitter
Czebotar's TRUTH SOCIAL – – – @czebotarjessie | Truth Social
~end~