TIMOTHY HOLMSETH ANNOUNCES JOURNALISTIC INVESTIGATION PURSUANT TO Executive Order 14093 'Prohibition on Use by the United States Government of Commercial Spyware That Poses Risks to National Security'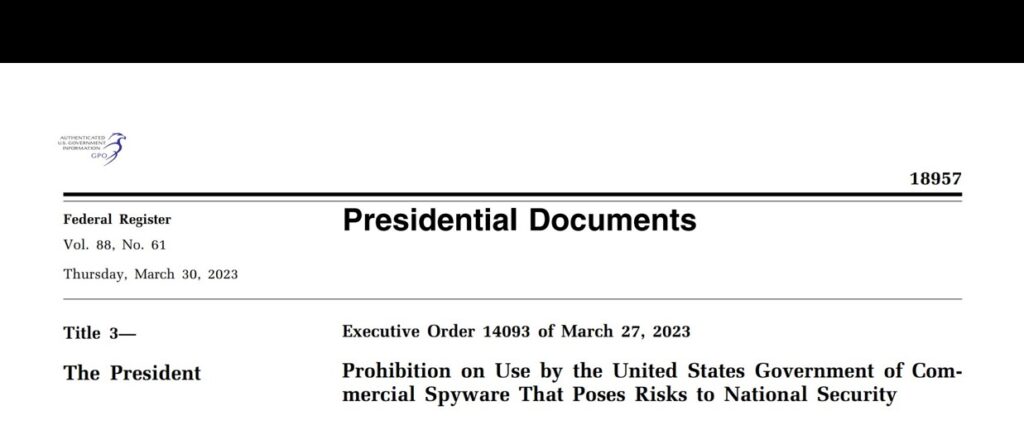 by Pentagon Pedophile Task Force on April 7, 2023 – USA
Timothy Charles Holmseth posted today on Truth Social an investigation regarding issues of National Security as set forth by a recent Presidential Executive Order.
On September 30, 2022, we reported "SPECIAL INVESTIGATION: Foreigners STEALING all the land RECORDS in Minnesota".
On October 1, 2022, we reported "SPECIAL INVESTIGATION: FIDLAR TECHNOLOGIES NOT ONLY POSSESSING ILLEGALLY TRANSFERRED LAND DEEDS – FIDLAR IS PROVIDING ELECTION SERVICES TO DOMINION AND VOTE BY MAIL".
On October 17, 2022, we reported "AZ ATTORNEY GENERAL AND PHOENIX FBI ALERTED TO EVIDENCE OF PLOT INVOLVING GREGG PHILLIPS TO OVERTHROW THE U.S. GOVERNMENT".
~begin~
I am conducting multiple journalistic investigations related to Presidential Executive Order 14093 'Prohibition on Use by the United States Government of Commercial Spyware That Poses Risks to National Security'.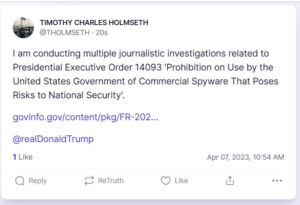 ~end~
About Author