THERE'S A KNOCK ON MY DOOR! DO I HAND OVER MY BABY?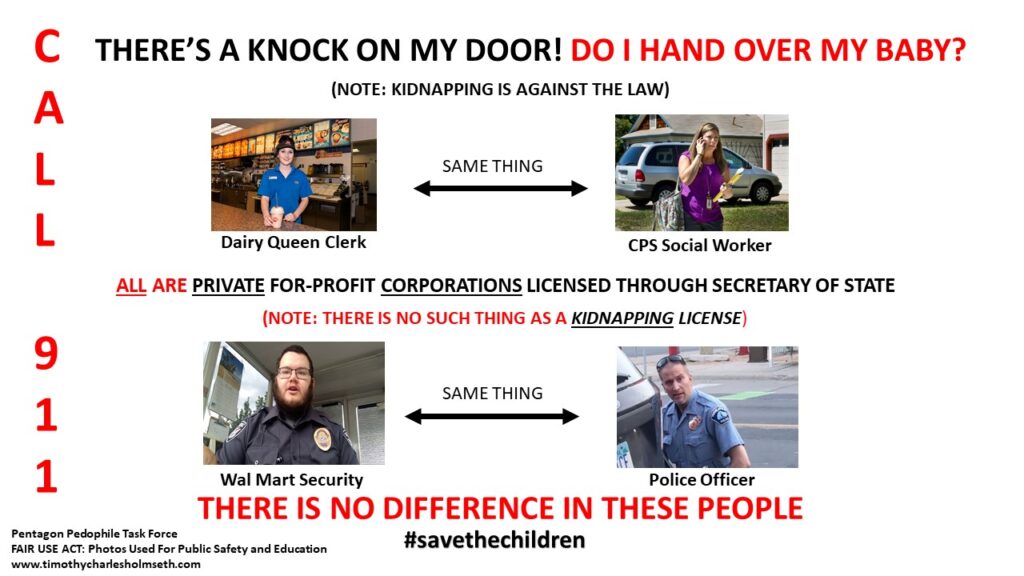 by Marlene K. Henderson on August 30, 2020 at 9:43 A.M
KNOCK KNOCK
WHO IS IT?
CPS AND POLICE
Do you open your door???
NO!!!!!!!!!!
"You must learn this lesson fast, and learn it well…" C. Rea / The Road to Hell
Here's why.
For instance…let's say…a person dressed in a Dairy Queen uniform comes to your home and demands to take custody of your child – would you hand your child over to them?
Of course not, right.
What if the Dairy Queen employee is accompanied by a Wal-Mart employee with a security guard badge on? Would you hand your baby over to them, then?
No, of course you wouldn't.
You aren't going to give your kid to a burger-flipper and a mall cop.
But…
What if a CPS social worker and police officer are standing outside your door?
What do you do?
You treat them the EXACT SAME WAY you would treat a Dairy Queen burger flipper and a mall cop!!!
There is no difference. They are all simply corporate employees that are licensed through the Secretary of State.
Here's what you do.
You call 911 and tell them you have EMERGENCY. You tell them you believe somebody has come to your home to kidnap your child(ren) and ask for assistance from the SHERIFF'S OFFICE.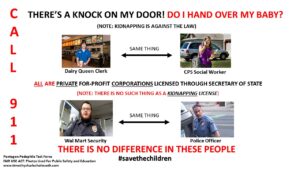 About Author