TIMOTHY CHARLES HOLMSETH RESPONDS TO THE WASHINGTON TIMES' REQUEST FOR COMMENT FROM HOLMSETH ABOUT DAVID LESTER STRAIGHT, FBI, & SOVERIGN CITIZENS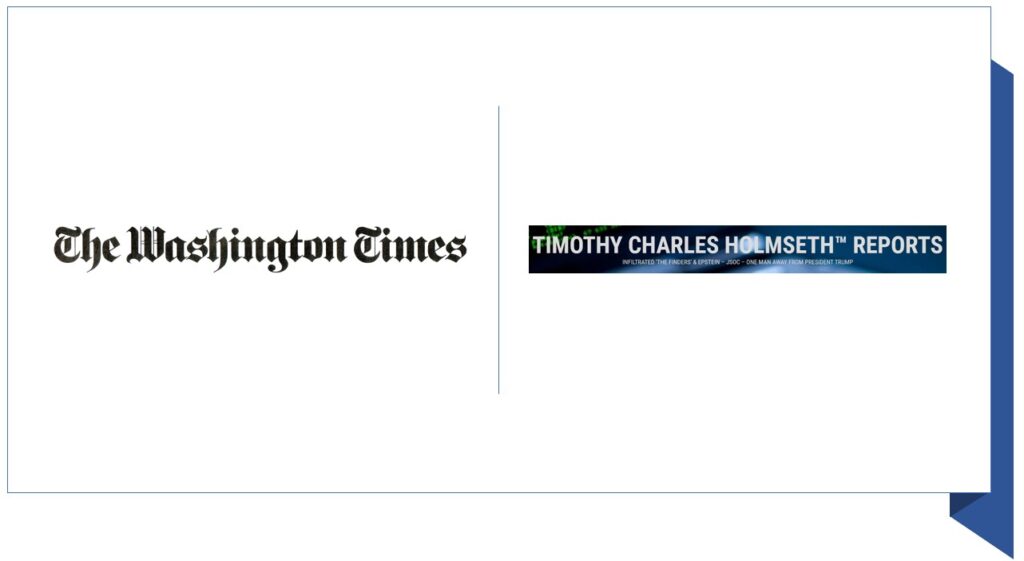 by Pentagon Pedophile Task Force on March 19, 2023 – USA
The following was posted on the Truth Social account of Timothy Charles Holmseth, today.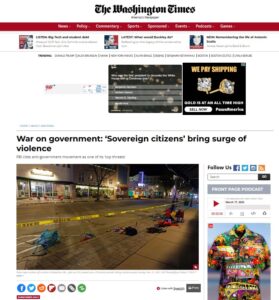 ~BEGIN TRANSCRIPTION~
Attn: Sean Salai
The Washington Times
March 19, 2023
Dear Mr. Salai,
I'm sorry I didn't respond to your email – I've been traveling, and it got lost in the shuffle. I thought I kicked out a response to you at The Washington Times, but I didn't. So much going on.
I read your news story entitled "War on government: 'Sovereign citizens' bring surge of violence – – – FBI cites anti-government movement as one of its 'top threats'".
I was so happy to see you were interested in my investigative work product.
I see you mentioned David Lester Straight and Bobby Lawrence in your story but did not provide any details about their activities.
YES! – absolutely – please feel free to use any of the recordings or story material I obtained and published when I infiltrated the QAnon movement and fraudulent American State National movement.
Yes – the State National movement is DANGEROUS.
David Straight told me (on a recorded call) he was/is a U.S. Secret Service agent and said he viewed videos of VP Mike Pence raping a little boy (I reported it to the U.S. Secret Service). Straight told me he assisted the U.S. Marines in the transfer of 2,100 children from cages underground in California (he said 100 died) (I reported it to the Feds). Straight told me he was meeting Attorney Lin Wood in Washington DC on January 6, 2021. Straight said he drafted an indictment and explained their plan to arrest and hang members of U.S. Congress on January 6, 2021 in Washington DC (recorded call).
I exposed David Straight and his fake wife Bonnie and the "Embassy" they set up in Keene, Texas (under the United Nations), where Straight says he is a "Colonel" and a Republic of Texas – Texas Ranger. His wife is the "Counsel General". SEE ATTACHED JPG. She told me she has President Trump's telephone number, which she said she obtained from David Straight, and can call Trump any time she wants. The Straight's keep evidence that David Straight gathered of child sex trafficking and crimes against humanity kept inside their Embassy. Straight gathered the evidence by claiming he was a federal agent and said he was working on three Presidential Commissions created by President Donald J. Trump. He said he reports and delivers evidence to Joint Special Operations Command (JSOC). He said the commissions were "Human Trafficking" "Judicial Corruption" and "Space Force". He said he worked directly with Melania Trump. I heard him on the telephone – he said he was talking to Melania Trump. I'm thinking now it was his fake wife Bonnie doing a foreign voice. Bonnie Straight is an expert at doing 'voices'.
David Straight has members of Witch covens working with him.
David Straight's most recent endeavors center around 9-11 Whistleblower Field W. McConnell. I personally met Field McConnell a few times in 2019 as a guest on his show Abel Danger. Field and I don't know each other beyond a few sidewalk conversations. You might focus on David Straight's interest in McConnell. I know that a woman named Paula C. Blades set up a Twitter account called "Paula Loves Children". She said she was working with the NSA and 5-Eyes Intelligence. During my investigations I obtained written statements from Blades SEE ATTACHED JPG that she was fired from a Daycare center for inappropriate behavior with children. Her employer kicked her out and told her to seek a doctor. Paula C. Blades has announced she is launching a You Tube show with Field McConnell called ALGN radio. McConnell has publicly stated he is a staunch supporter of the anti-pedophile and child trafficking movement. His involvement with Paula C. Blades is very strange. There is a video circulating of a man named (I believe) Steven Tenner who is reporting McConnell is in danger and somebody is running around McConnell's house naked. McConnell appears to be a vulnerable adult. I'm not sure if a report was made to the Pierce County Sheriff's Office in Wisconsin. You might want to check. There is a photo of Field McConnell online and he appears in shock and despondent. Paula C. Blades posted a photoshopped picture of Field McConnell naked with a strap-on dildo (SEE ATTACHED JPG), and other very disturbing and perverted pictures. I'm not sure if a welfare check has been made to see if McConnell is safe and okay.
ALERT!!! CRAZY PERSON RUNNING AROUND FIELD MCCONNEL'S HOUSE NAKED !!! [NOT A JOKE]
https://www.bitchute.com/video/1JuCd3WZ8jtm/
You did a GREAT JOB on your story. I'm sorry I neglected to respond to your request for comment. If you do a Part 2 please have at it.
You can confirm my statements are true and correct because I filed a federal RICO case that lays out the details of much of my investigations. You can find that at Holmseth v. Page et al – 3:22-cv-00912 – Middle District of Tennessee.
Below are a few videos somebody published on a Bitchute channel somebody set up called The High Command.
"I HAVE SECRET SERVICE CLEARANCE" TO VIEW VIDS OF VP MIKE PENCE RAPING A LITTLE BOY – DAVID STRAIGHT
https://www.bitchute.com/video/Td4iqmJxnbte/
"WE'RE GOING TO TRY THEM IN THE PUBLIC…WE'RE GOING TO HANG THEM" [SECRET SERVICE] DAVID STRAIGHT
https://www.bitchute.com/video/S8HmGqm8H1DF/
You have permission to use content from TIMOTHY CHARLES HOLMSETH REPORTS www.timothycharlesholmseth.com [source attribution would be appreciated but not required].
Respectfully yours,
Timothy Charles Holmseth
War Correspondent/News Reporter/Investigative Journalist/Publisher/Federal Plaintiff
~END TRANSCRIPTION~
The following photos are believed to be the attachments sent to the Washinton Times.