OPERATION MORSE CODE (CAPTAIN FIELD MCCONNELL TRYING TO BLINK T-O-R-T-U-R-E ???)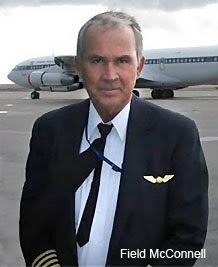 by Pentagon Pedophile Task Force on March 20, 2023
Timothy Charles Holmseth has made several posts on Truth Social regarding the declining health of 9-11 Whistleblower and retired fighter pilot, Captain Field McConnell.
Holmseth said he does not know the present welfare status OF McConnell, or whether or not anyone has contacted the Pierce County Sheriff's Office in Wisconsin to check on McConnell.
Holmseth announced he is conducting an independent journalistic investigation into McConnell's immediate situation pursuant to Elder Abuse laws in the State of Wisconsin.
Holmseth's concerns appear to be connected to a broadcast made by a man named Steven Tenner who said he believes McConnell is in "danger" and somebody is running around McConnell's house "naked". The identity of the person, if Tenners claims are true, running around naked, would be known by the Pierce County Sheriff's Office if a report was made.
Today, based upon emerging information, Holmseth upgraded the gravity of the situation by naming his story "Operation Morse Code" which stems from the story of the pilot who famously blinked out the words T-O-R-T-U-R-E while being forced by his captors to make an on-camera public statement after being shot down in Vietnam.
Holmseth said the investigation now involves "Jeffrey Epstein" "Ukraine" and "Child Trafficking".
There is speculation that the story's name change indicates McConnell is being forced to do or say something that he does not want to do or say.
Holmseth added that court records from Florida are being examined.
Holmseth is reporting that McConnell reportedly became deathly ill and almost died after a stranger named Paula C. Blades entered McConnell's life. Holmseth said reports are that others soon traveled to enter McConnell's home and became deeply involved in his life. The report by Tenner indicates this shadowy group is hurting McConnell.
Records are showing Paula C. Blades claims to be an agent of the NSA and 5-Eyes intelligence. Blades claims affiliation with retired Army General Michael Flynn.
Blades told Randi Lynn Erickson, Minnesota, in a text exchange, that she (Blades) was abruptly "fired" from a daycare center for inappropriate behavior with children. Blades' employer told her to seek help from a doctor.
Blades published a picture that depicted McConnell naked wearing only a strap-on dildo. Other photos on social media show McConnell appearing despondent and traumatized.
McConnell has been a federal plaintiff and 9-11 whistleblower. He has also reported extensively on child sex trafficking.
McConnell is presently under a gag order and cannot speak publicly.
Oddly, Blades has been running wild on social media using McConnell's name and image and claiming to be his spokesperson. Blades has set up a You Tube channel for a radio program called ALGN (A Little Good News) that she says is going to feature McConnell once his gag order is lifted. McConnell cannot confirm or deny anything Blades says because it would be a violation of a court order.
Blades recorded McConnell for an interview that was published in 2022. During the bizarre spectacle, McConnell repeatedly choked up and sobbed. Records show that his wife, best friend, best friend's wife, and others, all died suddenly in the past couple years. Blades relentlessly needled McConnell during the interview to talk negatively about "Timothy Charles Holmseth" and "Randi Lynn Erickson". McConnell almost sounded to plead with Blades when he said he 'wants to keep it positive'.
Evidence shows a very small group of complete strangers have entered McConnell's life and home and are now selling McConnell's books and keeping the money.
Holmseth reported today:
~begin~
UPDATE ON OPERATION MORSE CODE
Facts and evidence PROVE David Lester Straight and his "Embassy" in Keene, Texas is involved in the situation involving Field McConnell.
Straight claims he's U.S. Secret Service working with Melania Trump and has gathered evidence of child trafficking and crimes against humanity.
Straight said he assisted the U.S. Marines to transfer 2,100 children from cages underground in California.
Straight said he and others were going "hang" members of Congress on J6.
~end~
This is a developing story.
Click HERE to visit Holmseth's Truth Social