TRUMP IN RAPID CITY, SD: OPERATIVE PANICS AND TRIES TO USE COPS TO CLEAR OUT THE 'TRUMP INTERSECTION' AFTER CBS PHOTOGRAPHS TIMOTHY HOLMSETH & HOLMSETH TELLS REPORTER TRUMP KNOWS ABOUT CHILD SEX TRAFFICKING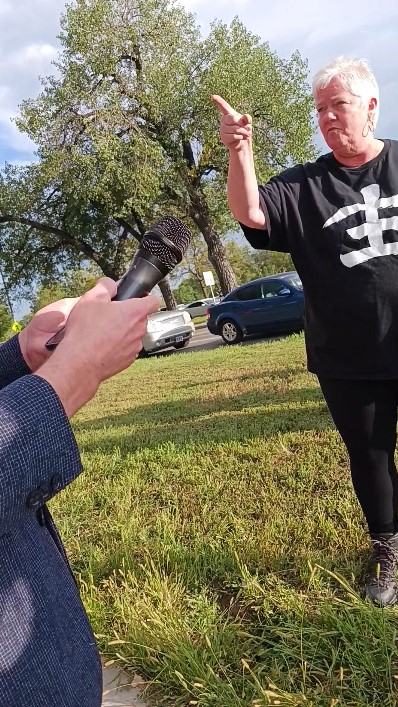 by Pentagon Pedophile Task Force on September 9, 2023 – USA
Video appeared today on Bitchute that showed Timothy Charles Holmseth was present outside the Donald Trump event in Rapid City, South Dakota on September 8, 2023. The video shows Holmseth was approached by a CBS reporter and photographed. Holmseth was subsequently interviewed by a reporter based out of Texas. During the interview, Holmseth said President Trump knows all about the international human trafficking and child sex abuse and, Holmseth said, the 'bad guys' must NEVER allow Trump to be President.
Holmseth said the indictments against Trump are "election interference".
As Holmseth was being interviewed, and had begun talking about the child trafficking, a woman approached Holmseth and the interviewer and said, "You have to move off this corner. We got permits for this corner. You can do it now or you can have the police come over and clear you out," she said.
Holmseth asked the woman for her name, but she refused to give it.
The narrative below the video said:
~begin~
RAPID CITY, SOUTH DAKOTA – SEPTEMBER 9, 2023 – TRUMP EVENT
***** AN OPERATIVE ATTEMPTED TO CLEAR OUT THE ENTIRE PRO TRUMP INTERSECTION AT THE TRUMP EVENT IN RAPID CITY, SOUTH DAKOTA ON SEPTEMBER 8, 2023. THE OPERATIVE WAS MONITORING AND LISTENING TO TIMOTHY CHARLES HOLMSETH BEING INTERVIEWED WHEN HOLMSETH TOLD THE REPORTER THAT PRESIDENT TRUMP KNOWS ABOUT THE HUMAN AND CHILD SEX TRAFFICKING AND THAT THE ENEMY CAN NEVER ALLOW TRUMP TO BE PRESIDENT AT ALL COSTS. THE OPERATIVE APPROACHED AND CLAIMED TO HAVE A PERMIT FROM THE "CITY" AND SAID THE POLICE WERE GOING TO CLEAR THEM OUT IF THEY DIDN'T LEAVE. THE ATTENTION ON TIMOTHY HOLMSETH BEGAN WHEN CBS – RAPID CITY – APPROACHED HOLMSETH AND TOOK A PICTURE OF HOLMSETH AND HIS "NEVER SURRENDER" TRUMP MUGSHOT SHIRT. HOLMSETH SHOWED THE CBS REPORTER HIS BOOK ABOUT THE FBI AGENT THAT RAN A BLACK-MARKET BABY SALES OPERATION THROUGH THE UKRAINIAN EMBASSY IN WASHINGTON DC. HOLMSETH TOLD CBS HE'S A FEDERAL PLAINTIFF; THAT LIN WOOD TWEETED HIS MEMO TO PRESIDENT TRUMP SHORTLY BEFORE J6, AND THAT HE (HOLMSETH) WAS INTERVIEWED BY THE FBI. *****
~end~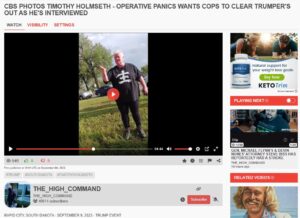 About Author