#OPERATIONNEVERSURRENDER – 100% SUCCESS AT TRUMP EVENT in RAPID CITY, SOUTH DAKOTA on SEPTEMBER 8, 2023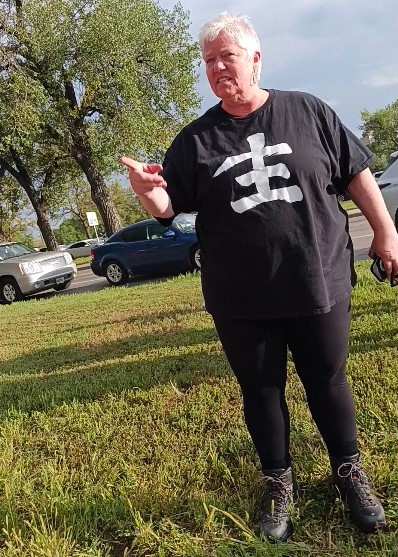 ENTERING BEDMINSTER, NEW JERSEY
by Pentagon Pedophile Task Force on September 11, 2023 – USA
On August 24, 2023, Donald Trump posted a mugshot on TRUTH SOCIAL that was "made" of him. Below the mugshot Trump said, "ELECTION INTERFERENCE" "NEVER SURRENDER" "DONALDJTRUMP.COM".
On August 25th, 2023, a video appeared on a Bitchute channel called "The_High_Command" that was entitled "NEVER SURRENDER" and featured Trump's mugshot alongside a mugshot of Timothy Charles Holmseth, a news reporter, investigative journalist, publisher, and war correspondent.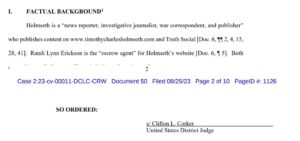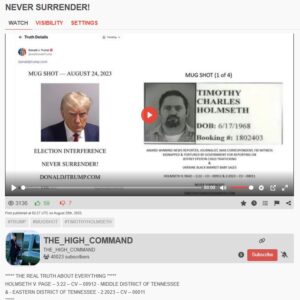 #OPERATIONNEVERSURRENDER
On Friday September 8, 2023, President Donald J. Trump spoke to a completely packed arena in Rapid City, South Dakota where he received the endorsement of South Dakota's Republican Gov. Kristi Noem who is backing Trump's 2024 run.
Outside the event, which was held at The Monument Ice Arena, a crowd had assembled at the intersection where media was milling about, pro-trump merchandise tents were set up, and people both for, and against Trump, were holding signs as cars honked.
Timothy Charles Holmseth, accompanied by his escrow agent, former Minnesota truth and taxation judge (real government judge through the Department of Commerce – NOT a BAR attorney) Randi Lynn Erickson, arrived at the event. The parking lots were completely full and the activities surrounding the Trump event had been in full swing for hours.
NOTE: Erickson is licensed through the Department of Commerce and has worked with a liaison to Joint Special Operations Command (JSOC) and the United States Army Intelligence Support Activity. Erickson's actions may have averted a national catastrophe when she passed intelligence to her contact at Fort McCoy, Wisconsin of [secret] retired Poseidon missiles fitted with biological weapons. Erickson received the intelligence from crimes against humanity whistleblower Jessie Marie Czebotar who was shown the missiles. Erickson's (and Holmseth's) attorney, Steven S. Biss has authored a VERIFIED COMPLAINT under civil RICO for his client, Erickson, wherein Biss cites an eyewitness account of Jessie Marie Czebotar who watched a named Defendant as he burned children with scalding hot water to raise their adrenochrome levels whereupon Hillary Rodham Clinton tore a gland out of a burned little girl's head and ate it). Biss is also the attorney of former Congressman turned TRUTH SOCIAL CEO Devin Nunes, retired U.S. Army General and National Security Advisor for Trump, Michael Flynn, as well as the attorney of Timothy Charles Holmseth. Biss said he is ready to file the RICO using an attorney to file it in Minnesota.  
Holmseth carried a copy of his book "In Re: HaLeigh Cummings (the shocking truth revealed)" and together they walked to the intersection. Holmseth carried the book in plain sight.
Holmseth immediately went to a merchandise tent and purchased a t-shirt of President Trump's mugshot. Holmseth and Erickson then walked across the street to the front The Monument where there was law enforcement, security, and media. He changed into his brand-new Trump mugshot shirt and did a video statement in front of the facility. Holmseth and Erickson then walked back across the parking lot to the intersection.
Based upon information – Erickson stood back and monitored the crowd (she knew what she was watching for).
While standing at the intersection, Dan Santella, a television news reporter for CBS affiliate KELO, approached Holmseth and asked if he could film him. "Can I take a picture of your shirt," Santella said. Holmseth said yes.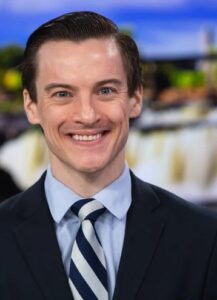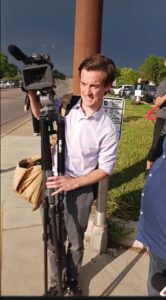 Holmseth identified himself to Santella as a "federal plaintiff" in a RICO action (Holmseth v. Page et al – 3:22-cv-00912-Middle District of Tennessee), as wells as a civil rights action (2:23-cv-00011-Eastern District of Tennessee) that both involved President Donald Trump.
Holmseth told Santella that shortly before the events of J6, on January 4, 2021, Attorney Lin Wood launched his famous tweet storm with a tweet to President Donald Trump that contained Holmseth's MEMO to AG Jeff Sessions that warned Trump about Mike Pence and an international child sex trafficking operation being run through the U.S. Embassy (Ukrainian Embassy) by an FBI agent using the name "John Regan" – which Wood told the President and world to read.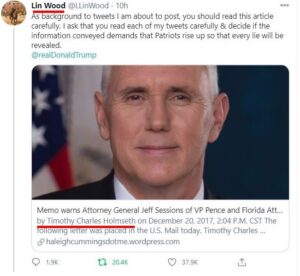 Santella appeared irritated and dismissive of Holmseth when Holmseth mentioned Trump and child sex trafficking. He then walked across the street to where pro-Biden demonstrators were assembled.
Only a short time later, Luke Beasley, a political commentator from Texas who hosts The Luke Beasley Show on You Tube, along with a female camera person, approached Holmseth.  "Want to be interviewed," Beasley said. Holmseth replied, "sure". "Nice shirt," Beasley said, asking Holmseth to explain the shirt.
Beasley began a discussion with Holmseth about the indictments against Trump. Holmseth told Beasley the "charges against him are laughable and ridiculous" explaining that it's "election interference".
Beasley spoke of the indictments against Trump as if there was nothing suspicious at all about the unprecedented felony charges against a President (during his campaign where he is the frontrunner beating everyone) for 'crimes' that are not even crimes (e.g., President Donald Trump's actions fall under the Presidential Records Act and are not even criminally chargeable) were entirely legitimate and should be treated with nothing but complete trust and reverence.
Holmseth told Beasley the true cause of Trump Derangement Syndrome.
"I have evidence and I've been interviewed by the FBI about international human and child sex trafficking and the fact of the matter is President Trump knows about all that stuff and that's why he's being targeted. They have to stop him. They simply cannot let President Trump ever be the President again because they're the ones that are going to get arrested," Holmseth said.
Beasley then asked Holmseth about "Mike Pence" and his actions on January 6, 2021. Holmseth discussed the Pence issue with Beasley. Holmseth was preparing to tell Beasley about a self-professed U.S. Secret Service agent named David Lester Straight who told Holmseth he assisted the U.S. Marines in the transfer of 2,100 children from cages underground at the China Lake military installation in California – that were moved through Johnson County, Texas. Holmseth was about to tell Beasley that Straight told him (Holmseth) he viewed a video of Mike Pence raping a little boy during a conversation Holmseth recorded.
It was right at that moment a woman abruptly approached Holmseth and Beasley and said, "You need to move out of this corner. We got permits for this corner. You can do it now or you can have the police come over and clear you out. This is our corner we've got a permit for it – you don't. Move out!" the unidentified woman said.
Beasley, the youthful media personality who appeared to believe himself wise in the ways of the law, who only moments before was supporting the Trump indictments, talking about the 'rule of law', and referring to Constitutional scholars, immediately and sheepishly complied with the unknown woman who was carrying no credentials while claiming to have complete authority of public property at an intersection that had no postings whatsoever.
Holmseth politely confronted the woman and said, "who's your permit with?" The woman replied, "the city". When Holmseth asked the woman her name, she refused to give it.
There is speculation that Alexandra Koukounakis, Canada, whose investigative research of organized crime and satanic organizations is unparalleled, plans to telephone the police department and other government offices in Rapid City, South Dakota to determine the identity of the woman in the video and to ask if she truly possessed a permit from the City of Rapid City. If Koukounakis files a report online we will cover it.
*****
Timothy Charles Holmseth is being called America's 'Last Journalist Standing'. TIMOTHY CHARLES HOLMSETH REPORTS is free. However, if you feel led to assist Tim in getting to where he needs to go, to do what he needs to do, to bring this information to the world, you can. CLICK HERE to for options to donate.
Watch/Listen to Isaac Kappy call Timothy Holmseth.
Watch/Listen to Lin Wood talk about Timothy Holmseth.
Watch/Listen to Ally Carter address Timothy Holmseth.
Watch/Listen to Timothy Charles Holmseth uncover (in real time) the FBI/CIA Ukraine/Epstein fake adoption child trafficking operation – PRESIDENT DONALD J. TRUMP UKRAINE SPECIAL
*****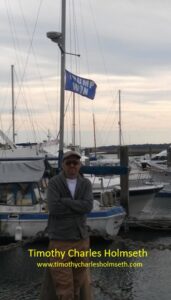 About Author