CITY OF RAPID CITY, SOUTH DAKOTA CONFIRMS THEY DID NOT ISSUE A PERMIT TO WOMAN WHO ORDERED TRUMP SUPPORTERS TO DISPERSE OR FACE ARREST BY POLICE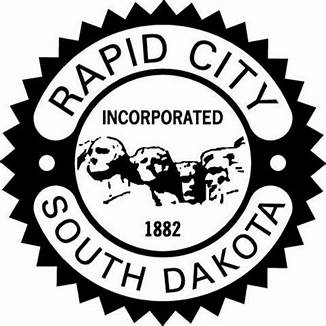 by Pentagon Pedophile Task Force on September 13, 2023 – USA
Does President Donald J. Trump hold the ultimate 'Trump Card' against all the Prosecutors against him – a card called 'the FBI is kidnapping, trafficking, raping, and murdering children'?
Spoiler Alert: Yes, he does.
On September 9, 2023, we reported "TRUMP IN RAPID CITY, SD: OPERATIVE PANICS AND TRIES TO USE COPS TO CLEAR OUT THE 'TRUMP INTERSECTION' AFTER CBS PHOTOGRAPHS TIMOTHY HOLMSETH & HOLMSETH TELLS REPORTER TRUMP KNOWS ABOUT CHILD SEX TRAFFICKING".
On September 8, 2023, President Donald Trump spoke in Rapid City, South Dakota where he received the endorsement of Governor Kristi Noem for the 2024 Presidential election.
While Trump was inside, Timothy Charles Holmseth, a war correspondent, told a media agent during an interview in front of The Monument Ice Arena that President Trump possesses evidence of an FBI-run child sex trafficking operation. When Holmseth began to talk about the crimes against children and Mike Pence, a woman abruptly interrupted the Holmseth interview and told everyone to disperse – claiming she had a "permit" from the City of Rapid City, South Dakota that would be enforced, she said, by the Rapid City "police".
UPDATE
On September 12, 2023, Alexandra Koukounakis, Canada, telephoned the City of Rapid City, South Dakota to inquire about the "permit" the un-identified woman claimed to possess.  Koukounakis spoke with Curt Bechtel, City of Rapid City, who handles the issuance of permits.
"I didn't do any [permits] that day," Bechtel said.
"I'm researching – I have been for quite some time – a group of people who target Donald John Trump and some of his affiliates and people that are around him – so I kind of follow this group within the United States and I write reports to organized crimes task forces and military task forces," Koukounakis said.
"I'm trying to narrow down if this woman is connected to the foreign agents or connected to the organized crime group and that's why she was there trying to move the journalists and stop the journalists from reporting and also to intimidate the Trump supporters and have them removed from the property," Koukounakis said.
"I didn't issue any temporary permits for when Trump was in town on Friday," Bechtel said. LISTEN TO BECHTEL AND KOUKOUNAKIS BY CLICKING ON IMAGE BELOW.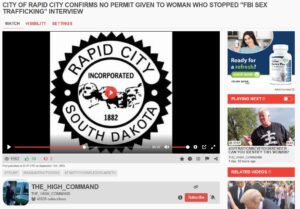 Koukounakis's attempts to identify foreign agents working in concert against Trump and the American People may involve a U.S. Court case filed by Timothy Holmseth in Tennessee against the STATE OF OHIO.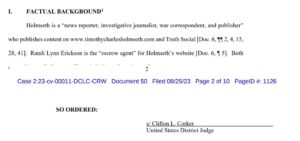 According to public records available on PACER, Holmseth alleged Ohio Governor Mike DeWine and the STATE OF OHIO are "actively conspiring with the Federal Bureau of Investigation and Prosecutors to file baseless criminal charges against Donald John Trump for the purpose of Election Interference and continued attempts to overthrow the United States Government and avoid prosecution for their crimes against humanity".
*****
Timothy Charles Holmseth is being called America's 'Last Journalist Standing'. TIMOTHY CHARLES HOLMSETH REPORTS is free. However, if you feel led to assist Tim in getting to where he needs to go, to do what he needs to do, to bring this information to the world, you can. CLICK HERE to for options to donate.
Watch/Listen to Isaac Kappy call Timothy Holmseth.
Watch/Listen to Lin Wood talk about Timothy Holmseth.
Watch/Listen to Ally Carter address Timothy Holmseth.
Watch/Listen to Timothy Charles Holmseth uncover (in real time) the FBI/CIA Ukraine/Epstein fake adoption child trafficking operation – PRESIDENT DONALD J. TRUMP UKRAINE SPECIAL
*****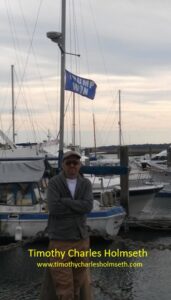 About Author