U.S. Attorney General Whitaker to receive Jacob Wetterling evidence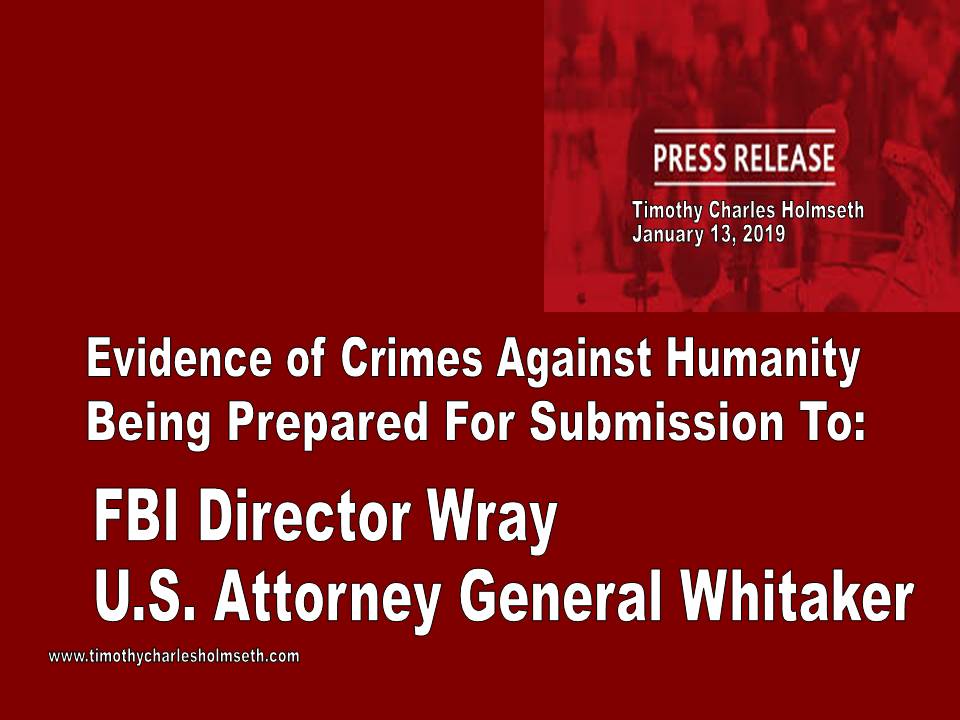 by Timothy Charles Holmseth at January 13, 2019 at 7:51 P.M. CST
Timothy Charles Holmseth is preparing a presentation of evidence and documents to be delivered to the FBI Director and Office of the Attorney General of the United States.
The complaint will provide FBI Director Christopher A. Wray and U.S. Attorney Matthew G. Whitaker's office's evidence that shows there is an organized secret society deeply embedded into state and federal government, as well as law enforcement in Minnesota and Wisconsin and elsewhere, that is committing crimes against children and humanity at unspeakable levels.
The presentation will include evidence regarding, but not limited to, the kidnapping and ritual sacrifice murder of Jacob Irwin Wetterling.
An abundance of evidence exists to initiate federal investigations and prosecutions pursuant to:
February 9, 2017 – Presidential Executive Order on Enforcing Federal Law with Respect to Transnational Criminal Organizations and Preventing International Trafficking
December 21, 2017 – Executive Order Blocking Property or Persons Involved in Serious Human Rights Abuse or Corruption
October 11, 2018 President Donald J. Trump Is Taking Action to End Human Trafficking
January 9, 2019 – President Donald J. Trump is Fighting to Eradicate Human Trafficking
About Author