Wisconsin Sheriff receives apology from police Facebook page for 'jeopardizing Jayme Closs' investigation – Hillary Clinton moment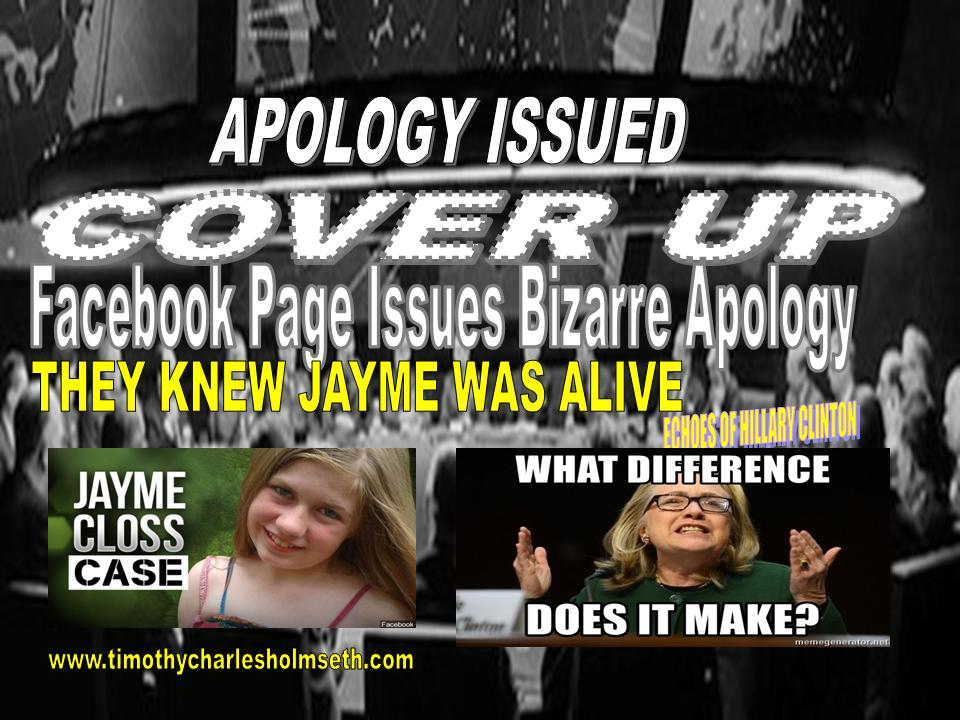 by Timothy Charles Holmseth on January 13, 2019 at 12:48 P.M. CST
Hillary Clinton's infamous 'what difference does it make' comment about the Benghazi massacre taught our country lessons about what does and does not matter.
Do our children matter? If you think so keep reading.
The unknown administrator of a Facebook page has publicly apologized to the Barron County Sheriff's Office for 'jeopardizing the Jayme Closs investigation' with "inaccurate reporting" on the day Jayme was found.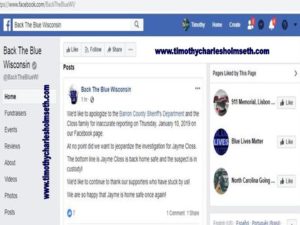 "Inaccurate reporting" is an inaccurate characterization of what happened.
On January 10 the Facebook page Back The Blue Wisconsin reported Jayme Closs had been found in Walworth County, Wisconsin – before she had even been found. The premature press release on Facebook sparked a response by Barron County Sheriff Chris Fitzgerald who told the media it was 'fake news' and assured the public Jayme had NOT been found.
But…
Only a very short time after Sheriff Fitzgerald's media statement, Jayme WAS found alive and wandering around in Douglass County, Wisconsin.
By listening to Sheriff Fitzgerald during his press conference you'd think it was no biggie someone knew Jayme was alive and about to be found, which is the exact opposite response you should see from a sheriff in this situation.
Shortly following the debacle, which suggested the Facebook administrator somehow had knowledge of Jayme Closs' positive welfare status before anyone else, including the sheriff, the administrator posted an explanation that further indicated the administrator was involved in a plan.
"Instead of throwing us under the bus and calling us fake news (Including Sheriff Fitzgerald), why do[n't] they you give some credit where credit is due to us! We had it ready to be announced at 8:00 pm Jayme was found alive! Our page was hacked by a former admin who bumped up the post with an incorrect location," said Back The Blue Wisconsin.
How could the Facebook administrator have a press release ready that announced Jayme was alive if she had not been found yet? How would they know the 'correct location?' And why would the administrator be waiting until 8:00 P.M. to release a bombshell?
In the January 13 apology, the Facebook administrator echoed Hillary Clinton's infamous response to the Senate when she was questioned about the death of American's in Benghazi. "Was it because of a protest or was it because of guys out for a walk one night and decided they'd go kill some Americans," Clinton said. "What difference – at this point, what difference does it make?"
Back The Blue Wisconsin suggested it didn't matter how he/she knew Jayme was alive and was about to be found. "The bottom line is Jayme Closs is back home safe and the suspect is in custody!" the administrator said.
Otherwise put – 'what difference does it make'?
It makes a big difference pal – the kind of difference that triggers a flurry of search warrants (in a normal case).
Maybe the U.S. DOJ is going to investigate this?
We'll see.
READ ALSO – – – AMERICA THE FURIOUS: Jayme Closs case development reveals FOX NEWS may be covering up child trafficking
Facebook page administrator had press release prepared that Jayme Closs was alive before she was even found