AMERICA THE FURIOUS: Jayme Closs case development reveals FOX NEWS may be covering up child trafficking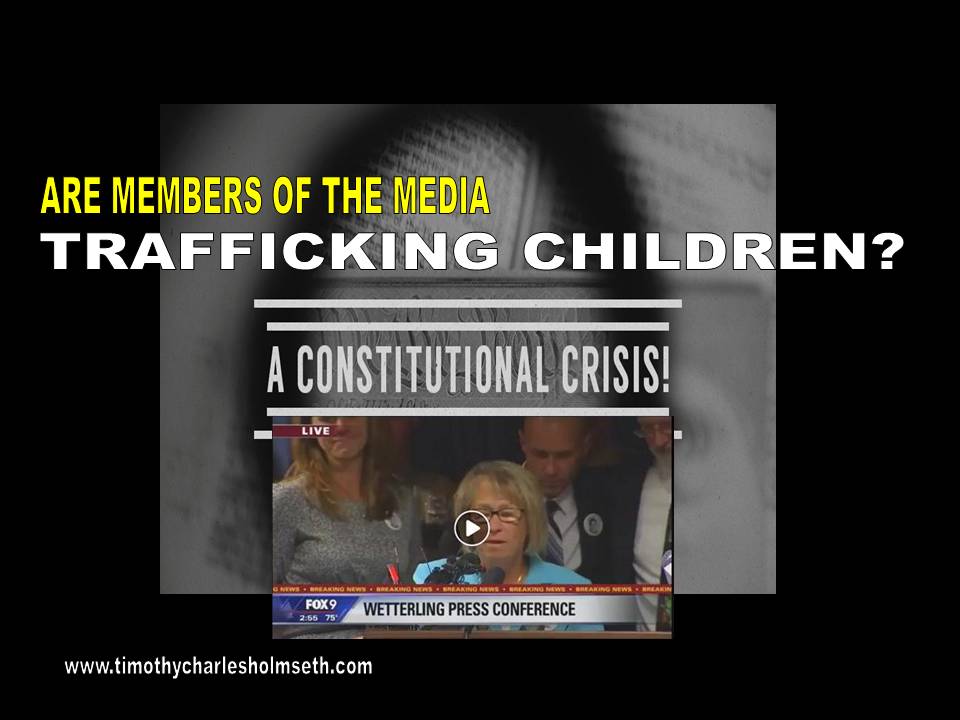 Could a media organization be investigated under Presidential Executive Orders? Can a news network or a news agent be an accomplice to a crime against a child? 
Is the media's weaponized blitz against the Trump Wall a calculated and coordinated effort to protect child trafficking corridors that serve to keep a steady stream of child sex slaves, organ donors,  ritual sacrifices, and adrenochrome supplies moving?  
Where is the line? Where does 'reporting' stop and 'conspiracy' start?  
by Timothy Charles Holmseth on January 11, 2019 at 9:14 A.M. CST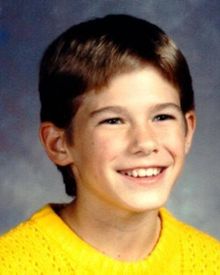 PUBLISHER'S NOTE: Official search warrant documents from the August 31, 2016 search for Jacob Wetterling's remains in rural Paynesville, Minnesota contain three sentences that have not been reported by the main stream media. "On August 31, 2016 a search warrant was executed at 27725 Business 23 East, Paynesville, Stearns County. During that search preliminarily consistent with the jacket Jacob Wetterling was wearing at the time of his abduction, bone fragments, and teeth were recovered. Later examination by experts determined neither the bones were teeth were human."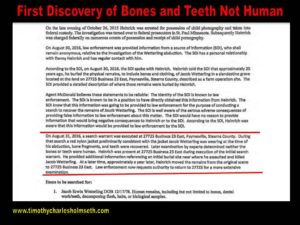 The three sentences have only been reported on by Timothy Charles Holmseth.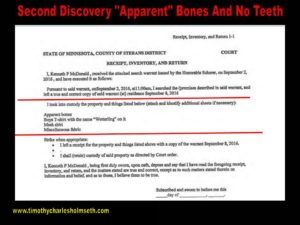 The un-reported-on sentences PROOVE somebody PLANTED evidence at the rural location so it could be found and the case be declared 'solved'. Danny Heinrich, the man that supposedly led law enforcement to the 'remains of Jacob" was NEVER CHARGED with the child's murder. The FBI had long since cleared Heincrich after interviewing him during the search for Jacob Wetterling. He was not in the area and absolutely nothing about Heinrich was consistent with the description given by the two boy witnesses that survived.
Today FOX NEWS provided valuable air time to Patty Wetterling where she connected Jacob Wetterling's name to the Jayme Closs kidnapping case developments.
FOX NEWS went well out of their way to remind everyone of the Danny Heinrich confession.
'FOR US, JACOB WAS ALIVE UNTIL WE FOUND HIM.' Patty Wetterling speaks after Danny Heinrich's courtroom confession to the 1989 kidnapping and murder of her son, 11-year-old Jacob Wetterling. After 27 years, we finally learned the truth. THE CONFESSION – http://www.fox9.com/news/202588793-story
BUT – FOX NEWS 9 does NOT tell the American public that the bones found were NOT HUMAN – that Heinrich got nearly all of his child porn charges dropped – and that Heinrich was NEVER CHARGED with Jacob's murder.
Many believe this is illegal collusion between FOX NEWS and Jacob Wetterling's real killers.
President Donald J. Trump has issued multiple Executive Orders setting forth instructions and extraordinary measures to be taken against anyone, including business entities and corporations, involved in human trafficking and/or crimes against humanity.
On January 9, 2019 The White House announced 'President Donald J. Trump Is Fighting to Eradicate Human Trafficking.'
"This is an urgent humanitarian issue. My administration is committed to leveraging every resource we have to confront this threat, to support the victims and survivors, and to hold traffickers accountable for their heinous crimes," President Trump said.
"President Trump has signed four bills in recent weeks that demonstrate the bipartisan commitment to end human trafficking," The White House said.
On January 10, 2019 Jayme Closs was found alive – and then FOX NEWS put Patty Wetterling on the air.
Julie Tremp, Toledo, Ohio, is a Wetterling case researcher who received a telephone call from U.S. Attorney Julie Allen after she (Tremp) discovered critical evidence in the Wetterling case. "How the hell does Patty get all these accolades when known pedophiles were in and out of that Wetterling house!  The Bahners, Lou Kohl's, and Vern Seitz have all said they've known the Wetterlings for years!" Tremp said.
The question is now being asked – can media agencies or individual reporters be investigated and prosecuted  if an investigation reveals they/he/she covered up the true facts and circumstances surrounding a crime against a child by publishing information that suggests a false narrative? Can a news network be an accomplice? 
Furious American writes letter to Channel 9 – FOX NEWS
Letter from Julie Tremp to Fox News reporter John Michael
Dear John Michael,
Is channel 9 complicit in this cover-up?  There was so much evidence taken to Patty on her own son's kidnapping, and she never did anything with it!!! And they're saying how much Patty helps find missing kids????  She was more concerned with what would happen to the "foundation" than finding her son when exculpatory evidence, which would have cleared Dan Rassier as a suspect, was presented to her, and the SCSO!!! This is factual information!
https://writeintoaction.com/Larry%20Peart.html
Tim's reporting in not the usual conventional reporting, but he reports facts that the regular media won't.  He was a reporter that stumbled into two other abduction/murder cases.  We have others who are helping us, and it's going to be harder to shut this down now.   Channel 9 needs to focus on the missing girl from Wisconsin!  Get Patty away from this!  She has nothing to do with this case, and nothing to do with helping find missing children.  She has no actual hand in helping missing children!  Stop helping a woman gain more accolades, when there are known pedophiles she and Jerry were associated with!!!! There are multiple tapes, and proof this is true.  There are eye witnesses that spotted Jerry with a known child pornographer and pedophile.
Trish VanPilsum knows a lot of this, and no one there at channel 9 is going to convince any of us involved in the investigation of the 1997 evidence/confession, that the remains of Jacob were there in that BS burial sight.  Aren't you embarrassed to be continually working for channel 9 when they continue to report false information, and largely ignore factual evidence, and corroborating witnesses that completely blows this whole Heinrich BS story away?
We are never going away, and you can tell these Wetterlings that.  I dare Jerry Wetterling to physically assault Diane Muehlbauer again. There's a witness who saw him assault her at the press conference.  The real people trying to help find missing kids are those who spend their own time and money trying to stop this shit!!!!
Oh, and is it a surprise to you that Rassier's lawyer is denied a deposition by a federal judge to depose Heinrich?!?!  We know why he was!  No one will be allowed access to Heinrich.  He might crack….especially if he finds out who really abducted and killed Jacob!  You have no idea whatsoever what else Diane and others have regarding the 1997 evidence. A lot more was obtained after Trish followed Diane for years.
There were no human remains! They can hang on to that odontologist story about identifying teeth all they want, but Jacob's human teeth were not found in that burial sight.  No human remains were listed on the warrant findings!
Diane and others have done nothing more than report factual and credible information. The behaviors of the press, the Wetterlings, and certain parts of law enforcement are proving this evidence is very damning.  We can prove this 1997 evidence was never investigated, and that LE ignored very factual evidence which had lots of corroboration! This file is very, very interesting!  It's also very interesting how much the Wetterlings themselves inserted themselves into Jacob's investigation…..very, very suspicious.
I'm SMH on this one!
Julia Tremp
About Author