U.S. Navy joins Army investigation into Hillary Clinton's former bodyguard after publisher is threatened with kidnap, rape, torture, and murder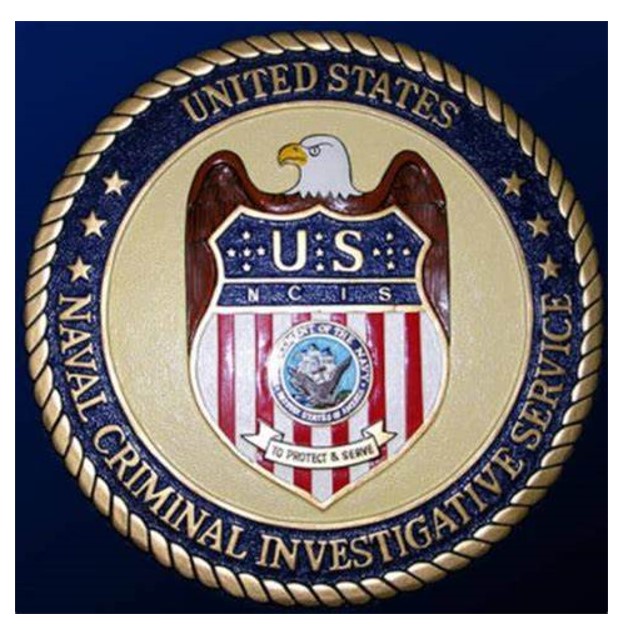 by Pentagon Pedophile Task Force on June 22, 2021 at 9:41 P.M.
The U.S. Navy has reportedly joined the investigation of Hillary Clinton's former private security guy Craig Sawyer.
On June 19, 20, we reported that Craig (Sawman) Sawyer, Veterans For Child Rescue Inc (V4CR), Arizona, is under investigation by CID at Fort Campbell. The investigation commenced after Randi Erickson, owner/publisher, www.timothycharlesholmseth.com, contacted Fort Campbell asking for a comment on a story she's developing regarding death threats that were electronically transmitted to her website against herself and a news reporter, Timothy Holmseth.
Fort Campbell, KY Criminal Investigations Division investigating beastiality rape and murder threats made by Veterans For Child Rescue Inc. – #MAGA Timothy Charles Holmseth REPORTS
Timothy Charles Holmseth provides information to Fort Campbell for CID investigation regarding rape and murder threats against Holmseth's child by Veterans For Child Rescue – #MAGA Timothy Charles Holmseth REPORTS
The threats Erickson received by Veterans For Child Rescue included threats to take her news reporter's daughter to Fort Campbell and have a dog rape her while they filmed it. V4CR claimed to have special access to the artillery range.  SEE THREATS BELOW STORY
Upon request from Fort Campbell, Erickson turned over threats of kidnap, rape, torture, and murder involving Fort Campbell Army Base. The death threats and other ominous messages were sent by Craig Sawyer, James Hill, Bob Hamer, and Vice Admiral Charles W. Moore – all of Veterans For Child Rescue Inc. Robert Jenkins, PIO, Fort Campbell, said he would be sending the information to the Criminal Investigation Division (CID).
Sawyer, a former Navy SEAL, says in his online BIO he is federal law enforcement, although he admits he was kicked out of the Federal Air Marshal Service and stripped of his military awards.
The organization Sawyer set up with a $100,000 donation from Alex Jones called Veterans For Child Rescue has never rescued one single child.
Yesterday, William K. Murtaugh, 70, Apopka, Florida, who talks regularly about Sawyer, announced during a livestream that he'd taken it upon himself to telephone the U.S. Navy regarding the situation at Fort Campbell.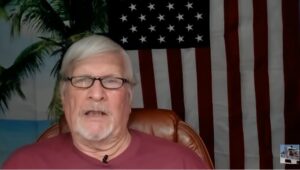 "Craig (Sawyer) is a Navy veteran and we also have a Navy officer named, " Murtaugh said. Murtaugh said he called the "United States Naval Criminal Investigative Service" and "talked to officials over there".
Murtaugh, who describes himself as a "retired truck driver" lives in a 30 year old trailer with no air conditioning. He has claimed to know small details of how children are trafficked overseas. His name appears on a chat log of someone bragging about raping little kids to death. Last year Murtaugh traveled to Minnesota and sat down with FBI agents for several hours to give them information about Holmseth, Erickson, and others. Murtaugh made the mainstream news in Florida after he went online and claimed to the identity of the abductor of a missing child named Trenton Duckett.
Murtaugh is now very personally interested in the military investigation of Sawyer, Hill, Hamer, and Moore.
"I was referred to an investigator over there (Navy). We talked for quite a long time. And I explained the situation to them. They kind of perked up when they heard that a Vice Admiral was included in this complaint," Murtaugh said.
Vice Admiral Charles W. Moore allegedly authored a message on behalf of Veterans For Child Rescue wherein he claimed to be very close to President Trump and General Mark Miley.
Much like Murtaugh's behavior with the Minnesota FBI – Murtaugh spoke about the Fort Campbell situation as if he is now officially assisting the military in their investigation.
"There's some things that were discussed that I can't disclose right now. But, where we're at – – – the jist of what happened when I talked to the NCIS is there is going to be an investigation. The investigation is going to be OF (Murtaugh strongly emphasized the word 'of') Tim Holmseth and Randi Erickson. Because, [the Navy] wants to know who these people are that are running all over the country calling up military installations accusing current and former members of the military of some very serious crimes. So what's going to happen is they (Holmseth/Erickson) are going to have to answer to the government at some point," Murtaugh said.
"They are going to – from what I understand from the NCIS – they are in contact with Fort Campbell, Kentucky, and they're going to straighten this whole thing out," Murtaugh said.
"I have talked to the government. The government said we're going to do something about this," Murtaugh said.
Bob Hamer,  a V4CR advisor who sent a message to Erickson's publication, was featured on Oprah and FOX NEWS as an undercover pedophile for the FBI. However, evidence shows Hamer is actually one and the same as "John Regan" who Holmseth reported to the FBI in 2009 after Regan told searchers for missing child HaLeigh Cummings he was an undercover FBI and CIA agent. Evidence suggests Regan/Hamer may be the "Mr. Reagen" who child sex abuse victim Max Livingston told detectives about during the FBI investigation into THE FINDERS CULT in the 1980's.
Murtaugh said Erickson and Holmseth are in deep trouble for filing a false report to the U.S. Military.
Murtaugh said he filled out complaint forms for the Army and Navy against Erickson and Holmseth.
During a recent livestream, Murtaugh's associate Alexandria Goddard (a.k.a. PRINNIEDIDIT), encouraged everyone on Murtaugh's chat log to telephone Fort Campbell and tell them that two domestic terrorist's (Holmseth and Erickson) had been outside their base.
Goddard is a co-host on a You Tube show hosted by Levi Page. Page and Goddard have done several shows wherein they use extremely sexually vulgar language to describe Holmseth and call him a liar for suggesting Murtaugh needs to be investigated in the Delphi, Indiana bridge murders.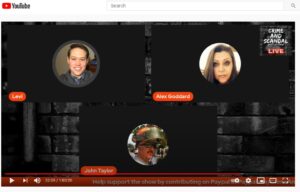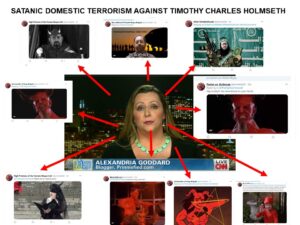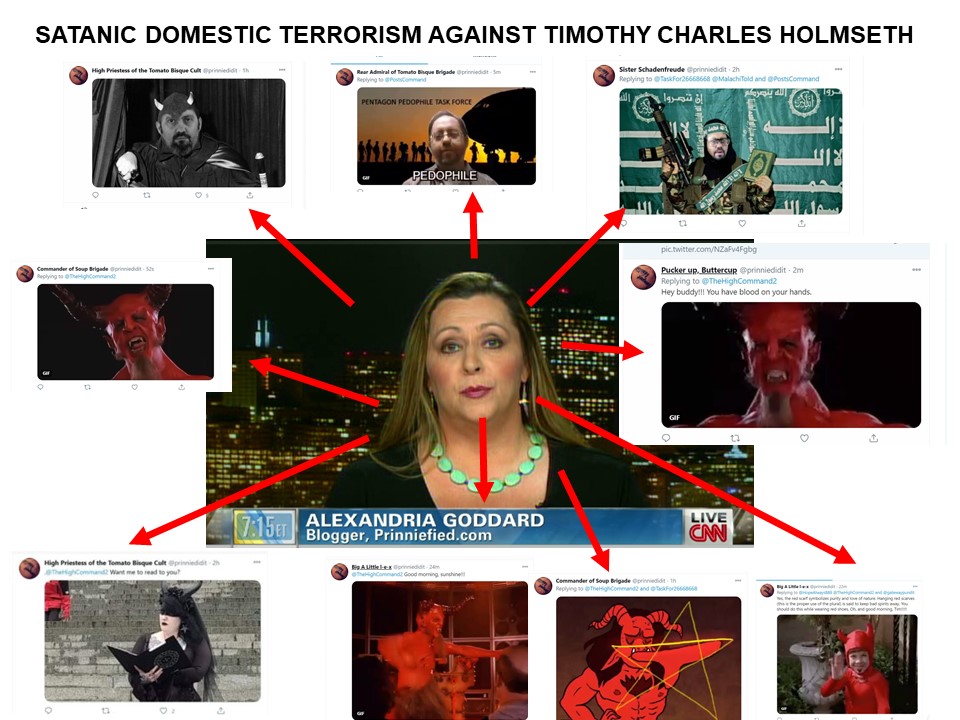 Murtaugh has expressed his anger at Holmseth and Erickson because videos online appear to suggest Murtaugh may be "bridge man" in the video released by police in the Delphi, Indiana child murders. Many believe the voice captured on tape by the child murder victim at Delphi matches Murtaugh's chat log moderator John Taylor, Virginia.
Evidence shows Holmseth has exposed THE CIA FINDERS CULT.
THE DELPHI, INDIANA BRIDGE MURDERS (ORGANIZED CHILD MURDERS)
THE DELPHI, INDIANA BRIDGE MURDERS (ORGANIZED CHILD MURDERS) (bitchute.com)