"Execution waiting to happen" – more death threats against publisher who initiated military investigation into Hillary Clinton's former personal bodyguard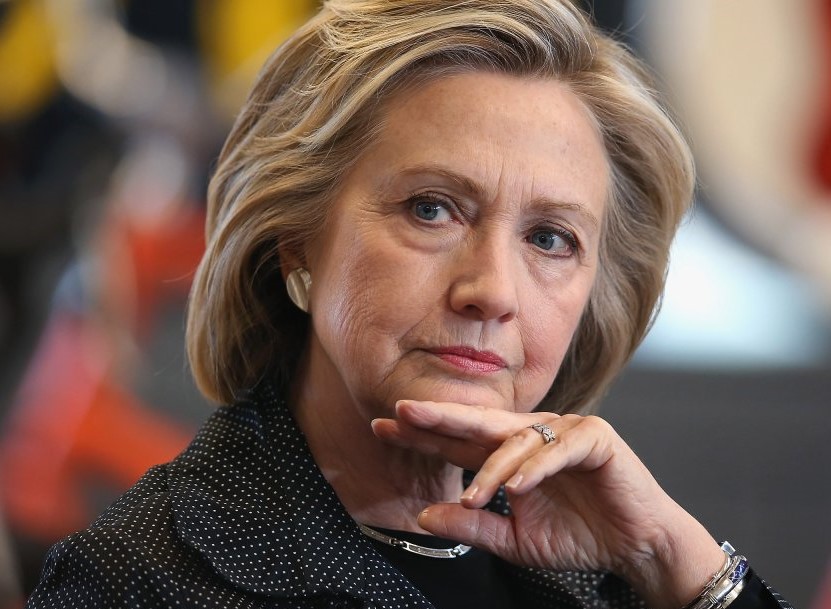 by Pentagon Pedophile Task Force on June 22, 2021 at 5:35 P.M.
Evidence shows a domestic terror group once known as THE FINDERS is operating inside the United States and is intent on adding two more names to the Clinton body-count.
The names are Randi L. Erickson and Timothy Charles Holmseth.
Erickson, the publisher who initiated the CID investigation at Fort Campbell, Kentucky, after receiving kidnap, rape, torture, and death threats from Hillary's former body guard Craig (Sawman) Sawyer, founder of the fraudulent  Arizona-based Veterans For Child Rescue Inc, has been threatened with "execution" again!
Yesterday, Ashely Cooper, Two Harbors, Minnesota, appeared as a guest on the You Tube program hosted by William K. Murtaugh, Apopka, Florida. Cooper said Randi L. Erickson is an "execution waiting to happen".
Cooper said Craig Sawyer isn't somebody you want to mess with.
Evidence shows Cooper is an agent of a CIA child procurement and international child trafficking operation that was once known as THE FINDERS.
Today, Randi Erickson, owner/publisher, www.timothycharlesholmseth.com, filed a complaint against Cooper with Officer Ken Anderson, Two Harbors Police Department.
Erickson had already contacted Two Harbors Police several weeks ago and requested all available records regarding Cooper. While Erickson was waiting for the document request to be filled she was assaulted, yet again, by Cooper.
NOTE: Randi Erickson, 61, is a licensed Broker in Florida; a licensed abstractor in Minnesota; a former elected official in Minnesota; and a Truth and Taxation judge. Erickson has no criminal history. Erickson is regularly required to pass FBI background checks, which she did again just a few weeks ago.  Erickson has never met Cooper in her life and would not know Cooper if she met her on the street.
NOTE: Cooper has admitted on Murtaugh's show that she (Cooper) suffers from mental illness and has had her children taken away from her in the past.
On May 17, 2021 we reported 'Anoka County Sheriff's Office deputy under investigation after multiple Swatting incidents against local woman who works on task force formed within the Donald Trump White House'
The story read in part:
~begin~
Evidence shows the Anoka County Sheriff's Office in Minnesota has been involved in several SWATTING incidents at the rural Elk River residence of Brian and Randi Erickson.
The SWATTING involves an illegal privatized manhunt for Timothy Charles Holmseth, 52, Minnesota.
Holmseth is the FBI witness and news reporter whose 2017 MEMO to U.S. Attorney General Jeff Sessions warning President Trump about VP Mike Pence and international human trafficking was Tweeted with a 'must read' recommendation by Attorney Lin Wood.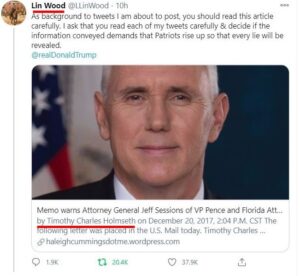 The SWATTING surrounds Randi Erickson, 61, Nowthen, who has a role with a task force that was formed within the Trump White House under Presidential Executive Order called the Pentagon Pedophile Task Force (PPTF). The PPTF gathers actionable intelligence regarding international crimes such as human trafficking, and then forwards the intelligence to the U.S. Military through a designated liaison with Joint Special Operations Command (JSOC).
Beginning in 2020, and on at least two occasions, Anoka County deputies, who, according to powerful evidence, were working in tandem with agents of an Arizona based non-profit organization called Veterans For Child Rescue Inc., when they approached the Erickson home in search of Timothy Charles Holmseth.
Craig Sawyer, CEO, V4CR, has threatened, via a myriad of interstate electronic communications, to torture and murder both Timothy Holmseth and Randi Erickson. Sawyer predicted the Sheriff's activities when he warned Holmseth that his VIPR teams (Veterans Investigating Pedophile Rings) were coming to get Holmseth and they would be filming the event. Sawyer told Holmseth he would be taking Holmseth to Florida against his will.
On every occasion, only Brian Erickson, 62 (Randi Erickson's husband) was present.
Timothy Holmseth, 52, Minnesota, is an FBI witness in a national profile kidnapping case connected to Jeffrey Epstein and THE CIA FINDERS CULT, as well as being an award-winning news reporter who reports exclusively for the PPTF.
On April 8, 2021 a You Tuber from Tennessee named Levi Page, who occasionally appears on Crime Stories with FOX NEWS' Nancy Grace, broadcast an interview with a woman from Minnesota named Ashley Cooper. Cooper boasted she had sent the Anoka County Sheriff's Office to the Erickson home to arrest Holmseth on an outstanding misdemeanor warrant issued out of Polk County, Minnesota.
The report by Cooper that Holmseth was at the Erickson home was completely false. In fact – Cooper told the deputy that an un-named third party found out Holmseth was at the Erickson home; that the third party called Cooper; and then Cooper called the Sheriff. The deputy never once asked Cooper who the third party was but played right along.
Cooper repeatedly told the deputy that Holmseth was dangerous. "This guy is fairly dangerous. This is a guy that has been getting people shot and killed," Cooper told the deputy. "He's very mentally unstable and he's going to snap soon".
Holmseth is one hundred percent mentally stable, was deemed a credible witness by the FBI, and passed a federal background check performed by the United States Department of Agriculture which gave Holmseth access to enter the secure areas of a locked federal facility where he worked.
When Cooper said Holmseth was getting people shot and killed, she was referring to the murder of Congressional Defense Contractor Christopher E. Hallett, who was murdered in his Ocala, Florida home in November of 2020, shortly after filing documents regarding international human trafficking in the United States District Court.  Hallett had obtained a plethora of information and evidence from Holmseth. The court files vanished after Hallett's murder but a receipt proves the filing was made.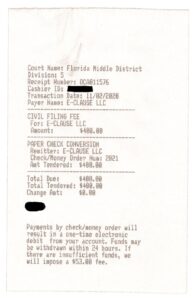 "He's (Timothy Holmseth) very off his rocker he's telling people he works for the Pentagon Pedophile Task Force," Cooper told the deputy.
Cooper deliberately lied to the deputy to create the impression that Holmseth was armed and dangerous.
"Let them know if they do take him be very, very, very careful. I mean it. This guy is – just be very careful, please," Cooper said.
Cooper told the deputy that Holmseth had access to Erickson's firearms.
Evidence shows Cooper violated Minnesota State Statute 609.78 EMERGENCY TELEPHONE CALLS AND COMMUNICATIONS. Subd. 2.Gross misdemeanor offenses. Whoever does the following is guilty of a gross misdemeanor: (2) places an emergency call and reports a fictitious emergency with the intent of prompting an emergency response by law enforcement, fire, or emergency medical services personnel;
Wikipedia also discusses federal laws regarding Swatting. In the United States, swatting can be prosecuted through federal criminal statutes: "Threatening interstate communications" "Conspiracy to retaliate against a witness, victim, or informant".
Cooper tape recorded the call she made to the Anoka County Sheriff's Office and Page broadcast the call on his program. Cooper told the deputy, that someone told her, that Holmseth was at the Erickson residence.  Cooper told the deputy there was a misdemeanor warrant for Holmseth out of Polk County, Minnesota.
The Polk County misdemeanor warrant was issued after Holmseth failed to appear for a Soviet style trial where he was charged by the East Grand Forks, Minnesota police with the supposed 'crime' of reporting news on the Web (news connected to Jeffrey Epstein, Ukraine, Pence, etc).
According to the East Grand Forks Police they were enforcing a Florida court order. The EGFPD charged that Holmseth violated a (fraudulently obtained) domestic violence court order called an "INJUNCTION FOR PROTECTION AGAINST REPEAT VIOLENCE" that was issued in 2011 by an administrator of a Family Court in Broward County, Florida, which had been requested by someone Holmseth (Minnesota resident) had never even met, but rather, had interviewed telephonically, and, via email, about a kidnapping case. Florida statute requires a domestic relationship between the Parties for the Family Court to have jurisdiction.
The Florida court order, which clearly states in the Order itself that it is only valid in Florida, declared Holmseth was required to retroactively remove content he reported about the Petitioner, and could never again make a direct or in-direct reference about the Petitioner via electronic communications, ever. Holmseth never met the Petitioner and had never even been investigated, much less charged, by any law enforcement, anywhere, ever, with a crime of violence against the Petitioner.
Holmseth was charged in Minnesota with making an "in-direct" reference to a specific person, which violated the Florida Family Court order (which had never been filed with the Minnesota Attorney General's Office). The City of East Grand Forks said Holmseth violated a misdemeanor Minnesota harassment/restraining order statute.
The Florida court order was never filed with the Minnesota Attorney General's office as required by Minnesota State Statute. The EGFPD and City Attorney for East Grand Forks, Minnesota simply began conspiring with private parties in Florida to obtain a bogus court order via fraud and then arrest Holmseth using the bogus order.
CRASE AND DESIST
Christopher E. Hallet, CEO, E-Clause LLC., Florida, was/is a Congressional Defense Contractor that was performing loss prevention for the U.S. government under consent of Congress. Hallett had Power of Attorney for Holmseth. In 2019, Hallett drafted a Cease and Desist demand which was served upon the Polk County Sheriff's Office by Randi L. Erickson. The Cease and Desist warned Polk County that they were in violation of The Hobbs Act and that any future 'enforcement' of the fraudulent Florida court order would be a violation of federal law connected to Color of Law violations, kidnapping, interstate commerce, and organized crime.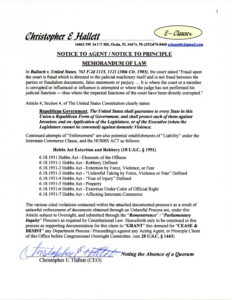 On May 16, 2021, You Tuber Levi Page, Tennessee, and his co-host Alexandria Goddard, Ohio, said during Page's show 'Crime and Scandal' that they were informed via email by Anoka County Sheriff's Office about the complaint against the deputy. Page said Anoka County was responding to a records request made by Goddard for copies of body-cam videos captured when the deputies entered the Erickson home.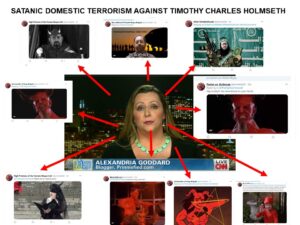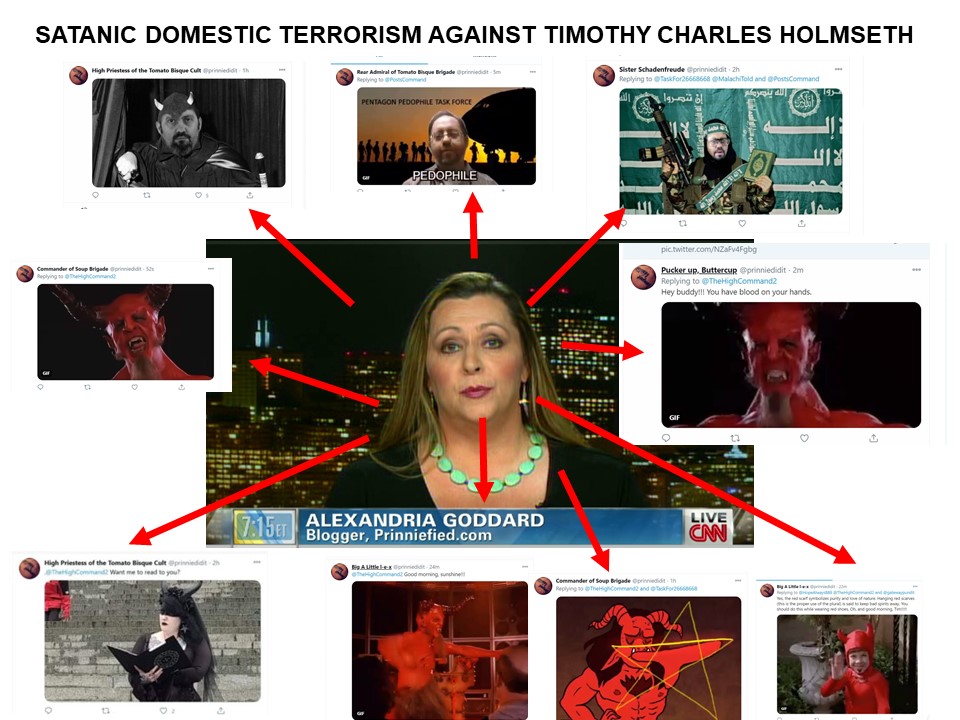 "We're going to keep calling"
The fact that there is a federal conspiracy that involves Goddard and Page and others, to continuously commit the crime of Swatting, was revealed when Goddard boasted they were going to keep doing it. "And they'll go there again because we're going to keep calling," Goddard said.
"Absolutely," Page replied.
Goddard, who professes her love for Satan in non-stop cyber-stalking against Holmseth, is a self-admitted sex offender who boasted to The New Yorker magazine that she helped tie a man to a bed and sexually tortured him with hot sauce before he escaped and ran down the street naked in the middle of the winter.
Alexandria Goddard is part of a domestic terror operation and has relentlessly stalked FBI witness Timothy Charles Holmseth with photos and messages of Satan.
Goddard and Page recently laughed during their show about kidnapping little kids, keeping them in the basement, and torturing them to create Adrenochrome.  Goddard posted on Twitter she likes to eat little kids.
RANDI ERICKSON HAD ALREADY REACHED OUT FOR HELP FROM THE ANOKA COUNTY SHERIFF'S OFFICE DUE TO CONCERNS FOR THE SAFETY OF HER FAMILY
Records show that since September of 2020, Randi Erickson had been in extensive contact with Christopher Beck, Investigator, Anoka County Sheriff's Office. Randi Erickson had contacted the Anoka County Sheriff and asked for help regarding the dangerous stalking that was being visited upon her entire family and grandchildren.
Erickson had already told Beck that Holmseth was not at her home.
Holmseth and Randi Erickson are both being threatened with murder by Craig Sawyer and others.
Recently, an anonymous poster told Randi Erickson and Timothy Holmseth that they had possession of one of their grandchildren.
FAIRBAULT COUNTY SHERIFF'S OFFICE, MINNESOTA
Threats are also on record with Sheriff Mike Gormley at the Faribault County Sheriff's Office where somebody threatened to kill Holmseth's aging parents, as to force Holmseth out into the open if he attempted to attend his parents Minnesota funeral – where he could be arrested.
View some of the threats in this video – – – https://www.bitchute.com/video/KZeH6t6Z1MbM/
THIS IS A DEVELOPING STORY
~end~