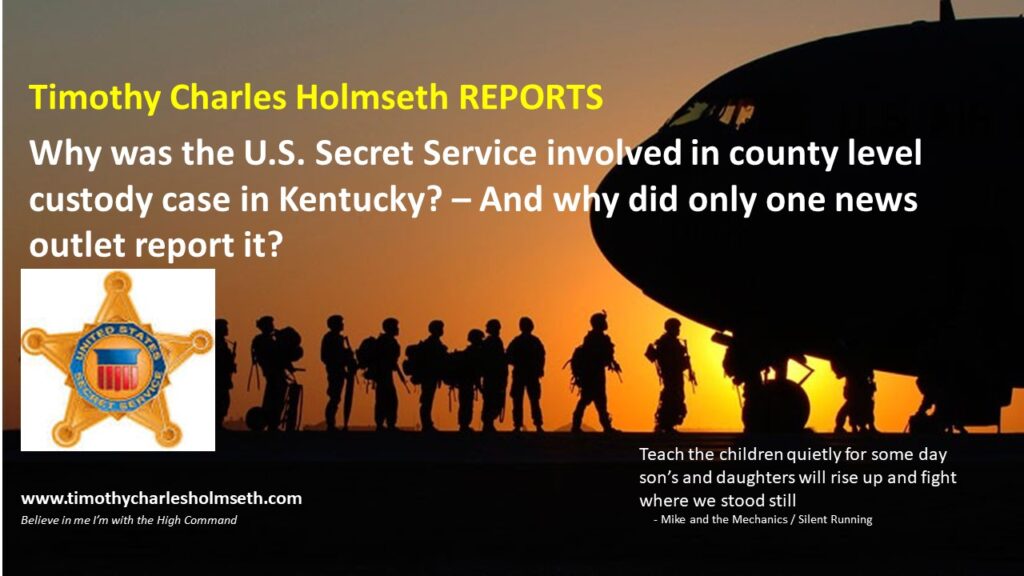 by Timothy Charles Holmseth on March 26, 2020 at 6:42 P.M.
Since when does the United States Secret Service get involved in a county level custody matter? And why does only one news outlet quote the County Sheriff regarding Secret Service involvement?
It's a question that will grow more intense until it is answered.
Early this morning an Amber Alert for two little girls in Kentucky was cancelled after they were found safe with their mother, Neely Blanchard.
Blanchard's license plates read ECLAUSE, which is a Florida LLC that does loss prevention for the United State government.
Blanchard was arrested for kidnapping.
On March 26, 2020, OJ Stapleton with the News-Democrat and Leader published an article entitled 'Secret Service helps sheriff's department find kidnapped twins'.
Those who were reading intently and expecting to see the huge story that would certainly accompany that headline were horribly let down.
The widely covered Amber Alert story was regarding Neely Blanchard, who reportedly, went someplace with her two daughters while their grandmother, who has custody of the two minor girls, was running some errands.
That's about it.
However, there does not appear to be any news reporting that explains why an emergency existed or how the wheels of law enforcement started turning in the case. In fact, all news reporting on the matter seems very lackluster and offers precious little insight as to why the Amber Alert was issued in the first place. Mainstream news coverage does not even state who called the police?
Which leads to the ultra-bizarre fact that the U.S. Secret Service got involved.
"Twin girls have been returned to their home after a long day of hard work by law enforcement that ended with an Amber Alert being issued and help by the United States Secret Service," OJ Stapleton reported.
The article quoted Logan County Sheriff Stephen Stratton.
"When the Amber Alert went out, we started getting tons of good information," Stratton said. "We had a good idea where they were and then the Secret Service got involved and used their resources to track her through her phone and social media."
Timothy Charles Holmseth REPORTS did a cursory Web search and only found one website, News-Democrat and Leader, that mentioned the Secret Service. They did not report who contacted the Secret Service.
Trained professional news reporters absolutely know the U.S. Secret Service dynamic to the story dominates all subject matter and would/should be in every headline and lead across the board.
It is very strange only one news outlet knew about the Secret Service, considering they quoted the County Sheriff.
There is much more to this case than is meeting the eye.
Chris Hallett, CEO, E-Clause, Florida, issued a formal response today after his client, Neely Blanchard, was arrested. According to Hallett, E-Clause does loss prevention for the United States government under direct consent of U.S. Congress.
See video below for Hallet's statement.