BOMBSHELL! Woman arrested in Kentucky 'Amber Alert' case is the COMPLAINANT in active CONGRESSIONAL INVESTIGATION regarding foreign emoluments – weaponized family courts (Sharia Law)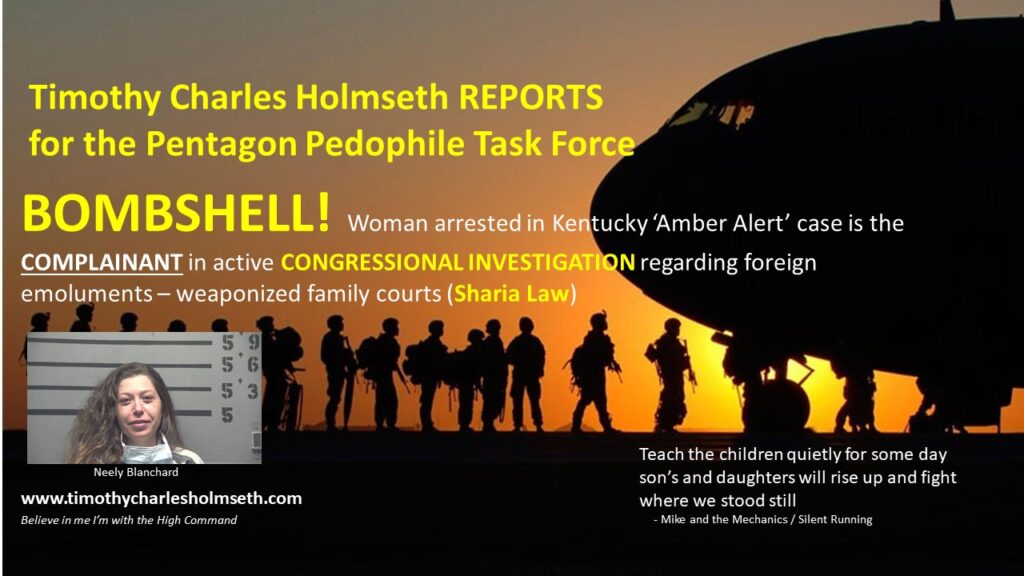 by Timothy Charles Holmseth on March 28, 2020 at 8:47 A.M.
Is the largest kidnapping ring in the history of the world about fall?
Buckle up.
The Amber Alert in Kentucky that (allegedly) involved the assistance of the United States Secret Service last week, and resulted in kidnapping charges against a mother, has a Paul Harvey version that will blow your hair back.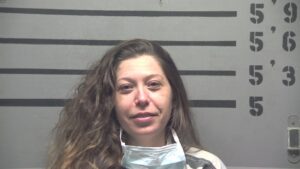 And now…for the rest of the story.
On March 26, 2020, OJ Stapleton with the News-Democrat and Leader published a news report entitled "Secret Service helps sheriff's department find kidnapped twins".
"Twin girls have been returned to their home after a long day of hard work by law enforcement that ended with an Amber Alert being issued and help by the United States Secret Service," OJ Stapleton reported.
The article quoted Logan County Sheriff Stephen Stratton.
Stapleton's reporting continued, "When the Amber Alert went out, we started getting tons of good information," Stratton said. "We had a good idea where they were and then the Secret Service got involved and used their resources to track her through her phone and social media."
The News-Democrat Leader appears to be the only publication that mentioned the U.S. Secret Service although the story was widely reported with information from the Kentucky State Police.
The Kentucky State Police and mainstream news did not mention the Secret Service.
This is where many have begun to activate their critical thinking; many are even starting to become downright suspicious; and investigations have commenced.
Here's why.
NEELY BLANCHARD IS PART OF A CONGRESSIONAL INVESTIGATION REGARDING SHARIA LAW
When Neely Blanchard's name swept the headlines last week after an Amber Alert was issued for her two seven-year-old daughters whom she was traveling with; news reports dramatically reported Blanchard's kids were found safe; that Blanchard had a gun; and she was arrested for kidnapping and custodial interference.
One publication quoted the Logan County Sheriff as saying the United States Secret Service assisted.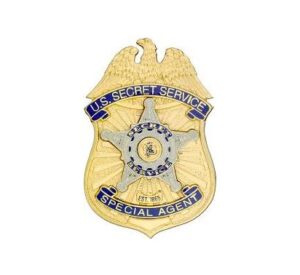 But hold on…not so fast…
Neely Blanchard is not just anybody.
Blanchard is well known in Washington DC because her case is the subject of an active Congressional investigation filed by E-Clause LLC, a defense contractor from Florida that does loss prevention for the United States government.
"There's an investigation happening here, and I know it, because I ordered it, and it was done via due process of law," said Chris Hallett, CEO, E-Clause.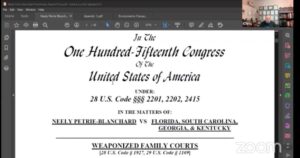 Hallett published a response on Facebook Live after learning his client had been arrested in Kentucky.
Hallett's presentation shocks the conscience, and, possibly explains why there is a documented and well-organized effort by a shadowy group determined to silence Blanchard and E-Clause.
Blanchard's case involves case files in Florida, South Carolina, Georgia, and Kentucky.
Hallett, who does loss prevention for large corporations across the nation, reveals in a short Power Point presentation that Foreign Emoluments are being used by Foreign Agents inside the United States to violate Blanchard's constitutional rights in a "Sharia Law scheme".
Hallett effectively proves Blanchard's young daughters were kidnapped from Blanchard by foreign agents through a process created by the kidnappers that does not exist in our Constitutional form of government. Then, when Blanchard went for a drive with her own children, she, herself, was arrested for kidnapping (by the kidnappers) her own children.
"Foreign Emoluments have no Standing," Hallett said.
During his Power Point, Hallett shows all the different court files created regarding Blanchard's case(s) in four different states. He then reveals how the court files in each state are given different file numbers that vary in little ways – numbers that are deliberately altered and/or switched-up in small ways by a few digits or letters – which affects searches for records.
"Every time you alter the code you change the search results when you go to search for a case," Hallett said.
"This is a system. Systemic problem," Hallett said.
The examples Hallett shows are jaw-dropping and reveal how lawyers and judges (BAR members) and other perceived officials are committing calculated fraud.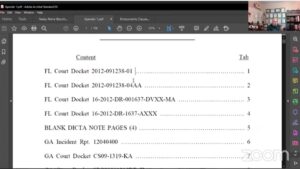 "This is how they are selectively excluding and selectively including relevant evidence and testimony – these prosecutors – these damn idiot BAR members – they think they're so smart – they're using systems that they didn't even design. And they didn't think they were going to get caught. Really? You're a moron?" Hallett said.
"How can we do this and there are 56 different versions of file numbers that basically say the exact same thing but the information in the file is different," Hallett said.
WEAPONIZED FAMILY COURTS – JEFFREY EPSTEIN AND UKRAINE CHILD BLACK MARKET BABY SALES 
TIMOTHY CHARLES HOLMSETH IS PART OF A CONGRESSIONAL INVESTIGATION 
The Neely Blanchard case is not the only case where Hallett and E-Clause crossed swords with BAR members weaponizing the Family Courts in a Sharia Law scheme.
E-Clause also has a complaint filed to Congress regarding STATE OF MINNESOTA V. TIMOTHY CHARLES HOLMSETH.
President Trump and Senator Lindsey Graham are well aware of the situation.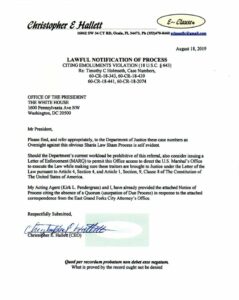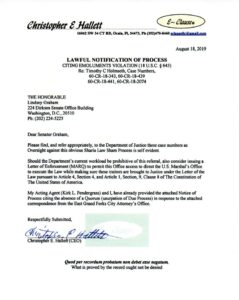 In 2018, Timothy Charles Holmseth (this writer) (an award-winning mainstream news reporter and credible FBI witness) was arrested by municipal police in East Grand Forks, Minnesota for publishing information on the Web.

But it wasn't just any old information.
The corporate policy enforcers (city police) of City of East Grand Forks arrested Timothy Holmseth three times based upon a Family Court order issued in Broward County, Florida that forbade Holmseth from publishing information Holmseth acquired during recorded telephonic journalism interviews he conducted with key figures in a high profile child kidnapping case in Florida. Holmseth has never been married; has never dated anyone in Florida; and has never been to Florida.
EGF City Attorney Ronald Galstad filed a legal brief that alleged Holmseth was publishing information regarding "QAnon"  alleges a "deep state" conspiracy against U.S. President Donald Trump.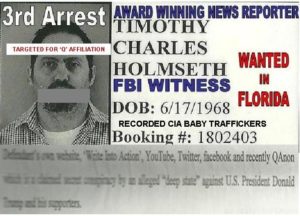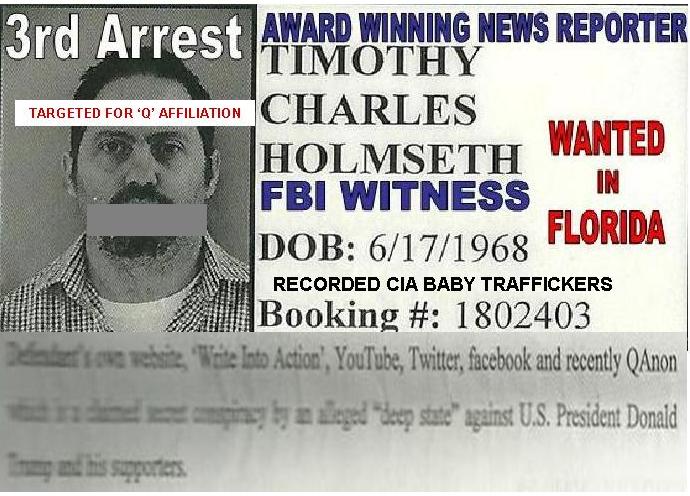 https://www.youtube.com/watch?v=LODWx4loBxA&feature=youtu.be
Holmseth uncovered explosive information that helped led to the arrest of Jeffrey Epstein and exposed a black-market baby sales operation being run through the Ukrainian Embassy in Washington DC.
Florida court files (that were sealed) reveal the States Attorney's office in Broward County, Florida rejected the fraudulently obtained court order against Holmseth, which they said had been "improperly" submitted to the Domestic Violence Division of the State's Attorney's office.
However…
The Family Court – Sharia Law scheme was continued nonetheless when the city attorney of East Grand Forks, Minnesota enforced the Florida order (using STATE OF MINNESOTA letterhead) on behalf of the Petitioner, an individual, despite the order clearly stating it was only valid in the STATE OF FLORIDA.
CPS CHILD TRAFFICKING AND NATIONAL SECURITY
Hallett and E-Clause certainly kicked the hornet's nest when they exposed private agencies and foreign emoluments such as Child Protective Services as human traffickers.
However…
Hallett appears to have been added to a very special (high level) hit-list, which may be the result of his client (Holmseth) reporting on behalf of the Pentagon Pedophile Task Force that 2,100 children were rescued by U.S. Marine from underground bunkers in California.
According to a source (who I will call Pentagon 1) connected to The White House, most of the children rescued by the Marines had been kidnapped by CPS.
"The whole world is a human trafficking operation connected to your Birth Certificate," Pentagon 1 said.
U.S. MARINE FIELD MCCONNELL
On November 4, 2019, Boeing Whistleblower and U.S. Marine Field McConnell, was kidnapped off the street in front of his radio station studio in Plum City, Wisconsin.
McConnell was charged with violating a Family Court order from the EXACT SAME Petitioner and Broward County Family Court Judge as in the Timothy Charles Holmseth case.
McConnell's trouble started when he began reporting about the international child trafficking operation discovered by Holmseth.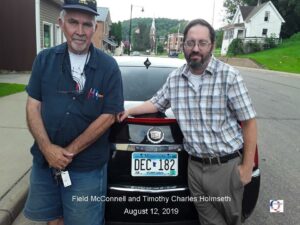 McConnell was extradited to Broward County, Florida.
E-Clause reportedly filed a Complaint to Congress on behalf of McConnell, as well.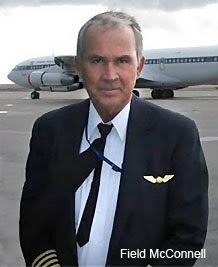 There's many more MOTHERS and TRAFFICKED PEOPLE connected to E-Clause that are being targeted for kidnapping.
More soon.
This is a developing story.
About Author