IMPEACHMENT ARTICLES FILED AGAINST HOMELAND SECURITY ALEJANDRO MAYORKAS – WAR CORRESPONDENT TURNING OVER EVIDENCE DHS TRAFFICKED CHILDREN FOR SEX AND CANNIBALISM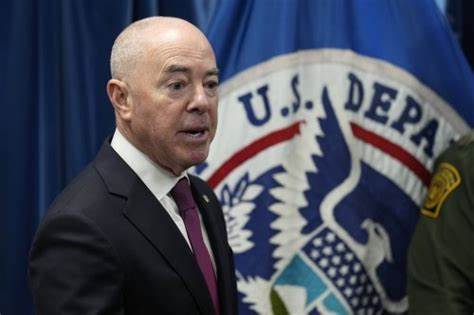 by Pentagon Pedophile Task Force on January 10, 2023 – USA
Texas Republican Representative Pat Fallon has announced he filed impeachment articles against Department of Homeland Security Secretary Alejandro Mayorkas.
Timothy Charles Holmseth, War Correspondent, will be in contact with Rep. Fallon to confirm Fallon's receipt of the following two items:
Evidence was sent by Timothy Holmseth to DHS that showed funds under the federal grant program OPERATION STONE GARDEN, which are administered by FEMA, a component of the Department of Homeland Security (DHS), were routed to Webb County, Texas, and used to fund an NGO comprised of paramilitary operatives trained with U.S. taxpayer money as U.S. Navy SEALS and U.S. Special Forces, who publicly admitted to assisting the "Cartel" in the trafficking of children across the U.S. Border.
Evidence that in 2019, Timothy Charles Holmseth reported that David Lester Straight identified himself to Holmseth as a Presidential Commissioner on Human Trafficking under President Donald Trump, as well as a U.S. Secret Service Agent who viewed videos of VP Michael Pence raping a small child. Straight advised Holmseth (in real-time) that he assisted the U.S. Marines in the rescue of 2,100 children from their confinement in cages underground in California. Straight told Holmseth the children were taken to a military base and hundreds died. On May 7, 2021, CBS news reported "Over 2,100 children crossed border alone after being expelled with families to Mexico". The CBS story referred to 2,100 missing children and featured Alejandro Mayorkas. CBS reported, "During a call with reporters on Sunday, Homeland Security Secretary Alejandro Mayorkas acknowledged that his department has been tracking these cases," CBS said.
U.S. Court records in Minnesota contain sworn affidavits of eyewitness Jessie Marie Czebotar who states she observed chained children tortured to death and cannibalized by U.S. Presidents, Heads of State, and world leaders. Records also contain sworn statements from Tracy Jo Remington who states her ex-husband was called the "Baby King" and produced infant rape videos for the Clinton Foundation.
See also – Holmseth v. Page et al – 3:22-CV-00912 – U.S. Court – Middle District of Tennessee
Note: Use the search bar feature to locate stories you would like to research.