ARRESTED SUDDENLY – AN INDEPENDENT INVESTIGATION OF TWO FIRST-DEGREE MURDER TRIALS UNDERWAY IN FLORIDA AND DELPHI, INDIANA (Pt. 2) (PLANTING DNA IN MURDER CASES)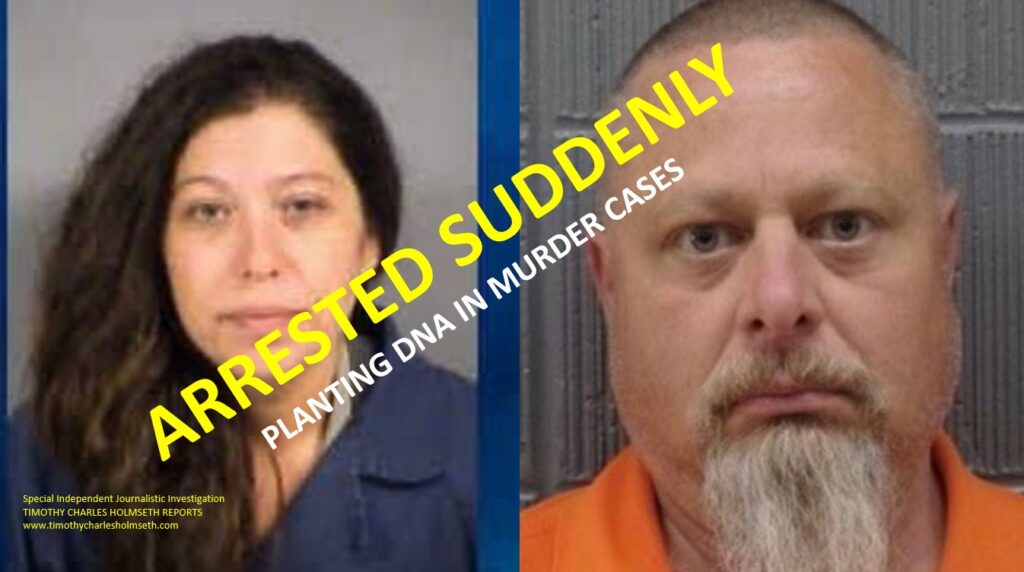 by Pentagon Pedophile Task Force on March 6, 2023 – USA
On March 5, 2023, we published the first installment of our special investigative news series entitled "ARRESTED SUDDENLY – AN INDEPENDENT INVESTIGATION OF TWO FIRST-DEGREE MURDER TRIALS UNDERWAY IN FLORIDA AND DELPHI, INDIANA (Pt. 1)"
The foundational fact-pattern that created the need for this independent news series was set forth in Pt. 1 – Pt. 1. is recommended reading for first time visitors interested in this story.
ARRESTED SUDDENLY is an investigative journalism series that promises to show evidence, and name names, of U.S. Government operatives and operations that among other things, plant evidence and frame innocent people for crimes they did not commit.
The series will focus primarily on the First-Degree Murder cases against Neely Petrie Blanchard, Marion County, Florida, and Richard Allen, Delphi, Indiana.
WILLIAM KEVIN MURTAUGH, APOPKA, FLORIDA
Pt. 1 of ARRESTED SUDDENLY includes information regarding the actions and behaviors of William Kevin Murtaugh, Apopka, Florida.
Murtaugh is a media agent and operative of the FBI. Murtaugh wears FBI and CIA logos and a laminated FBI badge when he reports news.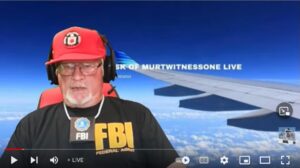 Facts and evidence show Murtaugh has been featured in mainstream news stories because of his suspicious activity and has involved himself in missing child cases; claimed to know the identity of a missing child's abductor; and even purchased an old news van which he used to shadow news crews during the Casey Anthony murder trial in Florida.
Pt. 1 of ARRESTED SUDDENLY also explained how Murtaugh has created an online meeting hub on You Tube where he provides updates regarding ongoing FBI/CIA operations, future plans, and gives instructions to operatives who congregate in the chat log section of From The Desk Of Murtwitnessonelive.
William Kevin Murtaugh identifies himself as a 'poor' retired truck driver living in his trailer home and surviving on Social Security benefits. However, Murtaugh states he travels to the "airport" nearly every day. Murtaugh regularly announces to his chat room followers that he is going "wheels up". He frequently travels across the country, rents a car, has lodging, and has filmed himself meeting with the FBI in Minnesota.
Yesterday, within hours of Pt. 1 of ARRESTED SUDDNELY being published, Murtaugh logged into his Twitter account @MURTWITNESSONE and posted a message about Timothy Charles Holmseth. "WHY IS TIMOTHY CHARLES HOLMSETH PROTECTING CONFESSED MURDER AND ALLEGED PEDOPHILES? INVESTIGATION INTO HIS ACTIONS NEEDED. STAY TUNED," Murtaugh said.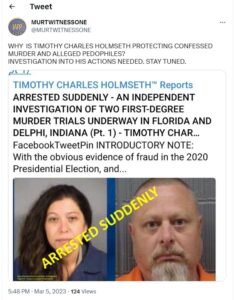 TIMOTHY CHARLES HOLMSETH IS A WITNESS TO CRIMINAL ACTIVITY COMMITTED BY WILLIAM KEVIN MURTAUGH PERTAINING TO 'PORNOGRAPHY' AND VIOLATIONS OF 18 U.S.C. – 1503
Timothy Charles Holmseth is an investigative journalist, war correspondent, publisher, and credible FBI witness who is featured in Pt. 1. of ARRESTED SUDDENLY.
Timothy Charles Holmseth was present with Randi Lynn Erickson, Minnesota, during a meeting at the Tennessee Bureau of Investigation (TBI) in September 2022, where a suspicious photo of a 'small' 'hairless' vagina that appeared to show 'strange bruising' and was possibly a corpse, was viewed by agents of the TBI. The Indiana State Police investigating the Delphi Double Murder case, as well as other state and federal law enforcement in Ohio possess the photo. Murtaugh publicly admits the photo was transmitted to him via interstate electronic communications. Murtaugh publicly reported on his FBI news show that he met with the FBI in Florida, communicated with the TBI in Nashville, and categorically stated law enforcement determined the faceless female in the vagina photo was an adult Asian porn actress that was identified by searching the words "shaved pussy". He reported the case was "closed". Holmseth and Erickson have said that Murtaugh is LYING and misrepresenting the TBI in his report.
PRESIDENT DONALD J. TRUMP DISCUSSES WEAPONIZED LAW ENFORCEMENT AT CPAC 
President Donald J. Trump spoke at CPAC on Saturday, March 4, 2023.
During President Trump's speech at CPAC, he talked about Rep. Adam Schiff publicly declaring that Trump's son, Donald Trump Jr., was going to be put in "prison". Donald Trump explained that Donald Trump Jr. was a completely innocent man – that he had done absolutely nothing wrong, and that Schiff actually and factually knew Donald Trump Jr. had done nothing wrong when he made his public statement.
Donald Trump has repeatedly warned the American public "these people are sick".
Evidence shows President Trump's use of the word "sick" does not go far enough when trying to explain the actions and behaviors of people like Schiff. Behavior such as Schiff's may be classified as "psychopathic" under modern terms of psychology. However, such behavior is not fully understood until the spiritual aspect of the perpetrator's actions are assessed, which will likely reveal Satanic beliefs and the involvement of demonic entities.
The idea that Donald Trump Jr. could be put in "prison" despite being a completely innocent man who has done nothing wrong is an ability that FBI/CIA operatives such as William Kevin Murtaugh, believe they have.
On March 2, 2023, William Kevin Murtaugh produced a presentation for his FBI/CIA-sanctioned news program From The Desk Of Murtwitnessonelive. Murtaugh covered the Delphi Double Murder case.
Murtaugh was angry at Timothy Charles Holmseth because earlier that day (March 2, 2023) Holmseth published information on TRUTH SOCIAL regarding a new investigation by law enforcement in Kentucky, where detectives believed they may have found a connection between the Stephenson murders in Kentucky and the Delphi Double murder case in Indiana.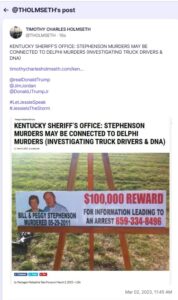 Murtaugh was angry at Holmseth because Holmseth issued a press release regarding Boone County, Kentucky.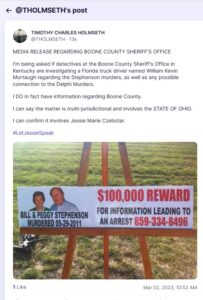 WILLIAM KEVIN MURTAUGH FACILITATES A PLANNING SESSION THAT INVOLVES FRAMING AN INNOCENT MAN FOR MURDER USING DNA
During William Kevin Murtaugh's presentation and report on the Stephenson case, and the possible connection to the Delphi murders, communications were taking place in the chat room. During the presentation a poster called TN LIGHTS said, "Another crime we will frame Timmy with! DNA baby!"
TN LIGHTS then said, "Timmy's DNA baby!"
Mark Butturini said, "Timothy WAS THERE".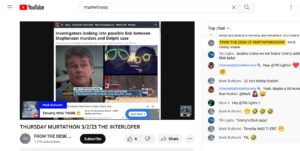 As the discussion of Timothy Charles Holmseth's DNA is brought up, TN LIGHTS expresses an idea for how the FBI/CIA/Murtaugh can obtain some of Timothy Charles Holmseth's DNA. "Murt can implicate Timmy and then ask law enforcement to go get his sample".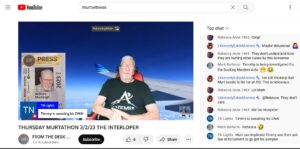 About Author