ARRESTED SUDDENLY – AN INDEPENDENT INVESTIGATION OF TWO FIRST-DEGREE MURDER TRIALS UNDERWAY IN FLORIDA AND DELPHI, INDIANA (Pt. 1)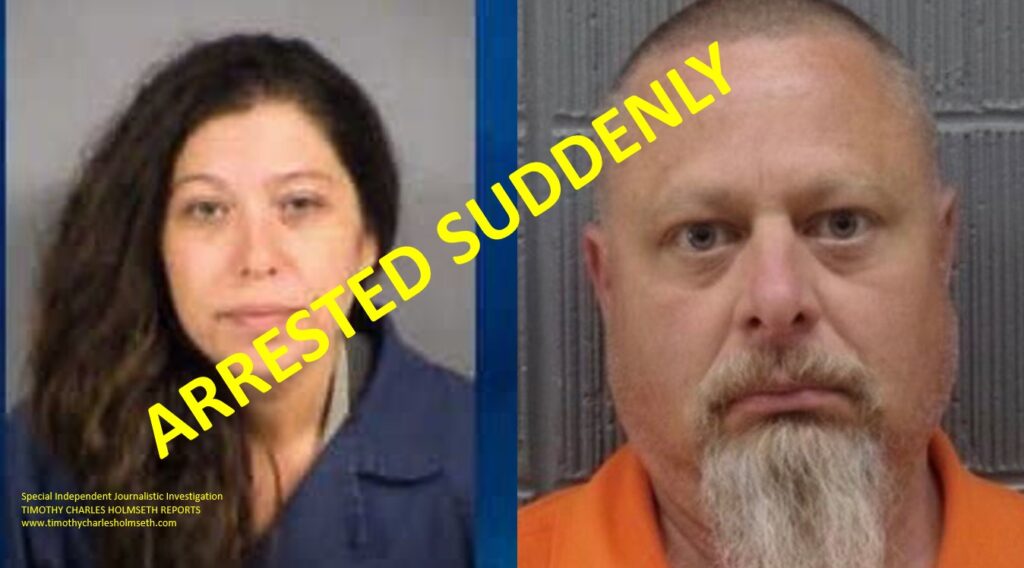 INTRODUCTORY NOTE: With the obvious evidence of fraud in the 2020 Presidential Election, and the daily revelations of censorship and FBI interference with Freedom of Speech at Twitter, as well as collusion to plant fake news stories (e.g., Russia, Russia, Russia) with other mainstream news outlets, in conjunction with new information coming out through U.S. Congress and the Weaponization of the Federal Government subcommittee, along with continued explosions and disasters in Ohio, it is abundantly clear the American people are, and have been, under military style attack by a Foreign Power, and the mainstream news is providing support and aid to the attackers via controlled propaganda.
Mainstream news has engaged in wholesale deception of the American public to the degree it has become a matter of National Security.
The 'courts' and 'judges' and 'judicial system' have been identified as corporate constructs that have illegally and unlawfully partnered with corporate media and secret societies to use the legal system and the 'courts' of the United States of America to deceive We The People by turning the judicial process and court trials into media/movie productions.
This independent investigation into two First-Degree Murder cases is intended to provide the American public with a different perspective of 'evidence' in two major criminal cases that are unfolding in the United States of America right now.
Below… you will observe something called Freedom of Speech and Freedom of Press and you are about to witness it's power.
by Pentagon Pedophile Task Force on March 5, 2023 – USA
On November 15, 2020, Congressional Auditor Christopher Edward Hallett, CEO, E~Clause LLC., was murdered in his Ocala, Florida home.
Two weeks before his murder, on November 2, 2020, Hallett, a former resident of Ohio, and former Plaintiff against the STATE OF OHIO, filed documents into the U.S. Court in Florida's Middle District. Hallett was a loss-prevention specialist and was performing services for the U.S. Government under consent of U.S. Congress. Prompted by judicial corruption he suffered from in Ohio, Hallett initiated extensive investigations that identified an unconstitutional "fourth pillar" of the U.S. Government that had been created, and which had been diabolically developed into a complex evil system of fraud within the judicial and court system, and was being used to facilitate organized crime, human trafficking, child exploitation, COVID, and money laundering on a worldwide scale. Shortly after Hallett filed his documents in the U.S. Court, he sent a copy of the federal court receipt to his professional colleague, Randi Lynn Erickson, Minnesota. After Hallett's murder, Randi Lynn Erickson searched the U.S. Court's PACER system for the court records of Hallett's November 2, 2020, filing. Erickson discovered the files had completely VANISHED. Not even a file number existed. No trace whatsoever of the financial transaction between Hallett and the U.S. Court that was established through the receipt. After the receipt was published on TIMOTHY CHARLES HOLMSETH REPORTS, William Kevin Murtaugh, a media agent and operative of the FBI, Apopka, Florida, reported on his You Tube based news channel From The Desk Of Murtwitnessonelive that he telephoned the U.S. Court in Florida and spoke with the Clerk of Court about the Hallett receipt. Murtaugh reported that the Clerk of Court told him the receipt was fake. Murtaugh also published video footage of himself at the scene of the Christopher Hallett murder – shortly after the murder.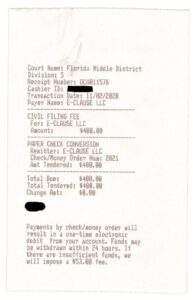 THE MURDER OF CHRISTOPHER EDWARD HALLETT 
The murder of Christopher Edward Hallett, which occurred in the evening of November 15, 2020, was essentially solved immediately.
Police records show Hallett's houseguest and E~Clause colleague, Shannon Mutter Tanis, along with her minor daughter, identified another one of Hallett's E~Clause colleagues, Neely Petrie Blanchard, as the person who shot Hallett multiple times.
THE SHANNON MUTTER TANIS TELEPHONE CALL WITH TONY PELLEGRINO AFTER THE MURDER
In order for the STATE OF FLORIDA to bring First-Degree Murder charges against Neely Petrie Blanchard – the Prosecution would certainly have made absolutely sure their investigation was thorough, rock solid, and air-tight. An investigation by law enforcement of a murder should not resemble an investigation one might see in a case of, let's say, shoplifting. First-Degree Murder carries a death penalty, and a STATE should not spare any procedure, expense, or resource, as to be absolutely positive they have the right person.
Law enforcement's investigation into the Christopher Hallett murder looked more like the cops were investigating and charging someone who had been witnessed stealing a few cartons of cigarettes from a convenience store.
Recordings of a phone call between Shannon Mutter Tanis and Tony Pellegrino, California, took place very shortly after the murder (same day). The recording is/was not believed to be in the evidence or inventory of the STATE OF FLORIDA when it suddenly appeared online long after the murder and deep into the judicial process. The recording revealed Shannon Mutter Tanis openly stating she was NOT tested for gunpowder residue by detectives.
Based upon the testimony of Tanis and her daughter, Neely Petrie Blanchard was arrested the next day in Georgia.
The following facts have been sufficiently established.
Shannon Mutter-Tanis claimed she could not get through to 911 for seven minutes, because, she said, her cell phone was from out of State
Tanis was NOT tested for gunpowder residue
Tanis refused to give law enforcement her phone and was allowed to keep it
Tanis was placed in the back of a squad car but refused to let the officer shut the door because, she said, she was already cooperating – and the officers complied with Tanis
Blanchard's arrest in Georgia was coordinated by two deputy brothers – one was a deputy in Florida, and one was a deputy in Georgia – they coordinated with their telephones to locate Blanchard at a gas station in Georgia and arrest her.
MAINSTREAM NEWS DUBS THE HALLETT MURDER AS 'THE QANON MURDER'
The murder of Christopher Edward Hallett was quickly converted by the mainstream media into headlines connecting the murder to a phenomenon called QAnon. On December 1, 2020, NBC news reported, "QAnon beliefs, promise of child custody help hang over deadly shooting – – – Witnesses told authorities that the woman accused of killing Chris Hallett shot him because she said he was conspiring with the government to keep her children from her".
THE DAILY BEAST BEGINS TO PROTECT THE WORLD-WIDE CRIMINAL ENTERPRISE AND HUMAN TRAFFICKING OPERATION THAT CHRISTOPHER HALLETT HAD DISCOVERED 
In November 2020, Will Sommer, a writer for The Daily Beast, published a story that, although it was not the intention of the writer, would eventually reveal how a narrative had been carefully crafted and designed for publication to distract the public from focusing on the emerging facts regarding child exploitation, human trafficking, crimes against humanity, cannibalism, and an organized crime network that had been uncovered by Christopher Edward Hallett.
On November 17, 2020, Sommer tweeted a link to a story he wrote on August 16, 2020, entitled, "QAnon promotes Pedo-Ring Conspiracy – Now They're Stealing Kids". "This new QAnon murder marks a fatal turn for the QAnon kidnapping network I reported on in August. Victim Chris Hallett was a lead figure in that group, while the suspect allegedly kidnapped her own children with inspiration from Hallett's org in March," Sommer said.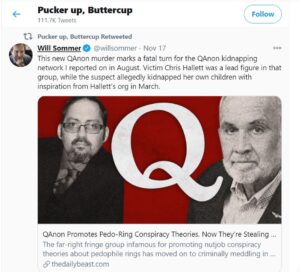 For his story's cover photo, Sommer featured the faces of Timothy Charles Holmseth, Minnesota, and Field W. McConnell, Wisconsin.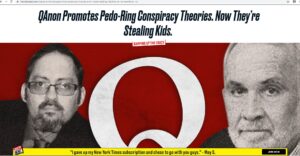 Sommer's assertion that Timothy Holmseth and/or Field McConnell, and/or Christopher Hallett were/are involved in "stealing kids" was/is pure fiction that was cast as a form of media witchcraft onto the public by The Daily Beast. The most extensive thorough search and in-depth analysis of all public criminal justice records, U.S. Court files, local court files, and any other records, will render absolutely NO (zero) records whatsoever that law enforcement, anywhere, ever, at any time, investigated Timothy Holmseth, Field McConnell, or Christopher Hallett for "stealing kids".
In another article by Sommer at the Daily Beast, entitled "QAnon Believer Teamed Up With Conspiracy Theorists to Plot Kidnapping, Police Say", the Daily Beast set forth a propaganda piece that pushed the same false claims about 'stealing kids'. In the piece, Daily Beast accused a Colorado mother named Cynthia Abcug of kidnapping her own child. The publication was part of a larger plan designed to create the false appearance of a human trafficking operation by Hallett and others who supported or worked with him.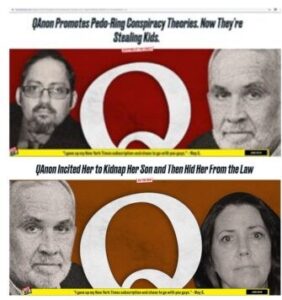 FBI and CIA OPERATIONS 
Records and public broadcasts by William Kevin Murtaugh, FBI/CIA operative, Apopka, Florida, published by Murtaugh on his You Tube channel From The Desk Of Murtwitnessonelive, show Murtaugh, who incidentally, is a dead ringer for the face shown in an FBI composite sketch published by the U.S. Marshals Service of James 'Whitey' Bulger, has been meeting with the FBI in Minnesota, Florida, and possibly other states, where he delivers presentations to special agents about Timothy Holmseth and others. Murtaugh spends hours with the FBI as he presents theories of human trafficking he says is being committed by Holmseth and others, that the FBI could potentially use to file fake criminal charges.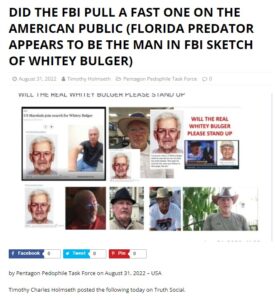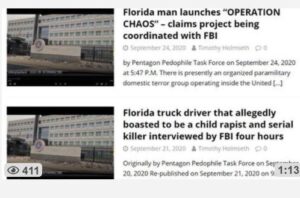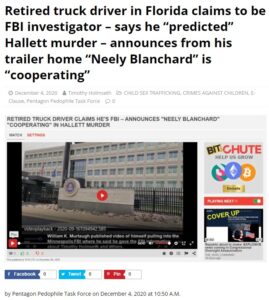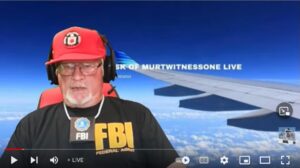 Clear and convincing evidence easily shows William Kevin Murtaugh's You Tube channel is an online meeting hub where operatives gather in the chat room to discuss operations and receive instructions from Murtaugh. Murtaugh's productions appear to have the blessing of the FBI as Murtaugh is free to wear FBI and CIA logos while he presents news and defines himself as a "reporter".
WILLIAM MURTAUGH ASSISTS THE FBI AND TBI IN THE INVESTIGATION OF A PHOTO OF A "SHAVED PUSSY" 
Murtaugh recently announced that he personally met with the FBI in Florida and worked with the Tennessee Bureau of Investigation (TBI), to solve a case involving a mysterious photo of a vagina that he received via interstate electronic communications. Murtaugh said the vagina picture, which was on his telephone, and that did not show the female's face, rather, only showed the crotch area of a small human frame with no pubic hair, small hips, and strange bruising, possibly a corpse, was positively identified by the TBI in Nashville as a porn actress. Murtaugh said the TBI searched the words "shaved pussy" and identified the name of the Asian female and determined she was an adult.
Murtaugh's representation of the TBI's interaction with the vagina picture is 100% false according to Timothy Charles Holmseth and Randi Lynn Erickson, who were both present when the TBI agents viewed the vagina photo. Holmseth and Erickson have both said Murtaugh is LYING.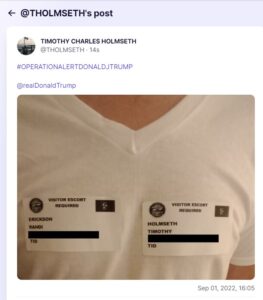 THE DELPHI DOUBLE MURDERS OF ABIGAIL WILLIAMS AND LIBERTY GERMAN
The Indiana State Police investigating the Delphi Double murders of Abigail Williams and Liberty German, Ohio Attorney General Dave Yost, Ohio Governor Mike DeWine, Ohio FBI, as well as the attorneys for accused Delphi murderer Richard Allen, have all received the applicable information and evidence regarding the vagina photo.
THE JUSTIN FOLEY CHILD PORNOGRAPHY CASE IN OHIO 
Randi Lynn Erickson contacted the investigator in the Justin Foley child pornography case/arrest that occurred in Ohio in August 2022, and asked the investigator to search the images they seized from Justin Foley – to see if there is a match to the 'small' vagina picture. Erickson has also requested the Indiana State Police rule out Abigail Williams as being the female in the faceless photo.
Clear and convincing evidence shows William Kevin Murtaugh's network of operatives and agents is connected to ongoing events involving the Delphi Double murder case in Indiana where Abigail Williams and Liberty German were murdered in 2017.
Evidence shows the same operatives involved in the events that led up to the murder of Christopher Hallett in 2020, and the strong possibility that Neely Petrie Blanchard was framed for the crime, are also involved in the events that led up to the murders of Abigail Williams and Liberty German, and create the unique possibility that Richard Allen, the man charged with murdering Abby and Libby, may also have been set up to take the blame.
WILLIAM KEVIN MURTAUGH WAS FEATURED ON THE NEWS IN FLORIDA BECAUSE HE CLAIMED TO KNOW THE IDENTITY OF MISSING CHILD TRENTON'S ABDUCTOR – NEWS REPORTED MURTAUGH ADMITTED HE IS "OBSESSED WITH MISSING CHILD CASES" VIDEO BELOW FEATURES VIDEO AND AUDIO SAMPLES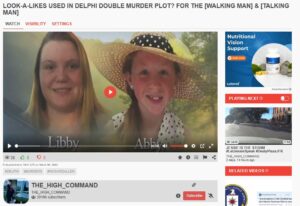 WILLIAM KEVIN MURTAUGH CLOSELEY RESEMBLES THE FBI'S ORIGINAL FAVORITE SUSPECT IN THE DELPHI MURDERS, RONALD LOGAN – MURTAUGH'S WEB MODERATOR JOHN TAYLOR CLOSLEY RESEMBLES ACCUSED MURDERER RICHARD ALLEN – MURTAUGH APPEARS TO RESEMBLE THE 'WALKING MAN' ON THE MONON HIGH BRIDGE – TAYLOR SOUNDS LIKE THE VOICE OF THE TALKING MAN WHO SAID "GUYS, DOWN THE HILL"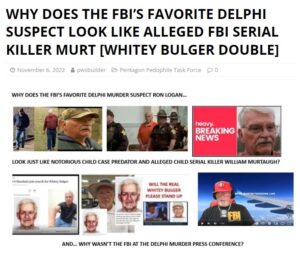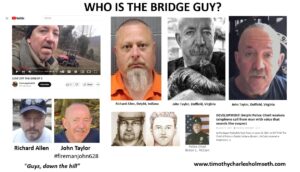 STATEMENT OF FACTS IN A RACKETEERING INFLUENCED CORRUPT ORGANIZATIONS ACT (RICO) CASE FILED IN TENNESSEE CONTAINS EVIDENCE CHRISTOPHER HALLETT WAS ASSASSINATED BY THE U.S. GOVERNMENT, FACTIONS OF THE U.S. MILITARY, and FOREIGN MILITARY OPERATIVES DURING ONGOING TIER ONE (FBI/CIA) OPERATIONS ON AMERICAN SOIL BY SPECIAL FORCES AND NAVY SEALS
In 2022, Timothy Charles Holmseth filed Holmseth v. Page et al – 3:22-cv-00912 – Middle District of Tennessee. The case provides details of a racketeering enterprise that is so well-funded and connected it involves assassination squads of the FBI and CIA connected to the Chairman of the Joint Chiefs of Staff, General Mark Milley, retired Army General Michael Flynn, retired Vice Admiral Charles W. Moore, an FBI agent, and others.  Facts and evidence show the Tier One Operations being run are connected to Tennessee, Florida, Ohio, Indiana, Wisconsin, Arizona, Georgia, South Carolina, Minnesota, Virginia, Texas, and other states.
Strong evidence exists that shows the STATE OF FLORIDA's First-Degree Murder case against Neely Petrie Blanchard is hopelessly flawed.
In sum and substance, the STATE OF FLORIDA alleges Neely Petrie Blanchard, acting alone, obtained a firearm and shot dead her beloved friend and colleague Christopher Hallett.
EVIDENCE APPEARS TO CAST DOUBT ON THE FIRST-DEGREE MURDER CASE AGAINST NEELY PETRIE BLANCHARD
This investigative series is being published for FREE to the world in the advancement of public safety and in the interest of National Security. The facts and circumstances being reported upon herein are matters of great public interest and importance.
This series will now begin a format of evidence presentation that pertains to the murder of Christopher Edward Hallett, and the First-Degree Murder charges against Neely Petrie Blanchard. The series will continue to publish one item at a time.
The reader/viewer is encouraged to use their own critical thinking and judgement and reach their own conclusions.
EXHIBIT # 1
The first exhibit of this ongoing series and presentation is a comment made by a CNN and FOX NEWS contributor/associate named Levi Henry Page IV, Dover, Tennessee. Page has a strong Web presence on social media and hosts a You Tube program called "Crime and Scandal". He is associated with FOX NEWS' Nancy Grace.
Levi Henry Page's true and actual identity was not established for the world to see until Timothy Charles Holmseth filed Holmseth v. Page et al – RICO – 3:22-cv-00912 – Middle District of Tennessee. Ernie Rice, Rice Investigations, Tennessee, performed service of federal court documents for Timothy Holmseth to Defendant "Levi Henry Page". Rice Investigations properly served "Levi Henry Page" as requested by Timothy Holmseth. The man who accepted the documents did in fact state his name was Levi Henry Page. Upon learning from Ernie Rice, the age and size of the man he served with the documents, Holmseth realized there was no way that was the Levi Henry Page who appears on television. Rice Investigations soon determined that Levi Henry Page is actually Levi Henry Page IV. His father accepted the documents.
Levi Henry Page IV is an associate of William Kevin Murtaugh and acts as an operative to push very specific agendas, that invariably implicate very specific targets, and serve to guide one's thoughts and beliefs, in high profile cases that involve crimes against children, kidnappings, and murder.
In the first exhibitive screenshot below you will see Levi Henry Page IV announce the Hallett murder. "Chris Hallett is a scammer than [sic] ran a group called "e-clause" is shot to death in his own home. A woman named Neely Blanchard has been charged. But could she have an accomplice? Listen", Page said.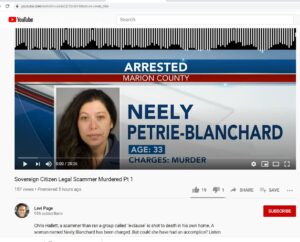 In this, the second exhibitive screenshot, you will see Levi Henry Page IV is logged in to a chat room during a show called Kirks Law Corner on You Tube. The show, dated the day after Christopher Edward Hallett was murdered, is entitled "RIP Chris Hallett", and is hosted by Kirk L. Pendergrass, Idaho, a Due Process expert and agent of E~Clause LLC, who co-hosted shows with Christopher Edward Hallett. In the chat room you will see Levi Henry Page IV ask Pendergrass, "Kirk, what evidence was found in Neely's vehicle?" While this question by Page IV could be construed as innocuous, evidence to be shown further on in this series will show Page IV was likely high from 'Duper's Delight' and was taunting Pendergrass.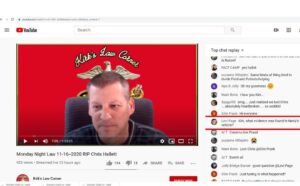 About Author