"ONE ASSHOLE WHO THOUGHT HE WAS UNTOUCHABLE" [MORE TO COME?]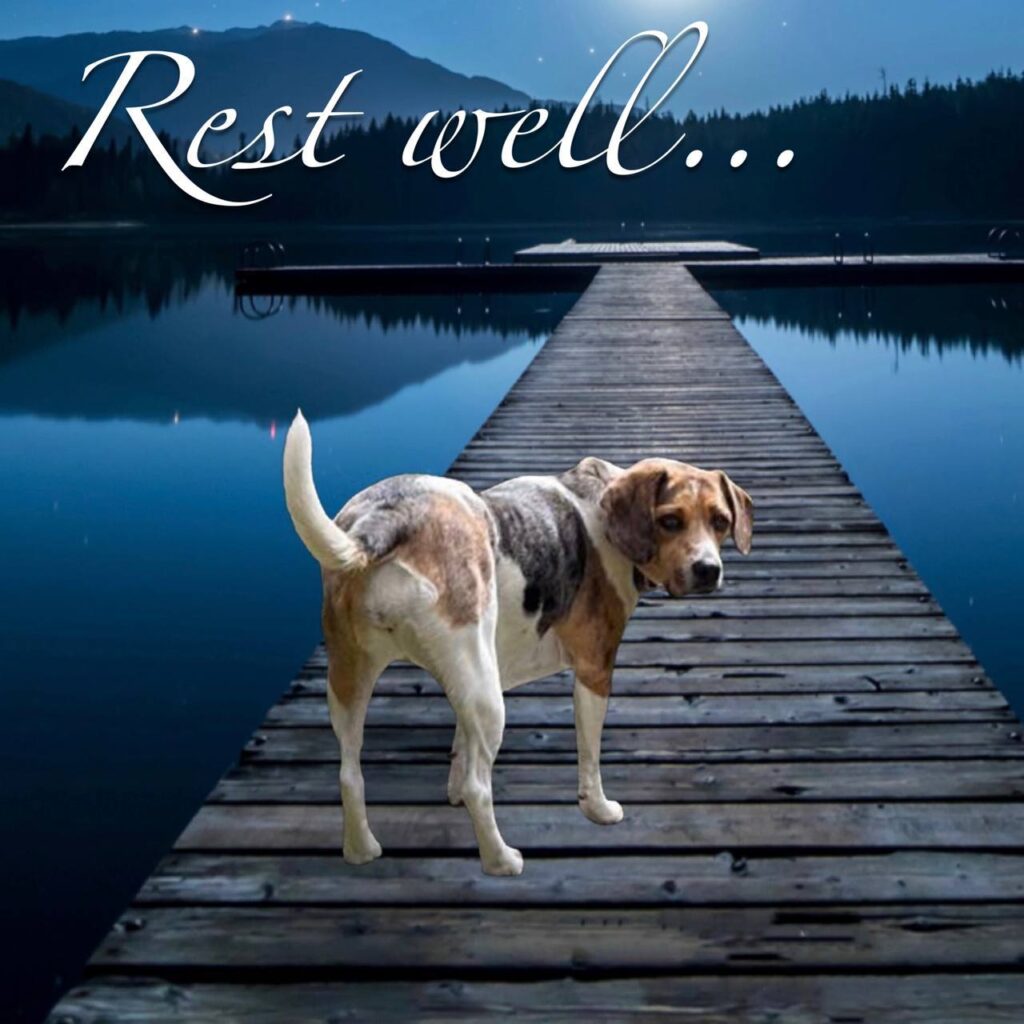 by Pentagon Pedophile Task Force on March 3, 2023 – USA
Today, a post was re-truthed by Timothy Charles Holmseth on his TRUTH SOCIAL account. @KellyWibel said, "Just watched one asshole who thought he was untouchable get two life sentences. "Alex murdaugh"
Such a beautiful thing to witness, I want to see more much much more of these phony's get taken down !".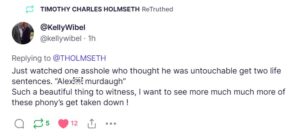 @KellyWibel was referring to a disgraced attorney from South Carolina, Alex Murdaugh, who was convicted yesterday of murder.
@KellyLibel was responding to a post Holmseth made wherein Holmseth posed a hypothetical question about military personnel and Special Forces, trained by the U.S. Taxpayers, publicly announcing they are running Tier 1 Operations (CIA Black Ops) on America soil while taking in millions of dollars in donations to fund the operations. Holmseth's scenario described the Tier 1 Operations being run with federal agencies, U.S. Military units, and Foreign Military units. Holmseth wondered out loud if those Tier 1 Operators would be required to turn over their operational records if they came under investigation.
Holmseth's post included the hashtags #ExplosionsInOhio and #LetJessieSpeak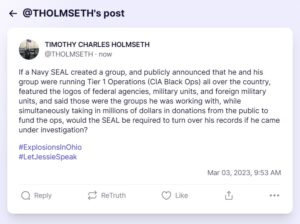 Holmseth's recent posts appear to have a common theme that surrounds hoaxes and frauds. Holmseth made another post called 2nd Amendment Hero Hoax – see below.
~begin~
2nd Amendment Hero Hoax
If Atty Lin Wood and Navy SEAL David Hancock planned and orchestrated the Kenosha film production starring Kyle Rittenhouse and others, and the subsequent court trial production, all of which was used to defraud the public of money, the latest con using the legal system to feature a 'lawsuit' against Kyle, where he seeks donations for his defense while evading service, would be a continuation of the original fraud.
Is Lin Wood going to be indicted?
Keep watching.
~end~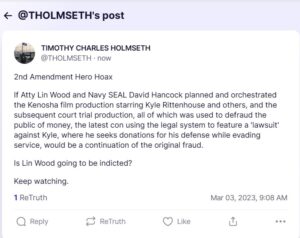 David Hancock, who is at great odds with his former colleague Wood, has stated Wood received a visit from the U.S. Secret Service and is banned from being physically near President Donald J. Trump.
Wood has responded to Hancock's smears by saying Hancock was stripped of his Navy SEAL Trident for fraud. Interestingly, in 2020, Wood was surrounded at his South Carolina Planation called Tomotley by a group of dirty Navy SEALS, many of whom were stripped of all their medals and awards. Wood published a taped phone call he received from Patrick Byrne wherein Byrne warned Wood to get rid of the SEALS.
Some of have wondered if Wood was overseeing Tier 1 Operations.
Wood regularly posts pictures of people on his Telegram account that features his dog's tail pointing at that person. Wood posted a photo of former Navy SEAL Jeff Wobig. Below the photo Wood said, "Traitors and human traffickers of a feather face execution together".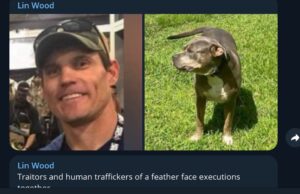 Former Navy SEAL David Hancock, who now runs the media circuit promoting Kyle Rittenhouse, once commented on a photograph Lin Wood posted on his Telegram account featuring his dog, Allie. Hancock said he thinks Wood posts the dog in a fashion where the public is almost looking at the dog's butthole – as to privately mock the public.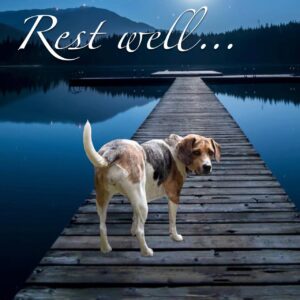 About Author