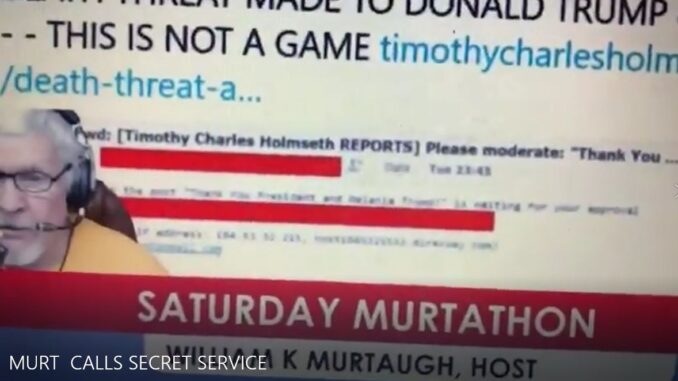 by Pentagon Pedophile Task Force on October 11, 2020 at 1:39 P.M.
Attn: U.S. Secret Service
William K. Murtaugh, 70, Apopka, Florida, knowingly provided the U.S. Secret Service in Washington DC with false information during a telephone call he made last night, which he also illegally Livestreamed.
Murtaugh made the call regarding a published article, and corresponding You Tube video, about a death threat that was made against President Trump and his family.
The original article was published in June, 2020.
Murtaugh telephoned U.S. Secret Service to report that he observed a link to a story, and a You Tube video, on the Twitter account The High Command, which was originally published on www.timothycharlesholmseth.com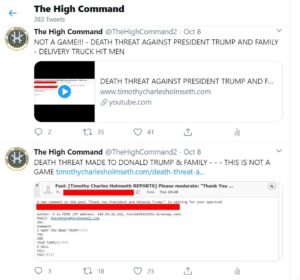 Below is the video…
Murtaugh not only violated Florida's wiretapping statute 934.03 by recording the call without the consent of the other party (which he did with two different people from the Secret Service during the call), which is a felony, but he lied to the Secret Service about details. Important details.
"I've been named as part of the people that are making this threat so it puts my safety at risk because they are spreading this information around," Murtaugh told the Secret Service.
Murtaugh's claim that he has been named as "part of the people that are making this threat" is completely false.
Nobody has been named regarding the threat.
The original story about the death threat against President Trump was made via a comment on www.timothycharlesholmseth.com – and the person who made the threat has never been identified – nor has there ever been any suggestion that Murtaugh made the threat.
Murtaugh lied and proactively implicated himself where he previously had not even been mentioned.
During last night's Livestream, Murtaugh proudly reminded everyone in his chat room, (which is believed to be an online discussion forum for members of an international child trafficking operation) that the U.S. Secret Service takes every single call very seriously and acts on every call.
"They'll track Timmy down," Murtaugh said, referring to Timothy Charles Holmseth. Holmseth is the news reporter that published the information about the threat in June of 2020.
Murtaugh then contradicted what he said only moments before, and revealed his true motive for making the report to Secret Service.
"I encourage everybody to call into the U.S. Secret Service because the more calls they get about this thing the more that they are going to be inclined to do something about it," Murtaugh said.
After Murtaugh made his call to the U.S. Secret Service, a portion of it was uploaded to You Tube by a channel called Glows Lightly, which also uploaded it onto Twitter.
Murtaugh then re-tweeted the Glows Lightly tweet to distribute it.
Glows Lightly said on Twitter, "Timothy Charles Holmseth and Randi Lynn Erickson Reported to United States Secret Service…"
Erickson is the owner of www.timothycharlesholmseth.com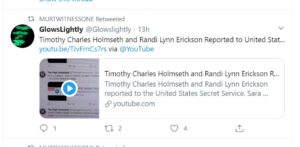 During his report to the Secret Service, Murtaugh told the agent Timothy Holmseth is part of "QANON".
"He's a very unstable individual and obsessed with the Trumps," Murtaugh said.
Murtaugh told the agent he had spoken with his local law enforcement in Florida and local FBI office in Florida "about this situation".
Murtaugh is not fooling anyone.
Here's why.
Murtaugh is part of what he publicly rolled out as "OPERATION CHAOS" which he is running in conjunction with Hillary Clinton's former bodyguard, Craig Sawyer, who set up a very heavily armed paramilitary operation in Arizona under the guise of a fake child rescue group called Veterans For Child Rescue.
Sawyer is operating a domestic terror group which he said he created in April of 2017 with the "top of the FBI".


In August of 2020, Sawyer threatened Timothy Holmseth via interstate electronic communications using the same communication method (comment on www.timothycharlesholmseth.com) as the person who sent the death threat against President Trump.

As part of "OPERATION CHAOS" Murtaugh recently traveled by air from Florida to Minnesota to meet with the Minneapolis FBI, East Grand Forks Police Department, Polk County (Minnesota) Court Administration, Elk River, Minnesota Police Department, and others.
In one "OPERATION CHAOS" video published by Murtaugh, he showed himself physically staking out the UPS store in Elk River, Minnesota where he hoped he would see Holmseth getting his mail.
Murtaugh posted homemade "REWARD" posters for Holmseth, which Sawyer then started publishing on Twitter as part of "OPERATION CHAOS".
This is a developing story.
CLICK HERE TO LEARN MORE ABOUT CRAIG SAWYER WHO HAS BEEN ACCUSED OF CHILD SEX TRAFFICKING AND BEING A PEDOPHILE
CLICK HERE TO LEARN MORE ABOUT WILLIAM K. MURTAUGH WHO HAS BEEN IMPLICATED BY SIGNIFICANT EVIDENCE AS BEING A CHILD RAPIST, MURDERER AND SERIAL KILLER