CAYLEE ANTHONY – RITUAL SACRIFICE – CASE WITNESS SAYS CASEY ANTHONY ANCIENT BABYLONIAN GOD MOLACH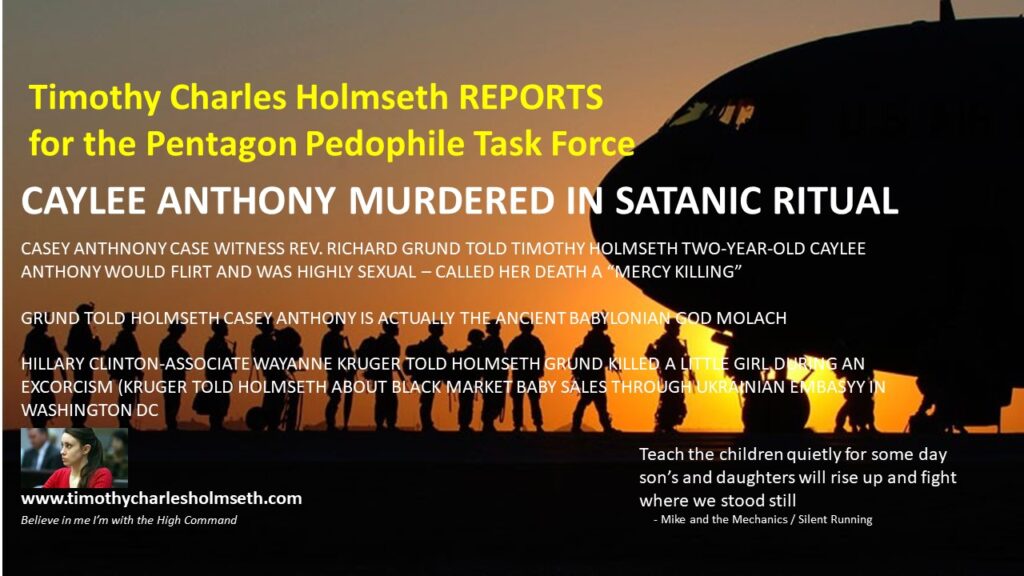 by Timothy Charles Holmseth on May 2, 2020 at 8:50 A.M.
Today FOX NEWS published Casey Anthony confesses – to speeding in Florida.
While corporate fake news media trivializes the Casey Anthony case as a novelty; the truth about the murder of Caylee Anthony is horrible beyond belief.
During my interviews with Hillary Clinton-associate Wayanne Kruger (who told me about black-market baby sales through the Ukrainian Embassy in Washington DC), she told me Rev. Richard Grund killed a little girl in a satanic ritual and hoped he didn't do the same thing to Caylee Anthony.
Grund and a bounty hunter from Broward County, Florida named William Staubs (a.k.a. Cobra) told me there was secret plot by the Anthony family to frame a Grund for the child's murder.
Richard Grund told me Casey Anthony visited his son, Jesse Grund, and tried to lure Jesse Grund into the shower so she could extract semen from him. Richard Grund went on to say he believed Casey Anthony was going to take the semen, along with pubic hair from the shower drain and plant it on Caylee's body (which had not been found yet) to frame a Grund. Richard Grund also claimed the Anthony's "hacked" his computer.
I think Grund was afraid his semen and pubic hair was going to be found on Caylee's body. I also think they filmed the satanic ritual murder.
I obtained evidence that revealed Staubs and his associates knew the location of Caylee's body before she was found. The audio evidence (i.e Public Record) is evidence in the files of the Polk County, Minnesota Clerk of Court in Crookston, Minnesota.
Deep State agents repeatedly kidnapped and imprisoned me in Polk County, Minnesota because of my efforts to expose these truths.
https://www.youtube.com/watch?v=TJe6V0Z0Cow&feature=youtu.be