CEO of VIMEO calls law enforcement on child torture film producer from Colorado?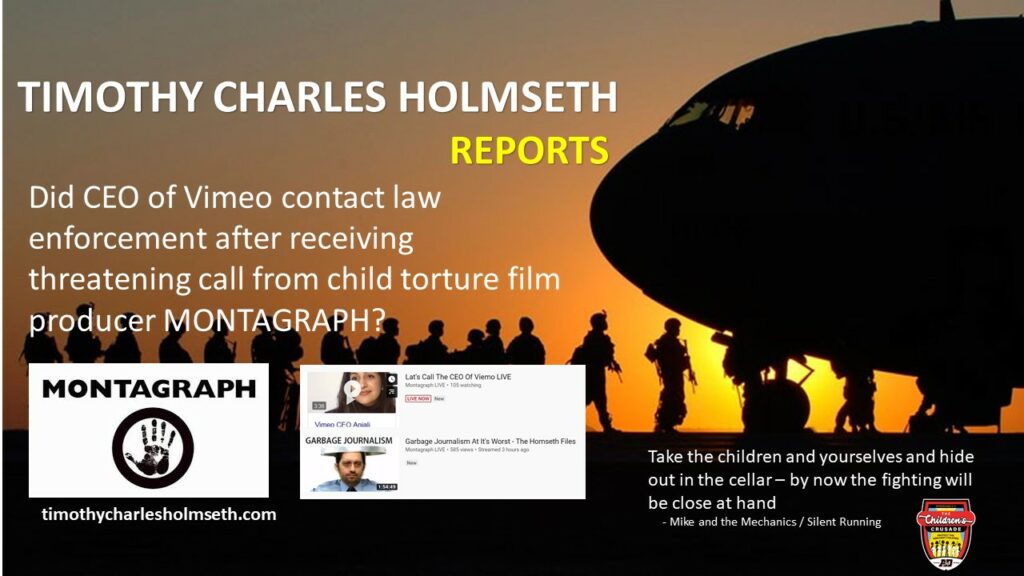 by Timothy Charles Holmseth on December 2, 2019 at 12:08 P.M.
Did the CEO of Vimeo contact law enforcement after receiving a threatening telephone call from MONTAGRAPH?
The Colorado child torture film producer who has been obtaining the cell phone numbers of the nation's highest Executives, U.S. Congressmen, and CEO's of major corporations and making ominous phone calls about secret information he possesses in the "Illuminati data base"  is at it again.
This time his target may have called the police.
On November 29, 2019 I (Timothy Charles Holmseth Reports) published US Military to Take Out Blackmail Operation Against Congress and Executives…? on Vimeo. The video report addressed the actions of a Colorado child torture film producer called MONTAGRAPH (a.k.a. Steve Quest, Roy Warren Marshall, Dale Ellis Bennett) – it was published on my Vimeo account.
Shortly after I published the report, MONTAGRAPH announced he was calling the CEO of Vimeo. He made the call but then did not publish the Livestream.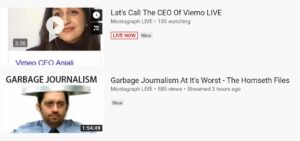 Today, MONTAGRAPH admitted the call did not go well, and, it sounded like Anjali Sud, CEO, Vimeo, didn't back down.
"I got a little crazy with the CEO of Vimeo because I was a little hot under the collar. I'll call her up and apologize I reckon and then just calmly tell her the deal. She wants to file charges do it. Let's get it on public record – all of it. She can't have me arrested for that call because there was nothing threatening about it," MONTAGRAPH said.
According to my source Pentagon 1, MONTAGRAPH is the subject of an active federal investigation.
Below is the Vimeo video referenced in the article above.
Below is the child torture film Little Piggy and the Umbrella Man that MONTAGRAPH produced and appeared in. The small girl in the video has never been identified by law enforcement.