COL. DAVID STRAIGHT, REPUBLIC OF TEXAS, TEXAS RANGER, GATHERING EVIDENCE REGARDING CLINTON FOUNDATION BABY RAPE VIDEOS – STRAIGHT IS NOT BONDED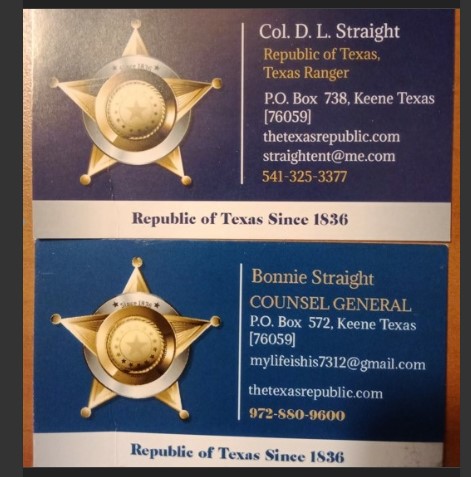 by Pentagon Pedophile Task Force on June 15, 2022, at 10:01 A.M. EST – USA
The following was posted on GAB social by Timothy Charles Holmseth yesterday.
~begin~
Facts continue to emerge regarding David Lester Straight, and his new wife, Bonnie Straight, who are operating what they call the Republic of Texas (ROT).
In 2021, David Straight began handing out a business card where he claimed the official title of Colonel with the ROT, Texas Rangers. Bonnie Straight's card says she is "Counsel General" of ROT.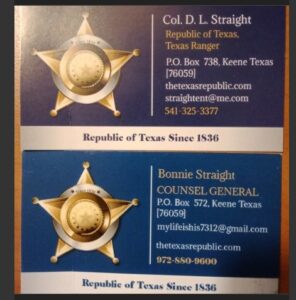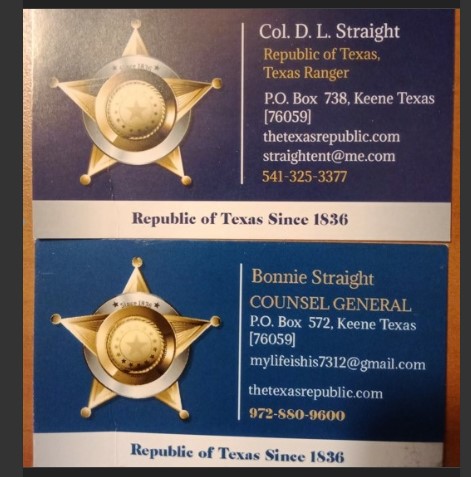 Before assigning himself the title of Colonel with ROT, David Straight told the public he served on three Presidential Commission under President Donald J. Trump. David Straight accepted hard evidence and sworn affidavits of international human trafficking and serious crimes against humanity for investigation by the U.S. military under JSOC.
Col. Straight is also creating 'dossiers' on the names of individuals that are so numerous the data fills up the space of a huge chart that he features at his seminars.
THE CLINTON FOUNDATION
I have learned Col. Straight traveled to Colorado in 2021 and gathered evidence that implicates the Clinton Foundation in a massive Dark Web child trafficking cartel where babies are raped on film.
Col Straight previously told me he viewed video of "Mike Pence" raping a little boy. He said he was able to view the highly classified video because he had "Secret Service" clearance because he protected "George Bush".
DAVID AND BONNIE STRAIGHT ARE NOT BONDED
Randi Lynn Erickson, a former judge from Minnesota, who escrowed evidence that is now in the U.S. Court and in the custody of the U.S. military, was recently contacted by a victim that turned critical evidence over to Col. Straight. The victim asked Erickson to please get the evidence back from Col. Straight and properly escrow it.
Erickson contacted Col. Straight to discuss his new title of Colonel, as well as Col. Straight's latest assertion that he is a "General" followed by millions. Col. Straight told Erickson he took an "oath of office" to the "Republic of Texas".
Erickson asked Col. Straight if he is bonded in his role of chief law enforcement officer of ROT. Erickson said Col. Straight said he is not bonded through a bond company (whereupon the oath and bond is registered with the Secretary of State).
Col. Straight told Erickson he has a "silver bond" and added "lol" as if it was funny.
Erickson told Col. Straight that both he and his wife Bonnie Straight are required by law to be bonded.
~end~