DARK TO LIGHT (PHRASE USED IN Q POSTS) RELATES TO A TWO-SIDED SYSTEM THAT WILL USHER IN THE ANTI-CHRIST AND THE GREAT APOSTASY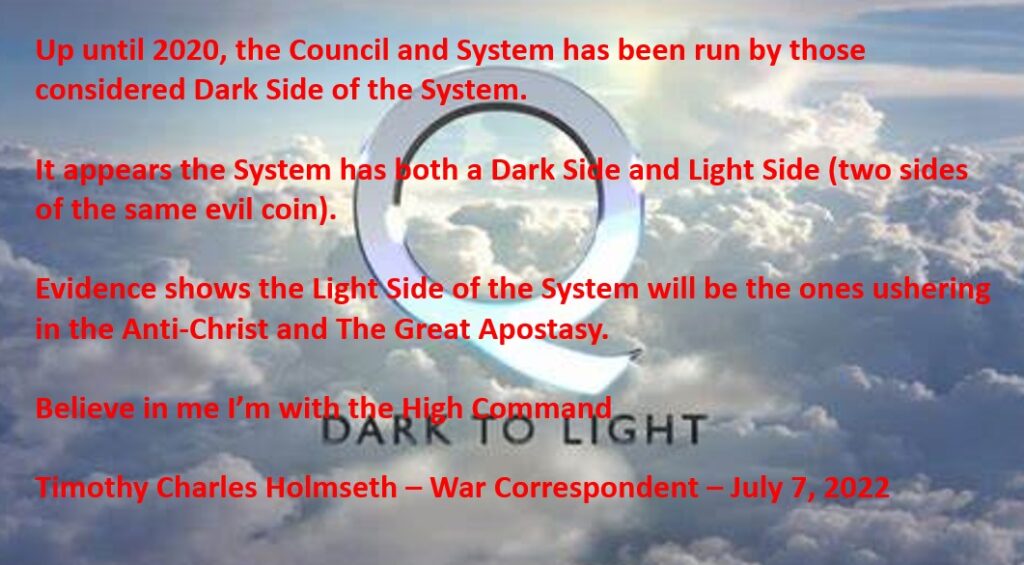 by Pentagon Pedophile Task Force on July 7, 2022 – USA
The following was posted on the GAB account of Timothy Charles Holmseth, today.
~begin~
DARK TO LIGHT (PHRASE USED IN Q POSTS) RELATES TO A TWO-SIDED SYSTEM THAT WILL USHER IN THE ANTI-CHRIST AND THE GREAT APOSTASY
by Timothy Charles Holmseth – War Correspondent – on July 7, 2022, at 9:01 P.M. – USA
Today I posted GENESIS 6 BREEDER PROGRAM and the BEAST SYSTEM per my investigation into crimes against humanity. I set forth information about a Satanic council called the Merlin Council and a position called The Phoenix (formerly held by George Soros; now held by Barack Obama).
I am now directing my investigatory attention to the phrase 'Dark to LIGHT' which is commonly used in Q posts.
The duties of the Phoenix position include overseeing the System's Financial Trust. The Phoenix sits in the top seat for the Satanic Council and oversees the ruling and governing of the System in the USA and internationally. His job is to raise up the Light Side of the System after the Darkside falls.
Up until 2020, the Council and System has been run by those considered Dark Side of the System.
It appears the System has both a Dark Side and Light Side (two sides of the same evil coin).
Evidence shows the Light Side of the System will be the ones ushering in the Anti-Christ and The Great Apostasy.
Believe in me I'm with the High Command
~end~
About Author