by Timothy Charles Holmseth on June 16, 2020 at 10:50 A.M.
On June 16, 2020 the You Tube channel called The High Command received notice from You Tube, a subsidiary of Google, that a video published on June 15, 2020 entitled The 'George Floyd' that was arrested had hair – the 'George Floyd' that was killed had no hair, violated You Tube's community guidelines governing "Hate Speech".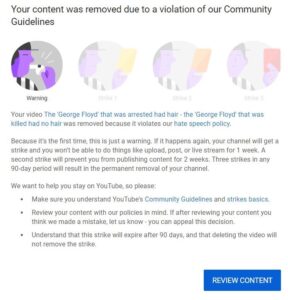 The removal of the 43 second video has been formally challenged.
The video has been re-uploaded to Vimeo as the legal/lawful process plays out.
This is a developing story.