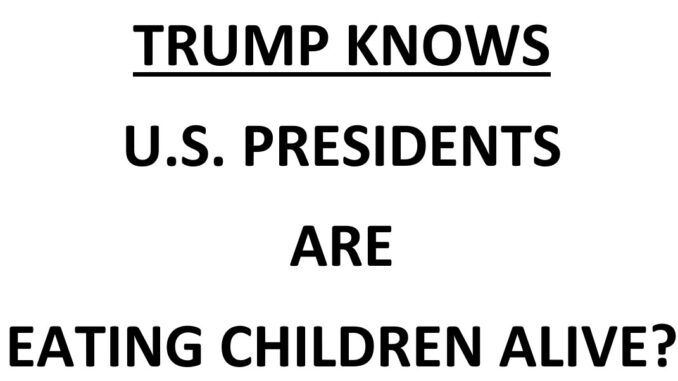 by Pentagon Pedophile Task Force on July 12, 2022 – USA
The following was posted on the GAB account of Timothy Charles Holmseth, today.
~begin~
DONALD TRUMP HAS THE CANNIBALISM EVIDENCE IMPLICATING HILLARY AND OTHER PRESIDENTS?
by Timothy Charles Holmseth – War Correspondent – on July 12, 2022, at 4:24 P.M. – USA
I am reporting that today, a screenshot of a partial portion of a header of a "CRIMINAL COMPLAINT" appeared on Telegram.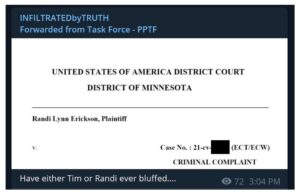 The Plaintiff on the "CRIMINAL COMPLAINT" was Randi Lynn Erickson. The headers said, "UNITED STATES OF AMERICA DISTRICT COURT – DISTRICT OF MINNESOTA".
The posted portion of the "CRIMINAL COMPLAINT" does not show any details regarding what the Complaint entails.
I have identified the case in the U.S. Court contains statements from Droel Law Firm (TX-MN).
On February 15, 2022, shortly before Donald J. Trump's RICO suit was filed – Droel Law, TX-MN, included my name "Timothy Charles Holmseth" in a U.S. Court filing in Minnesota. Droel named me and evidence I obtained regarding an FBI agent named "John Regan". Droel said, "sold kidnapped babies through the Ukrainian Embassy in Washington DC.
Droel said, "Jessie Marie Czebotar".
Here's more from Droel.
Droel Law said in a filing, "…as well as several murders by Hillary Rodham Clinton in Chicago in the early 1980s, which included the raping, torturing, and eating of children during satanic rituals".
Droel said, "…and other high-profile individuals, such as Ronald Reagan, Bill Clinton, Joe Biden, Newt Gingrich, Dick Cheney, Dan Quayle, Mike Pence, John Kerry, Muammar Gaddafi, Amy Coney Barrett, and Elon Musk to name a few, as being involved in some Satanic cult that tortures, rapes, murders, and eats children."
DONALD J. TRUMP
If the "CRIMINAL COMPLAINT" that appeared online today was delivered to Donald J. Trump's attorney Peter Ticktin, I may report that in the future.
~end~