Epstein's $68 Billion money transfer to Toronto Dominion Bank (with a UKRAINE twist) – "biggest scandal in the history of the World Wide Web"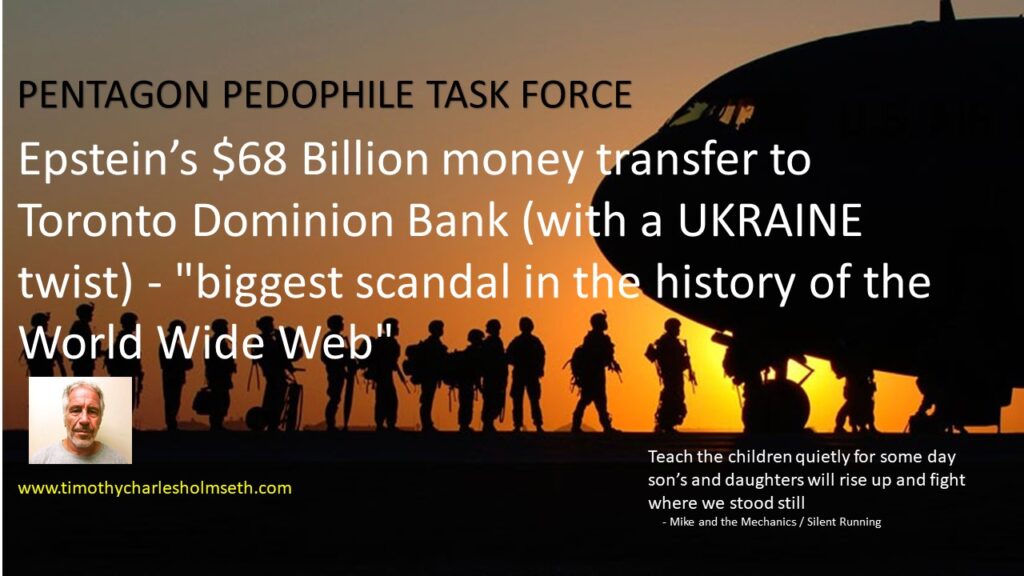 by Timothy Charles Holmseth on February 28, 2020 at 12:18 P.M.
PUBLISHER'S NOTE: In the past week I have published several articles regarding a man from Canada who calls himself Agent Margaritaville. This Canadian man whom I have never met abruptly interjected himself into my life by demanding I give him my telephone number because, he says, he wants to send me 200,000 files regarding sexual abuse of children by high-level government officials which he says he possesses. He actually threatened to send people to harm me if I don't give him my phone number. He also threatened a woman named Kathy Micale with death in an email.
This man (Agent Margaritaville) insists I must do what he wishes because I am associated with the Pentagon Pedophile Task Force (PPTF). I advised Agent Margaritaville that if he has any evidence of crimes against children, he needs to turn the evidence over to law enforcement. Such evidence is likely unlawful to possess because if it features any sexual abuse of a child it will be classified as child pornography. I advised him that I am not law enforcement.
It is true that I am an award-winning mainstream news reporter and the only authorized journalist to publish unique original content for the PPTF. I am also an investigator, analyst, and multi-media specialist, assisting.
In the past few days Agent Margaritaville abruptly (falsely) accused me and the PPTF of possessing, or having at some point in time possessed, some $750,000 which he says I/we "raised". The allegation/assertion/accusation is 100% FALSE.
Agent Margaritaville merges his false accusations with equally false claims about The Children Crusade. I have NEVER received a dime from The Children's Crusade. I do not even know of The Children's Crusade ever receiving any donations. The allegations by Agent Margaritaville are UNTRUE and STUPID. Neither I, nor the PPTF, has ever raised or accepted donations online from the general public. Rather – the special investigations are privately funded and very well documented.
If PPTF special investigations result in action by the U.S. Military regarding international crimes, then, of course, those Special (military) Operations are paid by the U.S. Government.
I reported exclusively that United States Marines rescued 2,100 enslaved children from underground bunkers in California. END PUBLISHER'S NOTE:
So…
Let's turn our focus to Agent Margaritaville.
On September 26, 2019 Agent Margaritaville published a You Tube video wherein he was featured as a guest on Field McConnell's program called Abel Danger. The following was published below the You Tube video.
Pay close attention to the fact-pattern you are witnessing. What you will see is Agent Margaritaville announces he has uncovered evidence regarding a $68 Billion money transfer to the Toronto Dominion Bank by Jeffrey Epstein. He also claims to have evidence regarding human trafficking and the Ukraine.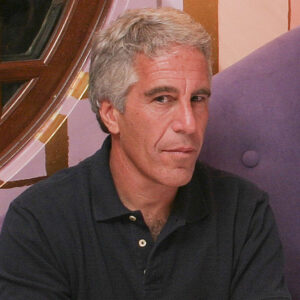 He says he was assisted or guided to this information by a man known as Montagraph – also known as October Reignz on You Tube.
"Agent Elvis discovered yesterday what will probably be the biggest scandal in the history of the World Wide Web. And we want to thank Montagraph for that. Montagraph led us to accompany that is registered in the United States and is traded on NASDAQ and is major, major, major player in the internet business in domain registry and it turns out that it goes right back to Langley. Or it could be pizza shop in Langley," Agent Margaritaville said.
"I don't think it's as big as the Epstein Island scandal and where that going but I just wanted to thank Mr. Montagraph," Agent Margaritaville said.
That's interesting information that comes from the child torture film producer Montagraph who published a video called Little Piggy and the Umbrella Man that featured a little girl tied to a chair with a pig-snout mask who has never been identified by law enforcement.
But as you get to the end of Agent Margaritaville's revelations (see below), you see he begins to ASK FOR DONATIONS!
Did he receive donations?
Did he receive data and files from people?
From whom?
How much money?
How many files?
What was on the files?
Where did the money go?
I pose these questions because my investigative opinion is this man is trying to dump $750,000 off onto somebody else.
* * * * *
Published by Agent Margaritaville on September 26, 2019 on You Tube 
The good folks at Abel Danger welcome Agent Margaritaville to discuss Canadian issues and report:
Agent CoCo and Elvis have made a major discovery regarding one of the worlds largest domain providers.
Agent CoCo has discovered that the Canadian Govt Databases all are located on the Eastern Band Cherokee Reservation in North Carolina, Govt. which made Agent Elvis happy, and resulted in major finds.
The pending scandal, regarding Jeffrey Epstein's $68 Billion dollar transfer to the Toronto Dominion Bank, and the pending seizure of the TD bank by American Authorities was discussed. "Who is responsible for allowing this dirty monty [sic] (money) to be deposited in the TD?
After the last discussion about tips received from within the TD bank, Field mentioned the curious information from a co-pilot, who claims that a Canadian lawyer, who was part of the TD Fraud dept travelled to Fiji shortly before taking a special position with Doug Ford's Ontario Attorney General's office. Was this related to the Seagrams Pedophilia and Child Trafficking Empire?
Agent Esther has a major discovery in the works which will expose SNC Lavalin's child and human trafficking in Canada and as far as the Ukraine.
Agent Margaritaville pitches a plan for #newcanada and the explosion of the crown, with the arrest of all Canadian judges pending investigation and charges for pedophilia and other assorted crimes.
Agent Coco has mined a DOG worshipping Toronto based family law practice to child trafficking and pedophilia, in Sweden, Israel, and Los Angeles with direct ties to Epstein Island, The Standard Hotel and "Hotel California." Agent Margaritaville's team has grown after over 670 emails have come in with offers of assistance, tips and DIGS and stories of evil players in the Canadian govt and abroad. Field opened the floor to assistance from the Abel Danger community, as The Margaritaville team is in need of equipment. (Mac Books, iPads and mass storage devices). Our resources are currently lacking, and in some cases old. The mass of data being mined and accessed has caused this to slow down their work. Any assistance of loans of equipment or financial assistance to acquire (or treat the incredible Agent Elvis to a hair cut) can be sent to lagenomai4@protonmail.com All assistance will be accounted and loans will be returned when the data is surrendered. We are thankful for all who have written and given support, and will try to answer all the emails as soon as possible.
Thank you.
Agent M
About Author