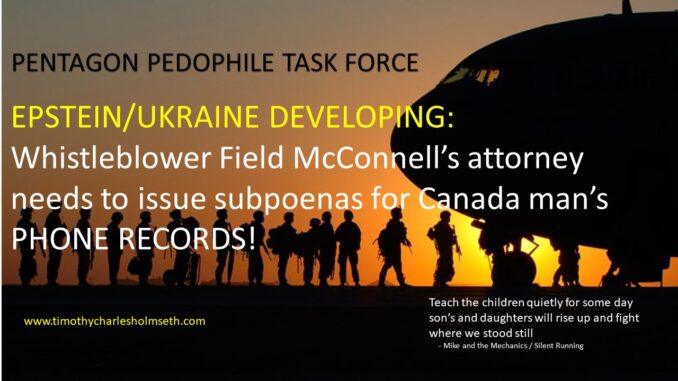 by Timothy Charles Holmseth on March 1, 2020 at 7:26 A.M.
On February 24, 2020 a man calling himself Agent Margaritaville (real name Gerald) published a You Tube video and said, "I told you Field would be out this week – and Field's out the next day".
Unique evidence exists that shows kidnapped/falsely imprisoned U.S. Marine, Boeing and Ukraine Child Trafficking Whistleblower, Field McConnell, needs to issue subpoenas for the PHONE RECORDS of Gerald (Agent Margaritaville).
McConnell needs to see WHO has been talking to WHO; and WHEN they were talking.
Then – McConnell needs continued subpoenas and/or updated monitoring of Gerald's phone records.
It would also be beneficial to McConnell to ascertain if Gerald uses and/or switches over to a burner phone.
This is a developing story.
More to come.
READ ALSO…
Epstein's $68 Billion money transfer to Toronto Dominion Bank (with a UKRAINE twist) – "biggest scandal in the history of the World Wide Web"
"I've got a hundred and seven pictures of high-level Canadian officials that were at Camp Mirage with young boys, Tim"