EXTREMELY DISTURBING! DOES OHIO RAPIST ALEXANDRIA GODDARD POSSESS "SNUFF" FILM OF THE DELPHI MURDERS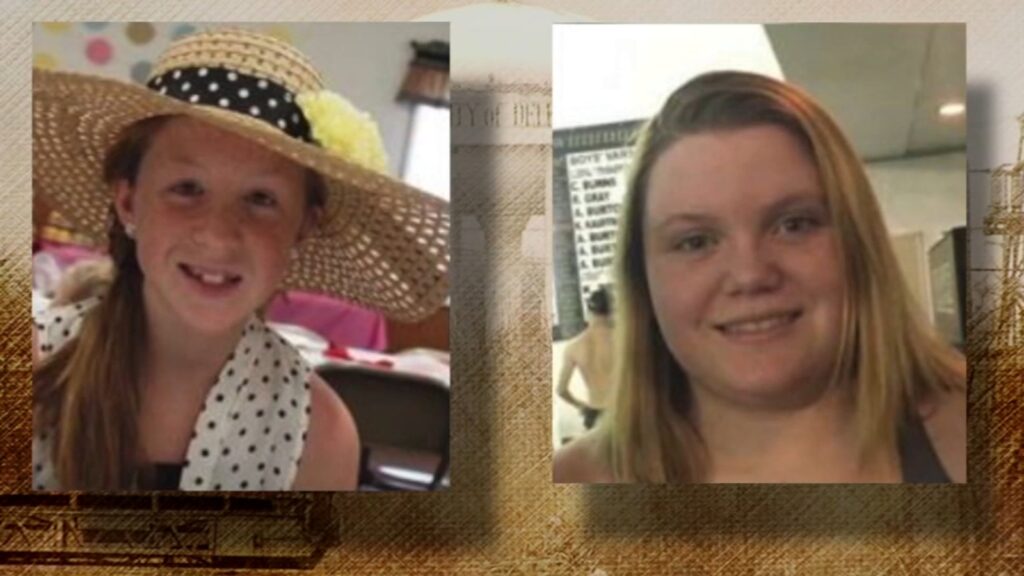 by Pentagon Pedophile Task Force on October 30, 2022 – USA
Emerging evidence in the form of a 'timeline of events' is giving rise to the possibility that a rapist from Ohio named Alexandria Goddard possesses, or is aware of, a "snuff film" that was created of/during the murder of Abigail Williams and Liberty German in Delphi, Indiana in 2017.
Evidence shows law enforcement investigators on the Delphi case should (or maybe already have) compare the image of a small [petite] female's vagina that had no pubic hair, and strange bruising [possibly a corpse], that Goddard texted unsolicited to Randi Lynn Erickson, Minnesota – to see if the photo is a match for any such type photos seized in the Delphi murder investigation, as well as the Justin Foley child pornography case and arrest in Ohio.
Goddard is a sadistic sexual predator (by her own admission to the media) and seemingly psychotic monster who laughs and jokes about torturing children in the basement. Goddard and her co-host Levi Page, Dover, Tennessee, reported on the Delphi murders (as many other child cases) and appear to attempt to set the narrative on cases. Goddard, Page, and others they work with go as far as to contact witnesses and news reporters and threaten them with prison if they don't shut up.
LISTEN – – –MSM PUNDITS LAUGH ABOUT KIDNAPPING AND TORTURING KIDS IN THE BASEMENT TO PRODUCE ADRENOCHROME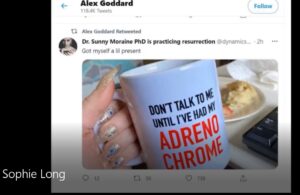 TIMELINE
August 13, 2022 – Alexandria Goddard transmit vagina photo to Randi Erickson
August 14, 2022 – TIMOTHY CHARLES HOLMSETH REPORTS reports, BREAKING NOW! RAPIST ALEXANDRIA GODDARD HAS TEXTED A PHOTO OF A NAKED VAGINA TO FORMER JUDGE RANDI LYNN ERICKSON
August 19, 2022 – Indiana State Troopers petition Miami Circuit Court to permit detectives to temporarily take custody of Kegan Kline, a Peru man facing 30 counts of child pornography whose name has been linked to the investigation of the murders of Liberty German and Abigail Williams beneath the Monon High Bridge along Deer Creek east of Delphi on February 13, 2017.
October 14, 2022 – Ohio Attorney General acknowledges receipt of evidence submitted by Randi Lynn Erickson and Timothy Charles Holmseth that included the vagina photo Goddard texted to Erickson. The Cleveland FBI also received the evidence.
October 28, 2022 – Mainstream news begins reporting an arrest has been made in connection to the Delphi murder case.
October 28, 2022 – Alexandria Goddard, Ohio, who has publicly admitted she, along with some Ohio cops, kidnapped a man, handcuffed him to a bed, and sexually tortured him with "hot sauce", appears on a You Tube program called Websleuths. During the program Goddard begins to proactively speculate that the Delphi murders may have been filmed (i.e., snuff film) because, Goddard said, the snuff film market on the Dark Web is very lucrative.
The following video appeared on Bitchute today and features Goddard talking about snuff films images of the Delphin murder.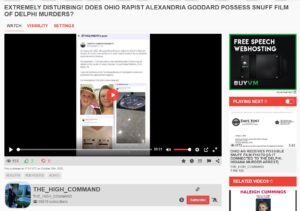 About Author