FEDERAL JUDGE DIES ABRUPTLY AFTER TIMOTHY HOLMSETH FILES COMPLAINT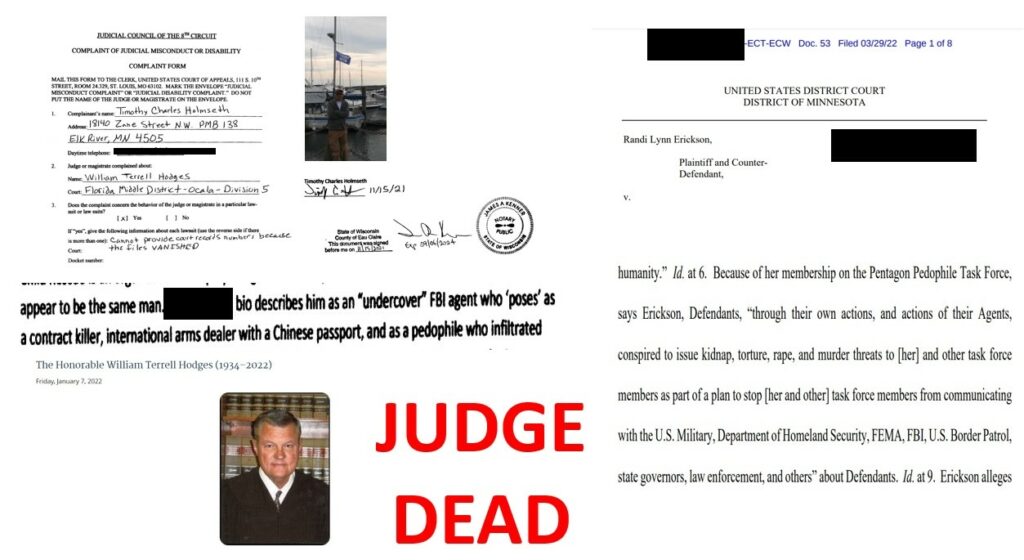 by Pentagon Pedophile Task Force on July 4, 2022 – USA
The following was posted on the GAB account of Timothy Charles Holmseth on April 8, 2022.
Evidence shows this post by Holmseth is relevant to matters of the present – and matters to come in the future.
~begin~
FEDERAL JUDGE DEAD
(CONNECTED TO DEVELOPING NEWS STORY OF FAKE FEDERAL AGENTS IN WASHINGTON DC)
by Timothy Charles Holmseth – War Correspondent – on April 8, 2022, at 11:37 A.M. EST – USA
On November 15, 2021, I (Timothy Charles Holmseth) filed a formal complaint against Federal Judge William Terrell Hodges. The Complaint involved the assassination of congressional defense contractor Christopher E. Hallett, Florida; federal court files that VANISHED; and a CIA-FBI-Paramilitary operation posing as federal agents.
On November 19, 2021, Randi Lynn Erickson, Minnesota, petitioned the U.S. Court for an Injunction against a paramilitary operation that was hunting Erickson and Holmseth, after advising Holmseth and Erickson they were marked for kidnap, rape, torture, murder, and assassination. Holmseth received a communication from Vice Admiral Charles W. Moore wherein Moore told Holmseth he was friends with General Michael Flynn. General Mark Milley, and President Trump. Moore told Holmseth to stop reporting on the things Holmseth was reporting on.
On January 4, 2022, Judge Hodges died.
Today, Real Clear Politics reported, "More details are emerging about the four Secret Service employees entangled in an alleged bribery scheme carried out by two men accused of masquerading as Department of Homeland Security law enforcement agents."
This is a developing story.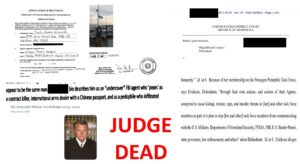 ~end~
READ ALSO – – –
BOMBSHELL! Slain Florida congressional defense contractor dubbed QANON murder – was tracking COVID FINANCIAL SOURCE CODES across the globe!