BOMBSHELL! Slain Florida congressional defense contractor dubbed QANON murder – was tracking COVID FINANCIAL SOURCE CODES across the globe!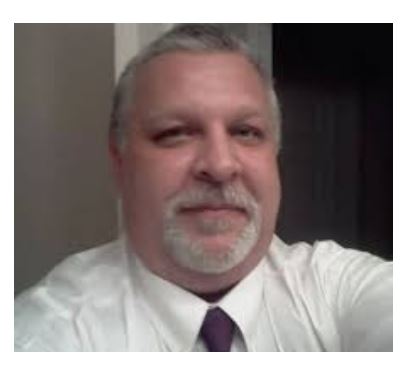 by Pentagon Pedophile Task Force on July 3, 2021 at 10:03 A.M.
Startling new revelations have now cast, yet, even more doubt, on the true facts and circumstances surrounding the murder of Congressional Defense Contractor Christopher E. Hallett who was shot down in cold blood in his Ocala, Florida home on November 15, 2020.
According to a social media message authored by Hallett not long before his murder, he was tracking "COVID financial source codes" and "shell corporations" around the "globe".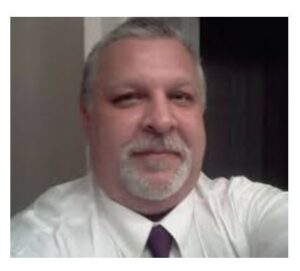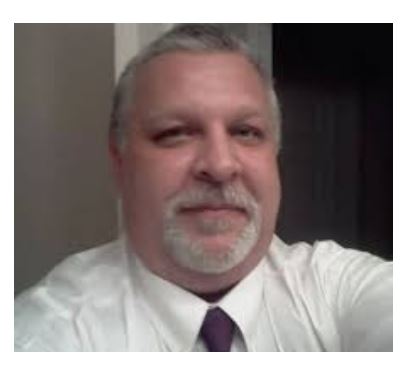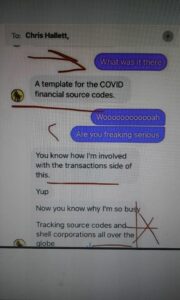 Hallett was the CEO of E-Clause LLC, a Florida corporation that did loss prevention for the United States government under consent of Congress to identify emoluments violations. Hallett was revealing the methods being used by an international crime syndicate to accomplish nearly any crime conceivable through diabolical "defective practices" within the corporate legal system, which is actually a human trafficking system.
On December 7, 2020 we reported 'BREAKING HUGE: Assassinated Congressional Oversight Defense Contractor filed documents [Arrest Warrants] in U.S. District Court on the day before 2020 election – murdered two weeks later'
The federal court receipt, which Hallett turned over to a trusted colleague before his murder, proved Hallett filed documents in federal court on November 2, 2020.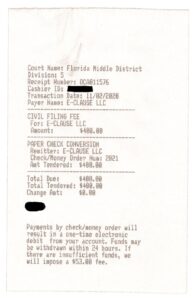 Two weeks later Hallett was murdered.
The documents then VANISHED!
The official story is that Hallett was murdered by his beloved friend and colleague Neely Petrie Blanchard. Blanchard is now facing First Degree Murder charges. However, our preliminary reports on the Hallett murder show the facts and circumstances, as presented by the media, are extremely SUSPICIOUS. SEE LINKS BELOW STORY FOR MORE ON HALLETT MURDER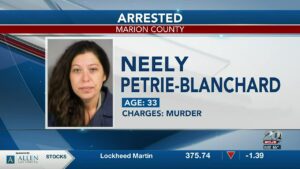 Hallett's suspicious assassination is being linked to operatives orbiting around embattled former Navy SEAL Craig Randal (Sawman) Sawyer, who was the personal private bodyguard of Hillary Clinton.
CLICK IMAGE BELOW TO VIEW VIDEO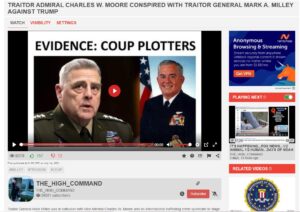 Sawyer's operative, William K. Murtaugh, Apopka, Florida, went online and reported that he personally telephoned the courthouse and talked to the clerk for nearly an hour about the Hallett receipt. Murtaugh reported the clerk told him that the Hallett receipt was a fake.
It wasn't fake – Murtaugh was lying and misrepresenting a federal court clerk (federal crime) in hopes of making the public believe the files never existed; because, the files may show a MOTIVE for Hallett's murder that does not link to Blanchard.
The validity and existence of the Hallett receipt was confirmed by Florida Attorney Charles Baron. Baron was retained by investigative journalist Timothy Charles Holmseth to search for the receipt in the federal records.
Baron determined the receipt was valid but the files could not be found.
"Hi Timothy – The Clerk's Office at the Ocala Division of M.D. Fla. (deputy clerk named Lynn) did a thorough search in their system using the receipt number, and search various ways," Baron said.
Sawyer is presently under investigation by the U.S. Army at Fort Campbell, Kentucky and U.S. Navy for kidnap, torture, rape, beastiality, and death threats he, and operatives of Veterans For Child Rescue Inc.,  made in writing against the owner/publisher of www.timothycharlesholmseth.com Randi Erickson, Holmseth, and children.
Examples of death threats and CIA terror ops by Sawyer are becoming to numerous to report.
Recently…
Sawyer's operative Ashely Cooper Brown, Two Harbors, Minnesota, created a wildly ridiculous  fake story that Publisher Erickson and Reporter Holmseth traveled to Two Harbors and attempted to talk to Cooper Brown's child in a park. Then, based upon the lie she made up about Erickson and Holmseth – Cooper Brown threatened to "execute" Erickson and filmed herself traveling toward Anoka County, Minnesota where Erickson has a home.
Erickson has filed a Complaint to Two Harbors Police Department against Cooper Brown for terroristic threats and filing a false police report.
The U.S. Military possesses names of Sawyer's operatives.
READ ALSO
ASSASSINATED CONGRESSIONAL OVERSIGHT CONTRACTOR CHRIS HALLETT PRESENTS [ALLEGED] KILLER'S CASE (bitchute.com)
These documents are EVIDENCE that will lead to the IDENTITY of the ASSASSIN(S) of Congressional Oversight Defense Contractor Christopher E. Hallett
DEVELOPING: Victim of Florida shooting dubbed the 'QANON Murder' by media was a "Congressional Oversight Defense Contractor" working on matters of NATIONAL SECURITY!
BREAKING UPDATE: Eyewitness who placed Neely Petrie-Blanchard standing over murdered Congressional Oversight Defense Contractor Chris Hallett with a gun – was NOT tested for gunpowder residue by investigators
BREAKING UPDATE: Eyewitness at murder scene of Congressional Oversight Defense Contractor says she could not connect to 911
BREAKING UPDATE: Eyewitness to Congressional Oversight Defense Contractor's murder REFUSED to give detectives her cellphone (and was able to keep it)
Congressional Oversight Defense Contractor Assassination cover-up collapsing: BIZARRE claims that U.S. Secret Service once hunted down the accused murderer
HIGHLY SUSPICIOUS: GA Deputy and FL Deputy who are BROTHERS coordinate 'ARREST' of 'MURDER SUSPECT' in Congressional Oversight Defense Contractor shooting via PRIVATE PHONE CALLS!
Retired truck driver in Florida claims to be FBI investigator – says he "predicted" Hallett murder – announces from his trailer home "Neely Blanchard" is "cooperating"
BOMBSHELL: AMBER ALERT used to set stage for Christopher Hallett ASSASSINATION was a MASSIVE CALCULATED HOAX
NEVER BEFORE HEARD AUDIOS/TEXTS PROVE NEELY BLANCHARD IS 100% INNOCENT OF FAKE KIDNAPPING CHARGES
BREAKING HUGE: Assassinated Congressional Oversight Defense Contractor filed documents [Arrest Warrants] in U.S. District Court on the day before 2020 election – murdered two weeks later
Congressional Oversight Auditor Murder: Was evidence PLANTED in accused murderer Neely Blanchard's car?
UPDATE: NXIVM cult linked to Congressional Oversight Auditor Assassination
President Trump changes U.S. Marshal in Florida's Middle District – search for assassinated Congressional Auditor's court filing [ARREST WARRANTS] is on
Evidence: Assassinated Congressional Auditor targeted by practicing Satanists
Creepy blogger Meko Haze claims Neely Blanchard's mother contacted him the day after Hallett assassination (to report child trafficking)
Satanists PUBLICLY warning Marion County, Florida Sheriff's Office more [political assassinations ] to come if demands not met