Creepy blogger Meko Haze claims Neely Blanchard's mother contacted him the day after Hallett assassination (to report child trafficking)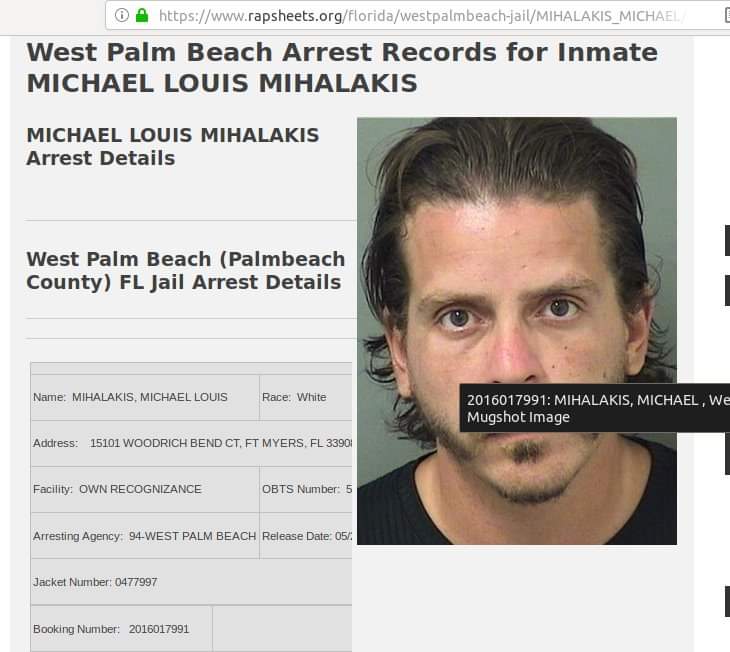 by Pentagon Pedophile Task Force on December 9, 2020 at 6:16 A.M.
We are reporting on the assassination of Congressional Oversight Defense Contractor Christopher E. Hallett who was murdered in his Marion County, Florida home on November 15, 2020.
On September 2, 2020 we published EXCLUSIVE: Federal Conspiracy Case: IT'S BIGGER THAN FLYNN!
We reported in part:
~begin~
There is a case developing involving an active Domestic Terror Group that is so huge and completely disturbing, the Flynn case seemingly pails in comparison.
It involves DELTA FORCE and CIA operations on U.S. soil.
It involves… KIDNAPPING, RAPE, MURDER, and ASSASSINATIONS.
~end~
The September 2, 2020 story details the activities of a domestic terror network after a decade of investigation into the players. The September 2, 2020 story also contains a list of people we have identified as being part of the network.
The list includes the name:
Michael (Meko) Haze, Online Reporter and Commentator
On November 17, 2020 Michael Mihalakis (a.k.a. Meko Haze) went on You Tube to discuss the murder of Christopher Hallett which occurred on the evening of November 15, 2020.
MICHAEL MIHALAKIS WAS CONTACTED BY NEELY BLANCHARD'S MOTHER SUSAN BLANCHARD THE DAY AFTER THE HALLETT MURDER 
Michael Mihalakis said he spoke with Neely Petrie-Blanchard's mother on November 16, 2020.
"Yesterday [Neely Blanchard's] mother had reached out to me and she told me that Neely claimed that she that Chris [Hallett] and Kirk [Pendergrass] were trafficking children and involved in all this dark shit – it doesn't sound like that's true at all – it sounds like Neely snapped because she found out Chris and Kirk were full of shit and not going to get her children back," Mihalakis said.
Mihalakis operates a You Tube channel that has 3,100 subscribers. In the 22 days since Mihalakis published his discussion on the Hallett murder, the video has had 881 total views. The numbers prove Mihalakis' channel is almost non-existent and he is almost completely unknown.
Mihalakis has an arrest record – here is his mugshot.
We are investigating his criminal background.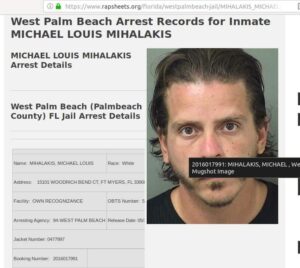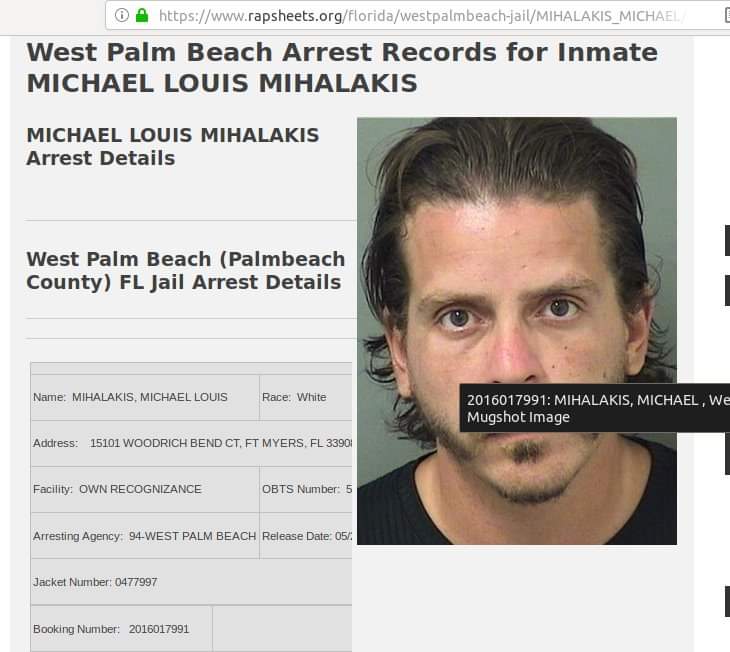 So…
Susan Blanchard, Neely Blanchard's mother, reached out to this virtually unknown creepy man to tell him that Chris Hallett and Kirk Pendergrass traffic children.
"Neely's mother said that she had documents in the car showing that they were involved with trafficking children and that that's why she went and turned herself in in Georgia because she was scared to turn herself in in Florida," Mihalakis said.
So now…Mihalakis – after being contacted by Susan Blanchard – is starting a rumor that documents were found in Blanchard's car that implicated Hallett and Pendergrass in child trafficking.
NXIVM CULT CHILD LEVI PAGE ALSO TALKS ABOUT INCRIMINATING DOCUMENTS FOUND IN NEELY BLANCHARD'S CAR REGARDING CHILD TRAFFICKING 
But wait…we also listed a man named Levi Page on our list of identified domestic terrorists – and on December 9, 2020 reported UPDATE: NXIVM cult linked to Congressional Oversight Auditor Assassination
Page appeared on the chat log of the You Tube channel hosted by Hallett's business colleague and friend, Kirk Pendergrass, and said, Kirk, what evidence was found in Neely's vehicle."
So now we have a member of the domestic terror group talking about alleged documents found in Blanchard's car – the day after the Hallett murder.
Visit the stories below to learn about Page – who and what he really is.


On December 7, 2020 we published the following BOMBSHELL audios and texts that prove Blanchard has already been the target of her own mother, Susan Blanchard, in the past.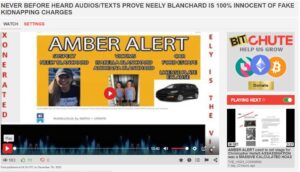 We have more reports coming that reveal the truth about Susan Blanchard.
READ ALSO
These documents are EVIDENCE that will lead to the IDENTITY of the ASSASSIN(S) of Congressional Oversight Defense Contractor Christopher E. Hallett
DEVELOPING: Victim of Florida shooting dubbed the 'QANON Murder' by media was a "Congressional Oversight Defense Contractor" working on matters of NATIONAL SECURITY!
BREAKING UPDATE: Eyewitness who placed Neely Petrie-Blanchard standing over murdered Congressional Oversight Defense Contractor Chris Hallett with a gun – was NOT tested for gunpowder residue by investigators
BREAKING UPDATE: Eyewitness at murder scene of Congressional Oversight Defense Contractor says she could not connect to 911
BREAKING UPDATE: Eyewitness to Congressional Oversight Defense Contractor's murder REFUSED to give detectives her cellphone (and was able to keep it)
Congressional Oversight Defense Contractor Assassination cover-up collapsing: BIZARRE claims that U.S. Secret Service once hunted down the accused murderer
HIGHLY SUSPICIOUS: GA Deputy and FL Deputy who are BROTHERS coordinate 'ARREST' of 'MURDER SUSPECT' in Congressional Oversight Defense Contractor shooting via PRIVATE PHONE CALLS!
Retired truck driver in Florida claims to be FBI investigator – says he "predicted" Hallett murder – announces from his trailer home "Neely Blanchard" is "cooperating"
BOMBSHELL: AMBER ALERT used to set stage for Christopher Hallett ASSASSINATION was a MASSIVE CALCULATED HOAX
NEVER BEFORE HEARD AUDIOS/TEXTS PROVE NEELY BLANCHARD IS 100% INNOCENT OF FAKE KIDNAPPING CHARGES
BREAKING HUGE: Assassinated Congressional Oversight Defense Contractor filed documents [Arrest Warrants] in U.S. District Court on the day before 2020 election – murdered two weeks later
Congressional Oversight Auditor Murder: Was evidence PLANTED in accused murderer Neely Blanchard's car?
UPDATE: NXIVM cult linked to Congressional Oversight Auditor Assassination
President Trump changes U.S. Marshal in Florida's Middle District – search for assassinated Congressional Auditor's court filing [ARREST WARRANTS] is on
Evidence: Assassinated Congressional Auditor targeted by practicing Satanists