UPDATE: NXIVM cult linked to Congressional Oversight Auditor Assassination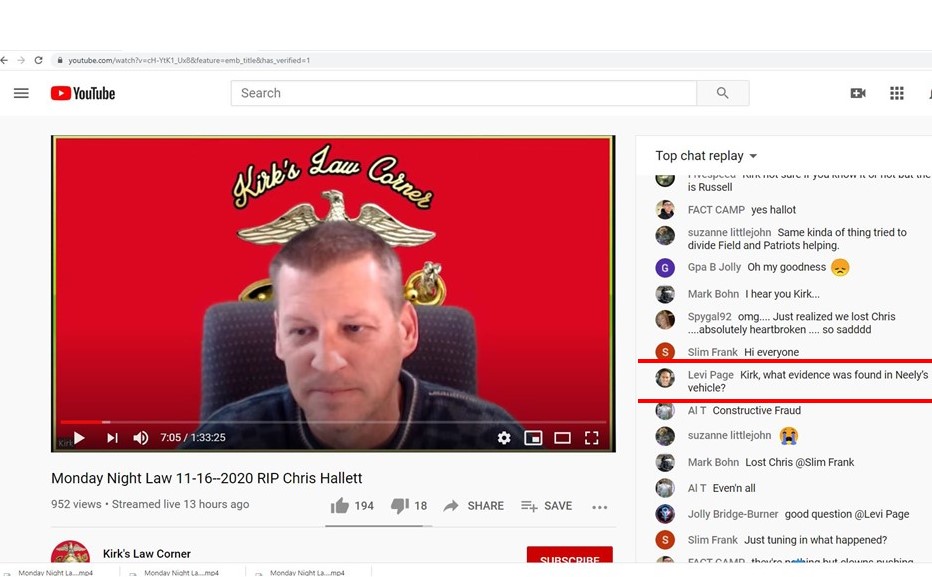 by Pentagon Pedophile Task Force on December 8, 2020 at 8:04 P.M.
We are reporting on the assassination of Congressional Oversight Defense Contractor Christopher E. Hallett who was murdered in his Marion County, Florida home on November 15, 2020.
We announced earlier today that we are investigating if evidence was planted in the vehicle of Neely Petrie-Blanchard. Blanchard was arrested and charged with Second Degree murder of Hallett.
We have an update:
We have previously reported on a very troubled man named Levi Page who we have identified as being part of a Domestic Terror Group operating inside the United States. READ ABOUT THE GROUP – EXCLUSIVE: Federal Conspiracy Case: IT'S BIGGER THAN FLYNN!
We identified Levi Page as being connected to the NXIVM cult since he was a child, and, exposed how Page has been interjecting himself into missing children cases and threatening witnesses.


On November 16, 2020, the day after the murder of Christopher Hallett, Kirk Pendergrass, a professional colleague of Hallett, went on his usual You Tube Livestream called Kirks Law Corner to discuss the death of his friend.
During the Livestream show Levi Page appeared on the chat log and began to taunt Pendergrass about the death of his good friend.
"Kirk, what evidence was found in Neely's vehicle,"  Page said.
Hallett had not been dead a day and Levi Page was taunting Pendergrass about "evidence" in Blanchard's car.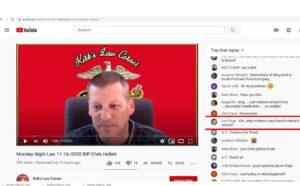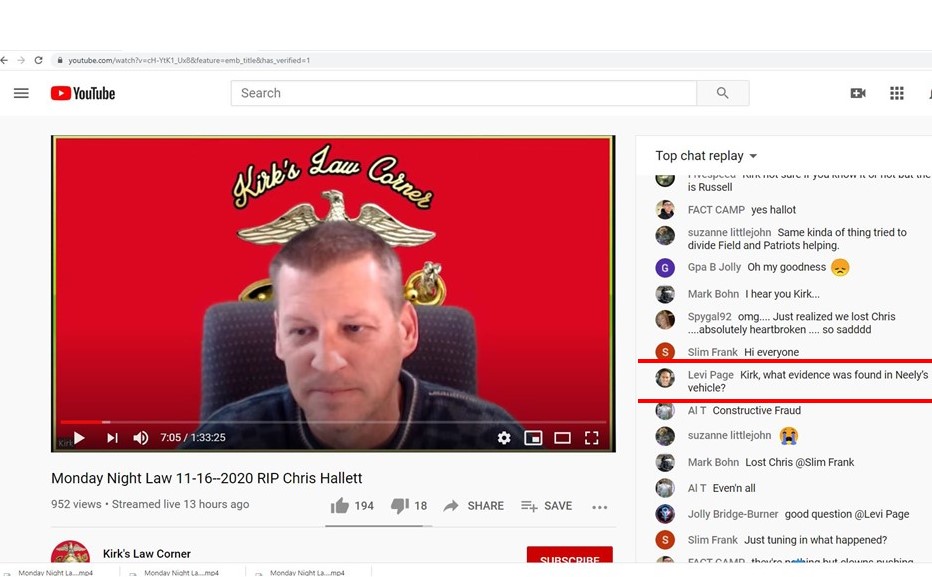 We have many updates coming.
This is a developing story.
BACKGROUND 
Christopher E. Hallett, 50, was shot dead in his Marion County, Florida home on November 15, 2020.
Based upon eyewitness accounts of Shannon Mutter-Tanis, the only adult at the scene when law enforcement arrived, Neely Petrie-Blanchard was promptly arrested the next day and charged with 2nd Degree Murder.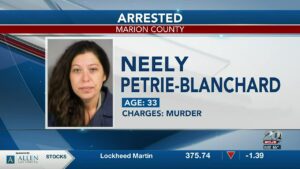 Court records show Blanchard has pled "Not Guilty" and is being held with no bail.
During the course of our preliminary journalistic investigation we discovered and published the following:
Shannon Mutter-Tanis claimed she could not get through to 911 for seven minutes, because, she said, her cell phone was from out of State
Tanis was NOT tested for gunpowder residue
Tanis refused to give law enforcement her phone and was allowed to keep it
Tanis was placed in the back of a squad car but refused to let the officer shut the door because, she said, she was already cooperating – and the officers complied with Tanis
Blanchard's arrest in Georgia was coordinated by two deputy brothers – one was a deputy in Florida, and one was a deputy in Georgia – they coordinated with their telephones to locate Blanchard at a gas station in Georgia and arrest her
Records show Hallett was working with Congress and the highest levels of government (President Donald J. Trump) regarding emoluments violations that lead to international child trafficking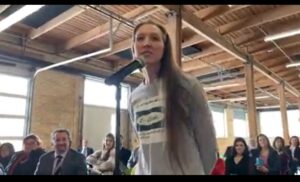 DOMESTIC TERROR GROUP OPERATING INSIDE THE UNITED STATES
On September 2, 2020 we published EXCLUSIVE: Federal Conspiracy Case: IT'S BIGGER THAN FLYNN!
The following is snippet from that report.
~begin~
There is a case developing involving an active Domestic Terror Group that is so huge and completely disturbing, the Flynn case seemingly pales in comparison.
It involves DELTA FORCE and CIA operations on U.S. soil.
It involves… KIDNAPPING, RAPE, MURDER, and ASSASSINATIONS.
~end~
READ ALSO
These documents are EVIDENCE that will lead to the IDENTITY of the ASSASSIN(S) of Congressional Oversight Defense Contractor Christopher E. Hallett
DEVELOPING: Victim of Florida shooting dubbed the 'QANON Murder' by media was a "Congressional Oversight Defense Contractor" working on matters of NATIONAL SECURITY!
BREAKING UPDATE: Eyewitness who placed Neely Petrie-Blanchard standing over murdered Congressional Oversight Defense Contractor Chris Hallett with a gun – was NOT tested for gunpowder residue by investigators
BREAKING UPDATE: Eyewitness at murder scene of Congressional Oversight Defense Contractor says she could not connect to 911
BREAKING UPDATE: Eyewitness to Congressional Oversight Defense Contractor's murder REFUSED to give detectives her cellphone (and was able to keep it)
Congressional Oversight Defense Contractor Assassination cover-up collapsing: BIZARRE claims that U.S. Secret Service once hunted down the accused murderer
HIGHLY SUSPICIOUS: GA Deputy and FL Deputy who are BROTHERS coordinate 'ARREST' of 'MURDER SUSPECT' in Congressional Oversight Defense Contractor shooting via PRIVATE PHONE CALLS!
Retired truck driver in Florida claims to be FBI investigator – says he "predicted" Hallett murder – announces from his trailer home "Neely Blanchard" is "cooperating"
BOMBSHELL: AMBER ALERT used to set stage for Christopher Hallett ASSASSINATION was a MASSIVE CALCULATED HOAX
NEVER BEFORE HEARD AUDIOS/TEXTS PROVE NEELY BLANCHARD IS 100% INNOCENT OF FAKE KIDNAPPING CHARGES
BREAKING HUGE: Assassinated Congressional Oversight Defense Contractor filed documents [Arrest Warrants] in U.S. District Court on the day before 2020 election – murdered two weeks later
Congressional Oversight Auditor Murder: Was evidence PLANTED in accused murderer Neely Blanchard's car?
About Author