These documents are EVIDENCE that will lead to the IDENTITY of the ASSASSIN(S) of Congressional Oversight Defense Contractor Christopher E. Hallett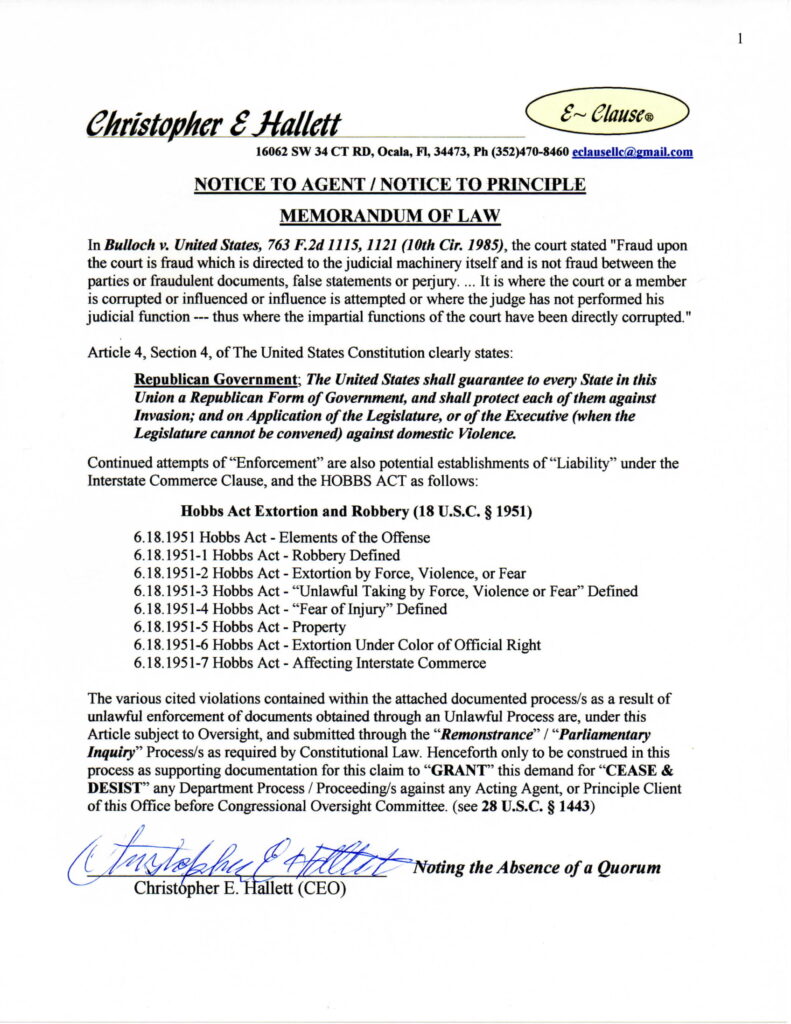 by Pentagon Pedophile Task Force on December 1, 2020 at 9:09 P.M.
On November 15, 2020 Christopher E. Hallett, CEO, E~Clause LLC, Florida was shot dead from behind in his Marion County, Florida home. Hallett, 50, was a Congressional Oversight Defense Contractor performing loss prevention for the United States government.
The following documents (below), which were properly served at their respective times, are being published now because we believe these documents will lead State and/or Federal and/or Military/DOD investigators directly to the person and/or persons and/or members of the Domestic Terror Group that murdered Christopher E. Hallett.
Hallett's corporation E~Clause LLC provided services to an award-winning news reporter and FBI witness from Minnesota named Timothy Charles Holmseth.
Documents in the possession of U.S. courts, State courts, police, sheriff's offices, FBI, DOJ, and DOD show Holmseth uncovered evidence of an international child trafficking and kiddy porn operation connected to Jeffrey Epstein and Ghislaine Maxwell that was being run by rogue FBI, CIA, and others who were acting under corporations licensed by the State that were kidnapping children and moving them out of the country through the Ukrainian Embassy in Washington DC.
Holmseth was repeatedly kidnapped (under the guise of arrest) by municipal police in East Grand Forks, Minnesota and tortured in a private for-prison by captors who were attempting to coerce Holmseth into signing a confession.
Holmseth was kidnapped on allegations that he published already-public court records on the Web in an alleged violation of a phony 'domestic violence' court order issued by a county level Family Court in Broward County, Florida where Holmseth has never been and has no family.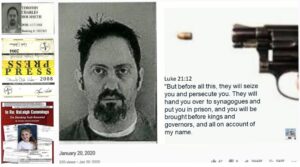 Holmseth had never been to Florida and not been even been accused of breaking the Law by law enforcement in either State of Florida or Minnesota. Holmseth was never accused, much less charged with any crime, as a Family Court (Sharia Law) on the other side of the country (from where he lived) was used to obtain a bogus court order to strip him of his rights.
The phony Florida (Sharia Law) court had no jurisdiction over Minnesotan Holmseth, but was nonetheless issued, without him being present, on behalf of someone Holmseth never met.
The court order from Broward County, Florida demanded Minnesotan Holmseth surrender all of his firearms, ammunition, and permits to the Broward County Sheriff's Office in direct violation of the 2nd Amendment. It further ordered Holmseth, an award-winning news reporter with the North Dakota Newspaper Association and "credible" FBI witness in the child kidnapping case of HaLeigh Cummings, retroactively remove content (including any advertising or sales of his book on the HaLeigh Cummings kidnapping) he published and never speak of, or even think about, certain things and names again in direct violation of his 1st Amendment right.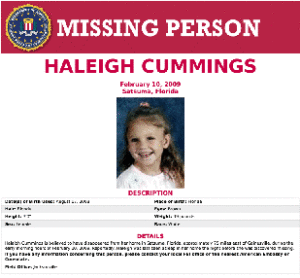 The phony (unlawful) Broward County, Florida court order was not filed with the Minnesota Attorney's General's Office with a supporting Affidavit as required by Minnesota State Statute. It was simply electronically transmitted [Interstate Wire Fraud] in secret/private between a group of individuals who were using their positions (Emoluments) for personal advantages and gains.  
We believe the following documents will quickly lead to the assassin(s) of Christopher E. Hallett.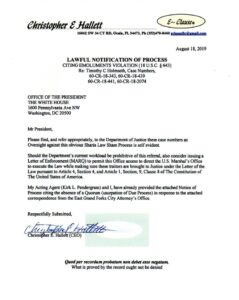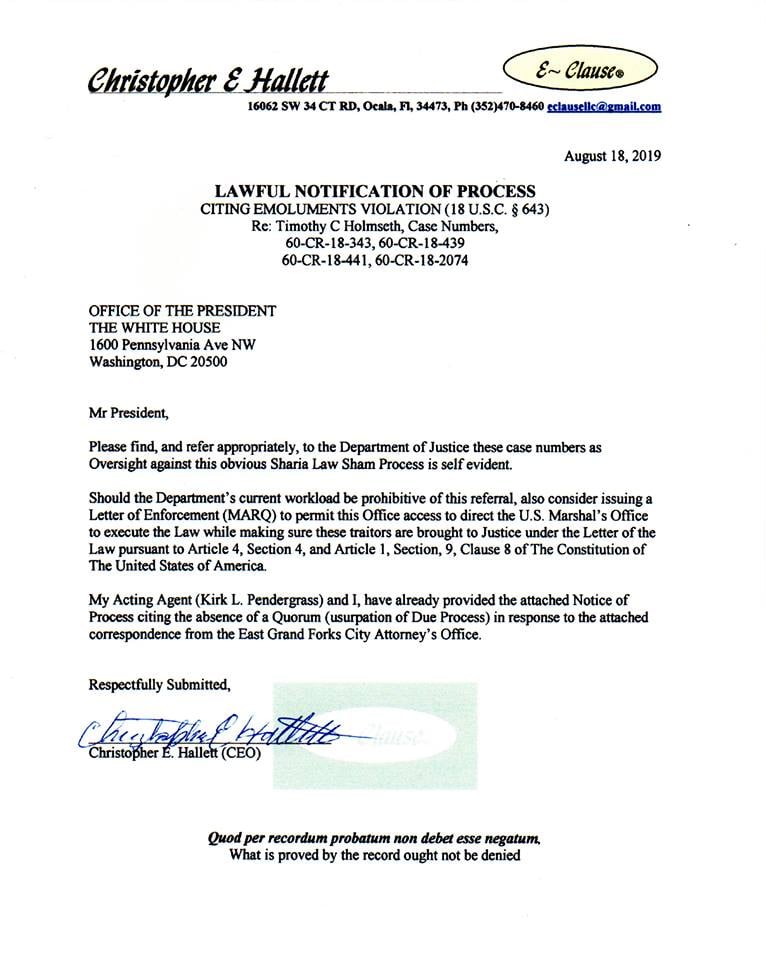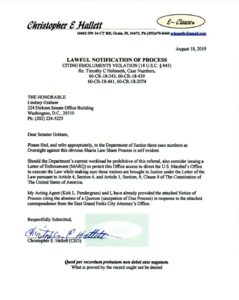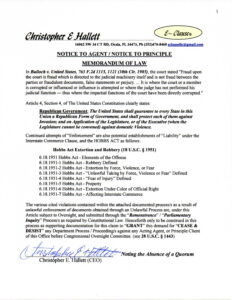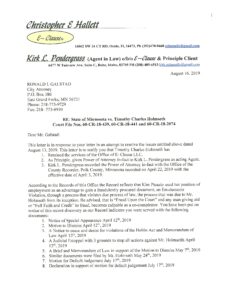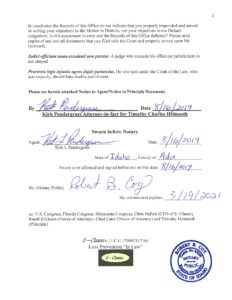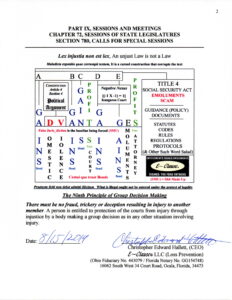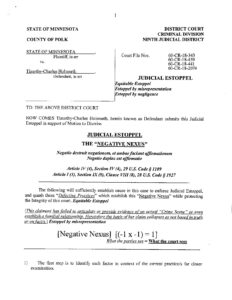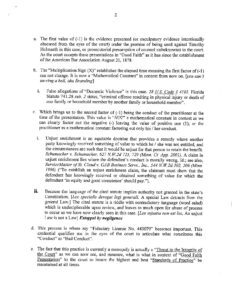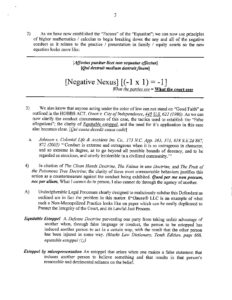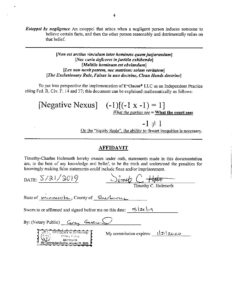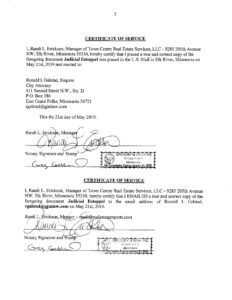 SUPPORTING DOCUMENTS CAN BE FOUND AT https://drive.google.com/drive/folders/1kS3mUG5L3_h-0HiF2YA2L4uYhc38BHSU
MORE ON THE ASSASSINATION OF CHRISTOPER E. HALLETT 
DEVELOPING: Victim of Florida shooting dubbed the 'QANON Murder' by media was a "Congressional Oversight Defense Contractor" working on matters of NATIONAL SECURITY!
BREAKING UPDATE: Eyewitness who placed Neely Petrie-Blanchard standing over murdered Congressional Oversight Defense Contractor Chris Hallett with a gun – was NOT tested for gunpowder residue by investigators
BREAKING UPDATE: Eyewitness at murder scene of Congressional Oversight Defense Contractor says she could not connect to 911
BREAKING UPDATE: Eyewitness to Congressional Oversight Defense Contractor's murder REFUSED to give detectives her cellphone (and was able to keep it)
Congressional Oversight Defense Contractor Assassination cover-up collapsing: BIZARRE claims that U.S. Secret Service once hunted down the accused murderer
HIGHLY SUSPICIOUS: GA Deputy and FL Deputy who are BROTHERS coordinate 'ARREST' of 'MURDER SUSPECT' in Congressional Oversight Defense Contractor shooting via PRIVATE PHONE CALLS!