Evidence: Assassinated Congressional Auditor targeted by practicing Satanists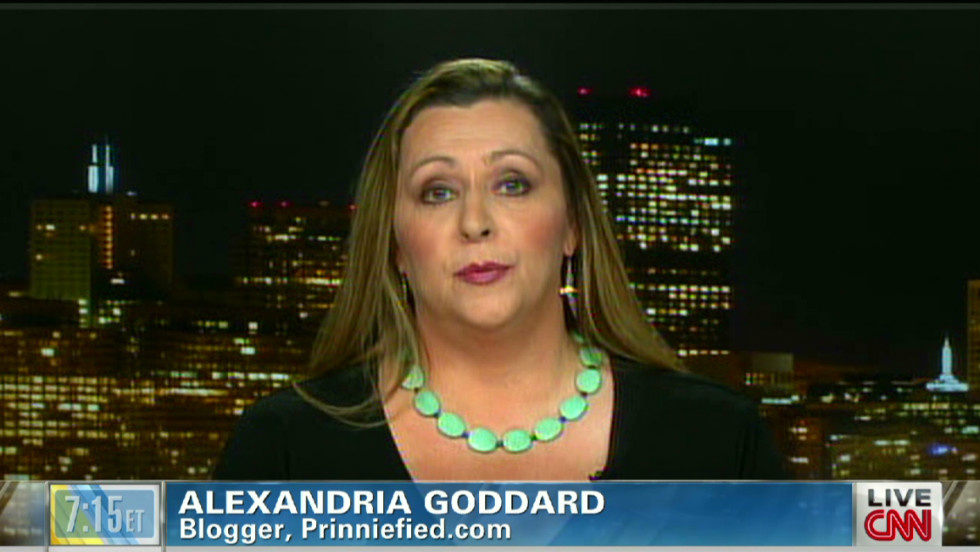 by Pentagon Pedophile Task Force on December 9, 2020 at 8:36 A.M.
We are reporting on the assassination of Congressional Oversight Defense Contractor Christopher E. Hallett who was murdered in his Marion County, Florida home on November 15, 2020.
And… a woman named Alexandria Goddard (@prinniedidit on Twitter) does not like it all.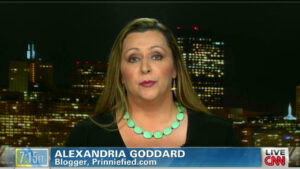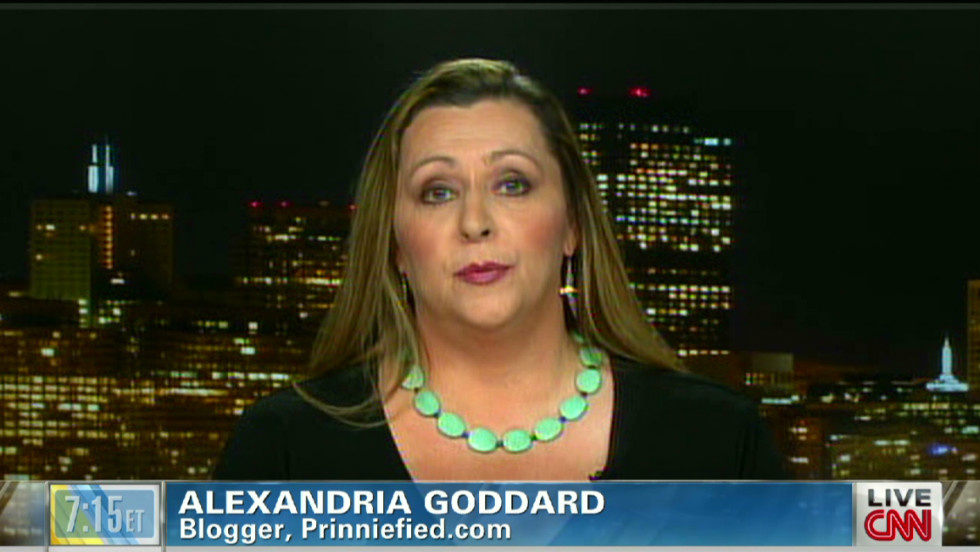 Goddard appears to be furious with the former owner/former publisher of a website located at www.timothycharlesholmseth.com
Goddard has been contacting the Marion County Sheriff's Office in Florida and complaining about Holmseth (Holmseth is not from Florida). SEE BELOW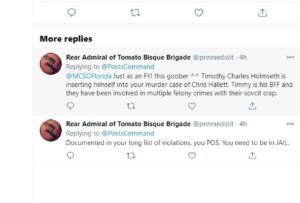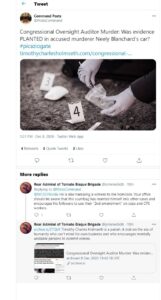 It is not known if the Marion County Sheriff's Office is reciprocating communications with Goddard.
However, Goddard's connections to Satanism, along with her burning interest in stopping Christopher Hallett's work as a Congressional Auditor might be of interest to investigators, considering Hallett was murdered two weeks after he filed documents [ARREST WARRANTS] with the U.S. Court in Florida's Middle District.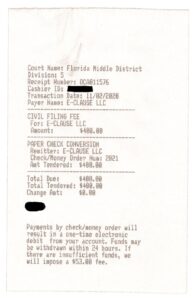 There is a disturbing amount of emerging evidence that shows practitioners of Satanism and/or witchcraft were involved in the assassination of Hallett.
SHANNON MUTTER-TANIS
Some of the information we received regarding Satanism and/or witchcraft was in regards to Shannon Mutter-Tanis who, along with her minor daughter, was the [only] eye-witness at the Hallett murder scene, and that told police she saw Neely Petrie-Blanchard standing over Hallett with a gun.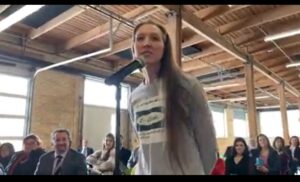 We have information from a very reliable source that Blanchard expressed dire concerns about the activities of a Satanic cult shortly before Hallett's murder.
Blanchard's fears may have been legitimate.
According to Randy Davis, host, The Watchman podcast, Chad Cater, Middle River, Minnesota, told him (Davis) during a recorded call, that in 2019, he (Cater) eye-witnessed a woman named Shannon Mutter-Tanis shapeshift into a distorted demonic looking figure while she was staying the night at his home. Davis said Cater told him, that later that same night, Tanis was screaming her lungs out over the telephone at her minor child daughter.
NOTE: We are NOT endorsing Randy Davis or Chad Cater. Both men appear to be very, very sick people engaged in criminal activity. We have listed both as members of a Domestic Terror Network based upon specific actions they have engaged in and provable connections to a terror network.
We have other evidence regarding Tanis and witchcraft that is so disturbing we are not publishing it.
Moreover…
We have evidence that links Tanis to a woman named Alexandria Goddard.
ALEXANDRIA GODDARD
On November 29, 2020 we published Murdered Congressional Contractor was performing Emoluments Violations audits exposing JOE BIDEN child trafficking – Hallett shooting an ASSASSINATION
The November 29 story details the activities of Alexandria Goddard.
Official records with the Florida BAR Association and States Attorney's Office(s) in Florida reveal somebody desperately wanted Hallett stopped. One of the people that desperately wanted Hallett to stop performing audits regarding emoluments violations was Goddard.
Goddard works as an Agent on behalf another (State and Federal Law Enforcement know who it is).
Hallett possessed a video, which he shared with the Florida Supreme Court, that captured Goddard acting as an Agent of a Principle for whom she (Goddard) commits crimes. 
On January 17, 2020 Ghuinse L. Coaxum, BAR counsel to the Florida BAR Association, sent a letter to the Office of the State Attorney in Ocala, Florida regarding an 'Unlicensed Practice of Law Investigation' stemming from a complaint the BAR received from "Alexandria Goddard".
According to documents published by Goddard, States Attorney Brad King declined to pursue the charges Goddard (and her Principle) was demanding be filed against Hallett.
After the Hallett murder on November 15, 2020, Goddard appears to taunt Attorney King about Hallett's murder in a text message she sent to him and then published online.
The background, associations, and Moral Turpitude of Alexandria Goddard is likely to come into sharp focus during both federal and Department of Defense investigations.
While formal investigations by law enforcement and the U.S. Military (jurisdiction on international trafficking) will surely reveal the associations and motives of Goddard – there presently exists evidence that Goddard's actions are both demonic and psychotic.
The following screenshots are images sent by Goddard, who is @prinniedidit on Twitter, which she is directing to a Twitter account she believes is operated by Timothy Charles Holmseth.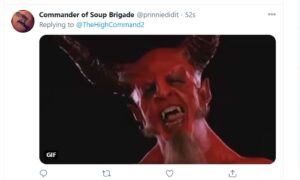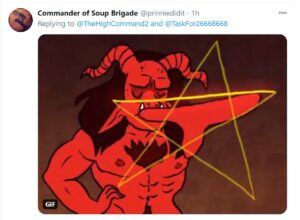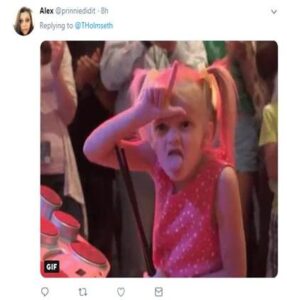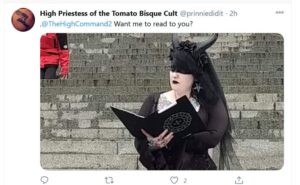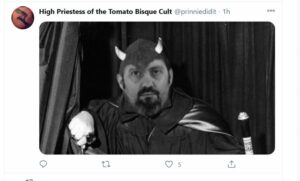 Goddard also went online during a Livestream by alleged child rapists and serial killer, William K. Murtaugh (Filthy Murt), and requested the public mail Holmseth a copy of the Satanic bible and provided a mailing address to a third party's home.

READ ALSO
These documents are EVIDENCE that will lead to the IDENTITY of the ASSASSIN(S) of Congressional Oversight Defense Contractor Christopher E. Hallett
DEVELOPING: Victim of Florida shooting dubbed the 'QANON Murder' by media was a "Congressional Oversight Defense Contractor" working on matters of NATIONAL SECURITY!
BREAKING UPDATE: Eyewitness who placed Neely Petrie-Blanchard standing over murdered Congressional Oversight Defense Contractor Chris Hallett with a gun – was NOT tested for gunpowder residue by investigators
BREAKING UPDATE: Eyewitness at murder scene of Congressional Oversight Defense Contractor says she could not connect to 911
BREAKING UPDATE: Eyewitness to Congressional Oversight Defense Contractor's murder REFUSED to give detectives her cellphone (and was able to keep it)
Congressional Oversight Defense Contractor Assassination cover-up collapsing: BIZARRE claims that U.S. Secret Service once hunted down the accused murderer
HIGHLY SUSPICIOUS: GA Deputy and FL Deputy who are BROTHERS coordinate 'ARREST' of 'MURDER SUSPECT' in Congressional Oversight Defense Contractor shooting via PRIVATE PHONE CALLS!
Retired truck driver in Florida claims to be FBI investigator – says he "predicted" Hallett murder – announces from his trailer home "Neely Blanchard" is "cooperating"
BOMBSHELL: AMBER ALERT used to set stage for Christopher Hallett ASSASSINATION was a MASSIVE CALCULATED HOAX
NEVER BEFORE HEARD AUDIOS/TEXTS PROVE NEELY BLANCHARD IS 100% INNOCENT OF FAKE KIDNAPPING CHARGES
BREAKING HUGE: Assassinated Congressional Oversight Defense Contractor filed documents [Arrest Warrants] in U.S. District Court on the day before 2020 election – murdered two weeks later
Congressional Oversight Auditor Murder: Was evidence PLANTED in accused murderer Neely Blanchard's car?
UPDATE: NXIVM cult linked to Congressional Oversight Auditor Assassination
President Trump changes U.S. Marshal in Florida's Middle District – search for assassinated Congressional Auditor's court filing [ARREST WARRANTS] is on
About Author