Murdered Congressional Contractor was performing Emoluments Violations audits exposing JOE BIDEN child trafficking – Hallett shooting an ASSASSINATION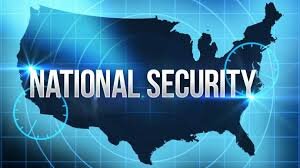 by Pentagon Pedophile Task Force on November 29, 2020 at 11:42 P.M.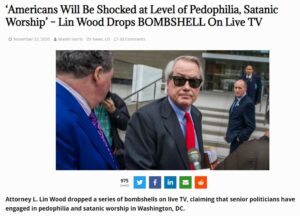 Why did Democrats (and RINO Republicans) pull out all the stops in effort to steal the 2020 election from the American people who chose to keep President Trump in office when he defeated Joe Biden in a landslide via legal/lawful ballots/votes?
Because…there is no redemption for the crimes against humanity perpetuated by organized Satanic pedophiles against human beings, which was recently pointed out by Attorney Lin Wood.
The Satanic pedophilia is going mainstream.
John 8:44
44 Ye are of your father the devil, and the lusts of your father ye will do. He was a murderer from the beginning, and abode not in the truth, because there is no truth in him. When he speaketh a lie, he speaketh of his own: for he is a liar, and the father of it.
The Assassination of Christopher E. Hallett 
Facts, circumstances, and evidence surrounding the November 15, 2020 murder of a Congressional Oversight Defense Contractor in Marion County, Florida no longer appears to be a simple case of murder.
It was an assassination.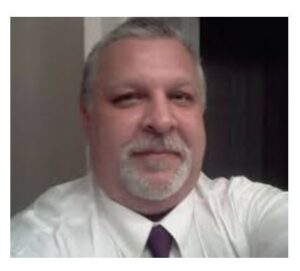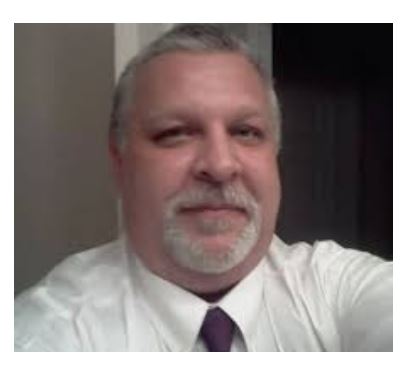 Powerful evidence is rapidly emerging that shows the shooting of Christopher Hallett, CEO, E~Clause LLC, appears to be a pre-planned calculated assassination involving matters of National Security.
Hallett, 50, was a loss prevention specialist and Constitutional Law expert who was authorized by U.S. Congress to perform audits for the U.S. Government regarding emoluments violations.
Extensive and detailed documentation including court records and filings show some of the emoluments violations investigated, documented, and properly filed by Hallett to the Senate Judiciary Committee (Lindsey Graham), as well as to President Donald J. Trump, exposed an international child trafficking operation connected to Jeffrey Epstein, Ghislaine Maxwell, and the Biden family's criminal cartel operations in Ukraine.
Hallett's filings involved emoluments violations that were supporting child trafficking operations, and described a child harvesting operation that utilized organized crime operatives that work within the American [Unconstitutional] legal system such as BAR attorneys, Family Courts and licensed State agencies such as Child Protective Services (CPS), corporate police, doctors, and others, to kidnap babies and children from their parents without Due Process of Law.
For example – one set of filings by Hallett was in regards to emoluments violations by BAR members and law enforcement in Florida and Minnesota who conspired to improperly/illegally/unlawfully use their position(s) to kidnap an award-winning news reporter and FBI witness from Minnesota named Timothy Charles Holmseth who uncovered evidence of the international child trafficking operation and CPS kidnappings.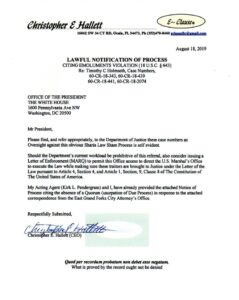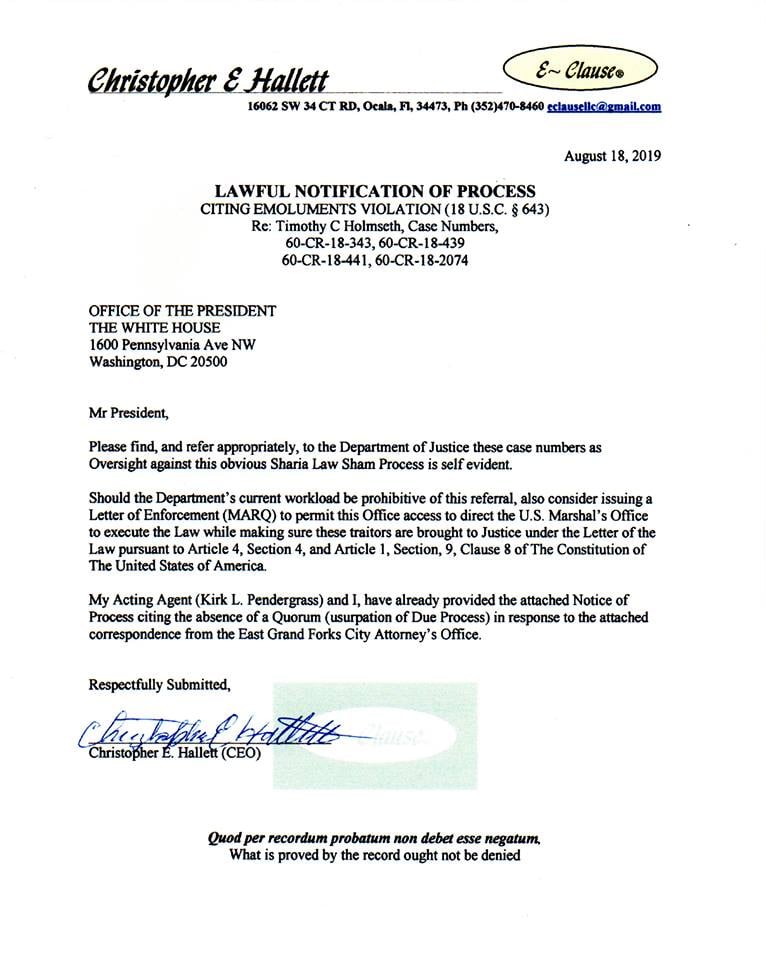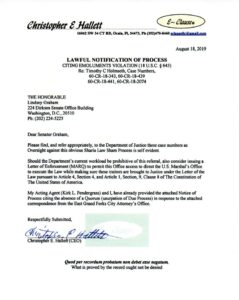 Official records with the Florida BAR Association and States Attorney's Office(s) in Florida reveal somebody desperately wanted Hallett stopped.
One of the people that desperately wanted Hallett to stop performing audits regarding emoluments violations is a woman named Alexandria Goddard.
Hallett possessed a video, which he shared with the Florida Supreme Court, that captured Goddard acting as an Agent of a Principle for whom she (Goddard) commits crimes. 
On January 17, 2020 Ghuinse L. Coaxum, BAR counsel to the Florida BAR Association, sent a letter to the Office of the State Attorney in Ocala, Florida regarding an 'Unlicensed Practice of Law Investigation' stemming from a complaint the BAR received from Alexandria Goddard.
The Florida Supreme Court already knows Goddard was acting as Agent on behalf of her Principle.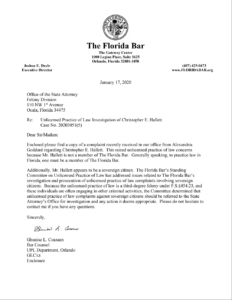 According to documents published by Goddard, States Attorney Brad King declined to pursue the charges Goddard was demanding be filed against Hallett.
After the Hallett murder on November 15, 2020, Goddard appears to taunt Attorney King in a text message she sent to him and then published online.
The background, associations, and Moral Turpitude of Alexandria Goddard is likely to come into sharp focus during both federal and Department of Defense investigations.
While formal investigations by law enforcement and the U.S. Military (jurisdiction on international trafficking) will surely reveal the associations and motives of Goddard – there presently exists evidence that Goddard's actions are both demonic and psychotic.
The following screenshots are images sent by Goddard on Twitter, which she believes she is directing to a Twitter account operated by Timothy Charles Holmseth.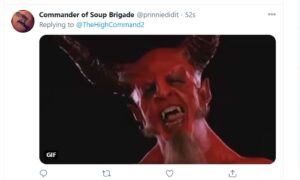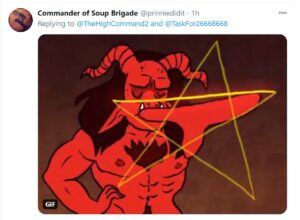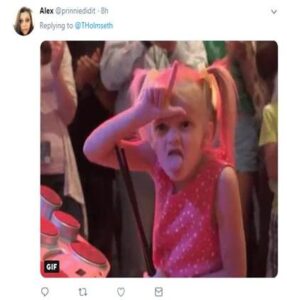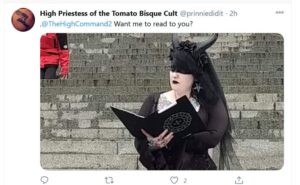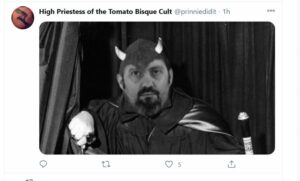 Goddard recently went online during a Livestream by alleged child rapists and serial killer, William K. Murtaugh (Filthy Murt), and requested the public mail Holmseth a copy of the Satanic bible and provided a mailing address to a third party's home.
On September 2, 2020 the website called 'Timothy Charles Holmseth Reports' published 'EXCLUSIVE: Federal Conspiracy Case: IT'S BIGGER THAN FLYNN!'
The following is an excerpt:
~begin~
There is a case developing involving an active Domestic Terror Group that is so huge and completely disturbing, the Flynn case seemingly pales in comparison.
It involves DELTA FORCE and CIA operations on U.S. soil.
It involves… KIDNAPPING, RAPE, MURDER, and ASSASSINATIONS.
~end~
The news piece stated the following:
~begin~
DOMESTIC TERROR GROUP – FEDERAL CRIME 
Evidence shows the massive extortion scheme at work in the United States and abroad involves a vast organized network of identified cyber-stalkers that:
Conspire together with other media (e.g. Daily Beast) to slander, defame, and libel the target
Conspire with social media platforms (e.g. Facebook, You Tube) to remove content published by the target
Use Adobe Elements to fabricate legal records and documents (e.g. find a disturbing psyche report from an anonymous person and write the targeted individuals name into the heading of the document)
Conspire to file false child protection complaints, bear false witness, and engage in various other activities against a targeted individual for the express purpose of having the Targets's child(ren) taken away (kidnapped) by the State
Conspire to have a targeted individual falsely arrested
Host live shows where, online forums are hosted to discuss the real-time GPS location of a target – along with photos of the target's vehicle and license plate
Create bogus websites which are used to libel, slander, and defame their target – often with claims the target is extremely dangerous (e.g. pedophile) and/or has something that is the equivalent of a contagious disease
Threaten the lives and safety of their target and their target's family
Hack computers to steal private information from their target
Contact their target's family, employers, neighbors, business clients, daycare providers etc.
Conspire to orchestrate massive call-ins by groups to file false reports to local, state, and federal law enforcement against their targeted victim and request/demand the victim be arrested
~end~
The following is partial list of identified operatives:
~begin~
CONSPIRATORS (NOT ENTIRE LIST) 
Florida BAR member(s)
Minnesota BAR member(s)
California BAR member(s)
New York BAR member(s)
Police Officers, Deputies, Social Workers, Judges
Steve Quest (a.k.a Roy Warren Marshall, a.k.a. Dale Ellis Bennett, a.k.a MONTAGRAPH, a.k.a October Reignz)
Frank Jardim (a.k.a. Agent 19)
Gerald Brummell (a.k.a. Agent Margaritaville)
Will Sommer, Daily Beast
William K. Murtaugh, Online Reporter and Commentator
Chad Cater, Court Watcher
Alexandria Goddard, Social Media Troll
Levi Page, Online Reporter and Commentator
Craig Sawyer, Vets For Child Rescue
Titus Frost, Online Reporter and Commentator
Michael (Meko) Haze, Online Reporter and Commentator
Ashley Cooper, Troll
DJ Jefani, Troll
Tina Church, Specialized Investigative Consultants Inc
Dodger Stone (You Tube handle)
Tom Morrisey
Rebecca Anne 1965 (a.k.a. Rebecca 1965)
Wild Bill @musicqanon (Twitter)
Reagan
GS Crippler
LKennedy Eskie Mama
Tarkus – kil rush 100
Golden Mare
Non-Sense
Kennedy Verigo
Glows Lightly
Julie Mohler Tremp
Shar PosAtack Covfefe
Grey Moon a.k.a. Agent 19
Marty Lauderdale
Chad Turner
Defango
Fake Reality
Robert Baty
Fake Reality
Alycia Marie
Kevchat 010
Glow 4
Randy Davis
~end~
This is a developing story.
READ ALSO
DEVELOPING: Victim of Florida shooting dubbed the 'QANON Murder' by media was a "Congressional Oversight Defense Contractor" working on matters of NATIONAL SECURITY!
BREAKING UPDATE: Eyewitness who placed Neely Petrie-Blanchard standing over murdered Congressional Oversight Defense Contractor Chris Hallett with a gun – was NOT tested for gunpowder residue by investigators
BREAKING UPDATE: Eyewitness at murder scene of Congressional Oversight Defense Contractor says she could not connect to 911
BREAKING UPDATE: Eyewitness to Congressional Oversight Defense Contractor's murder REFUSED to give detectives her cellphone (and was able to keep it)
About Author