PPTF INVESTIGATION: CIA FINDERS CULT TARGETING MOTHER WHO PROTECTED HER CHILD AFTER ANAL RAPE IN FOSTER CARE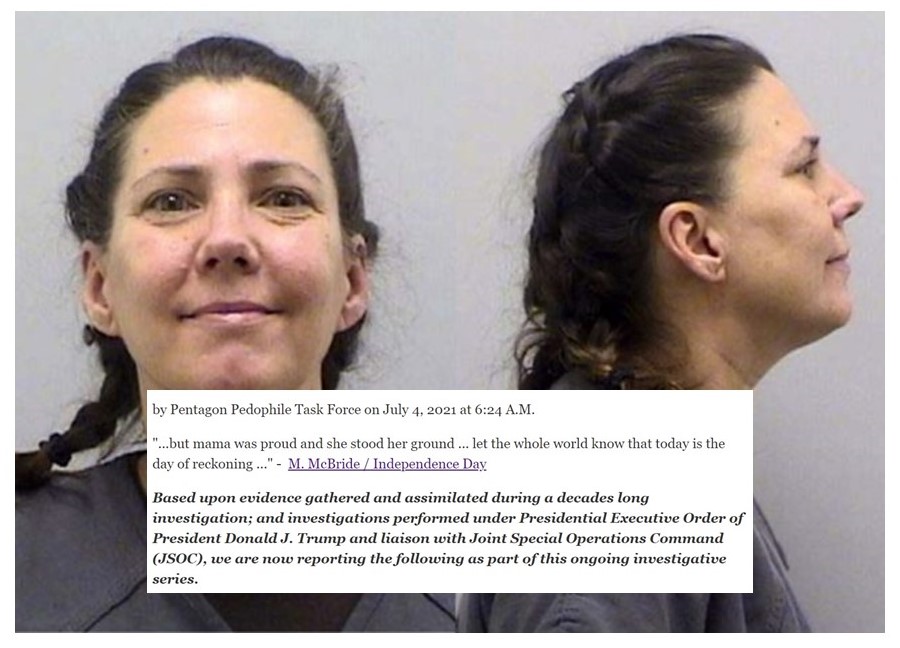 by Pentagon Pedophile Task Force on July 4, 2021 at 6:24 A.M.
"…but mama was proud and she stood her ground … let the whole world know that today is the day of reckoning …" –  M. McBride / Independence Day
Based upon evidence gathered and assimilated during a decades long investigation; and investigations performed under Presidential Executive Order of President Donald J. Trump and liaison with Joint Special Operations Command (JSOC), we are now reporting the following as part of this ongoing investigative series. 
Evidence shows SATANISTS, operatives of the CIA FINDERS CULT, and remnants of the NXIVM CULT, are plotting to tamper with the judicial process in several high profile cases across the United States including the upcoming trial of Colorado mother Cynthia Abcug.
For a summary of the Abcug case read – UPDATE: Colorado Mom Says Son Reported Abuse in Foster Care and CPS Sent Him Back for More BY MEGAN FOX AUGUST 12, 2019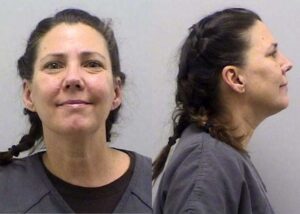 The group's plan against Abcug involves a larger CIA operation targeting Boeing Whistleblower Field McConnell, as well as American mother Neely Petrie Blanchard, who is accused of murdering congressional defense contractor Christopher E. Hallett (Hallett was exposing a world-wide human trafficking operations and tracking COVID 19 financial source codes around the world).
The overall plan of the FINDERS is to create the (false) appearance of an international child trafficking operation connected to QANON that implicates Hallett who was assisting mothers who had their children kidnapped by CPS and government agencies via a Sharia Law Scam called  Family Court.
Hallett also reported the Sharia Law Scam used to kidnap investigative news reporter and FBI witness Timothy Charles Holmseth after Holmseth uncovered the Clinton/Biden/Epstein/Ukraine black market baby sales operation.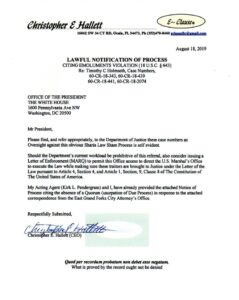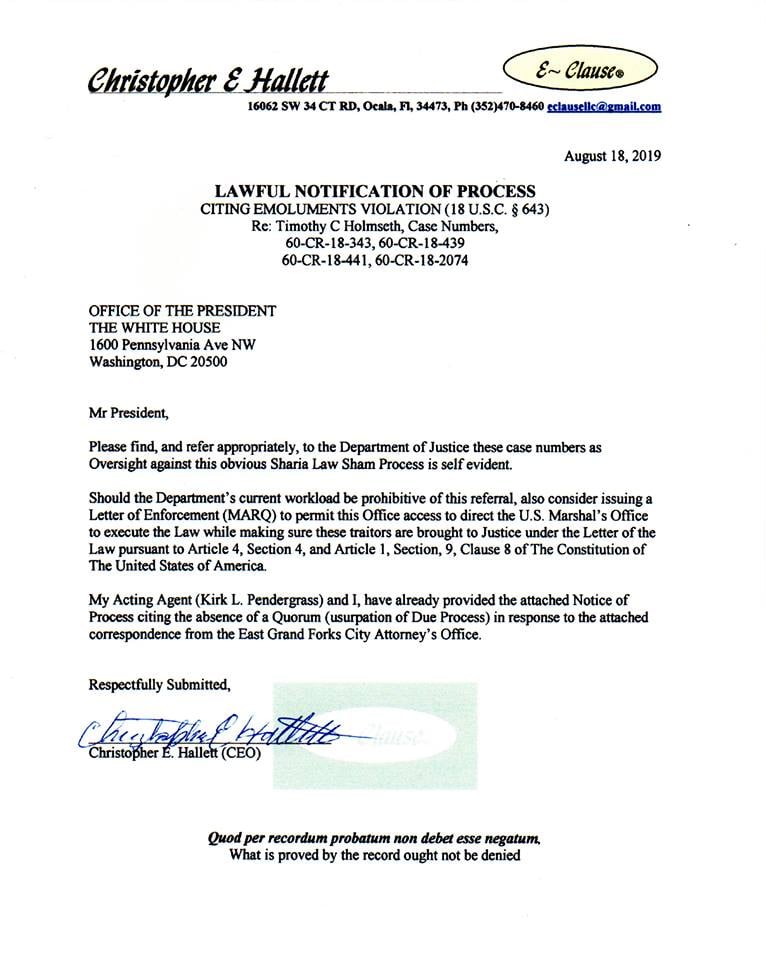 Evidence, which includes past pattern and practices by identified FINDERS and self-professed Satanists, shows the FINDERS plan to obtain witness lists, the names of jurors, to torture and extort victims for false testimony, and to infiltrate the court, as they execute a FINDER operation to assure Abcug does not get a fair trial.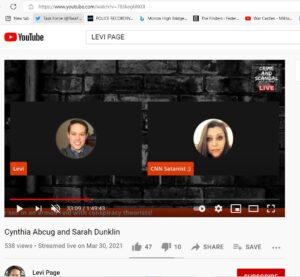 Abcug faces trial next month in Colorado for allegedly plotting to kidnap her own child.
Evidence shows Abcug was desperately trying to protect her little son from sexual abuse that was happening to him while he was in foster care. Evidence further shows Abcug was targeted for an orchestrated arrest by operatives of the CIA FINDERS who are attempting to avoid prosecution for their crimes, and to protect their CPS (Child Protective Services) based child trafficking scheme.
Yesterday, William K. Murtaugh, 70, Apopka, Florida, announced during an online meeting with other Finders that he is traveling to Colorado to 'cover' the Abcug trial.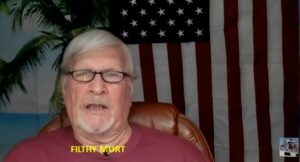 Murtaugh is not a news reporter. Murtaugh is a retired truck driver with rotten teeth who lives on social security in a 30 year old trailer home with no air conditioning. Some videos have shown bugs crawling on the furniture behind Murtaugh. He often begs for money on his livestream and laments his income and dirty lifestyle.
However… Murtaugh claims to be the darling of the FBI.
Murtaugh travels by air around the country, rents vehicles, and lodges, as he meets with FBI agents in federal buildings. Murtaugh announced he traveled to Minnesota and met with FBI agents for several hours. Murtaugh often suggests that he, himself, is a federal agent.
Evidence shows Murtaugh's FBI meetings are operations of the FINDERS who are coordinating with Hillary Clinton's former personal security guard, accused human trafficker and accused pedophile, former Navy SEAL Craig Randal (Sawman) Sawyer) (Veterans For Child Rescue Inc).
Sawyer's Board of Advisors includes Bob Hamer who claims he was an undercover pedophile for the FBI.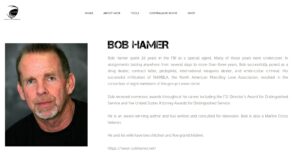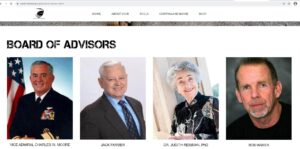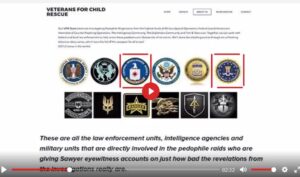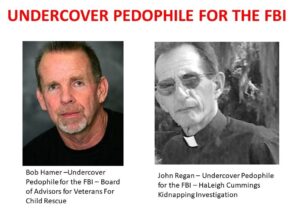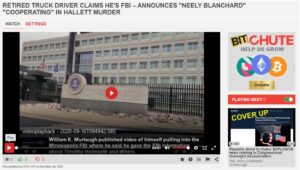 Murtaugh has an extensive documented history of nefarious involvement with missing children and child abuse cases.
Murtaugh made the mainstream news in Florida after he published what was called "The Caretaker Letter" wherein he announced he knew the identity of the person who kidnapped missing child Trenton Duckett. Chat logs also surfaced bearing Murtaugh's user name wherein a man claiming to be Murtaugh bragged that he murdered Trenton Duckett, as well as other children who he said he raped to death.
Note: Murtaugh is presently being looked at by our investigators, along with John Taylor, Virginia, as possible suspects in the murder of Liberty German and Abigail Williams in the Delphi, Indiana railroad bridge murder case.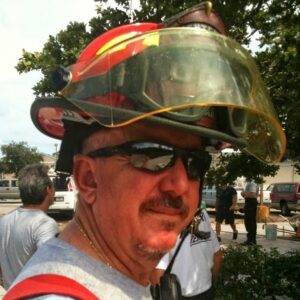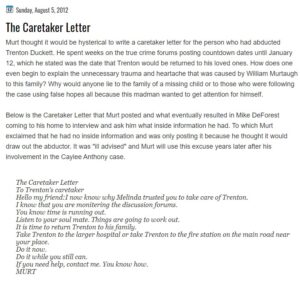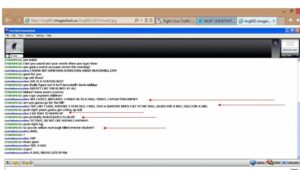 STD8DOPO102: you rape anymore children?
murtwitnessonelive: NOT LATELY. BEEN BUSY. I MIGHT GO TO A MALL TODAY, I AM GETTING HORNEY.
STD8DOPO102: Are you gonna go for the kill?
murtwitnessonelive: YUP, LIKE I SAID, ANOTHER 3 YEAR OLD. I WILL TOSS A QUARTER WHEN I GET TO THE MALL…HEADS FOR A BOY TAILS FOR A GIRL
STD8DOPO102: yeah right you're gonna get a blow up doll
murtwitnessonelive: I DO THAT TO WARM UP
STD8DOPO102: you probably fucked justice to death
murtwitnessonelive: TO TIGHT. DO NOT LIKE ANIMALS ANYWAY
STD8DOPO102: yeah right fag
STD8DOPO102: so you're mr. William murtaugh killed trenton duckett
murtwitnessonelive: UHIH
STD8DOPO102: ?
murtwitnessonelive: YUP
STD8DOPO102: that's good
murtwitnessonelive: YUP, A GAS
STD8DOPO102: a gas?
murtwitnessonelive: A GAS, MEANS LOTS OF RUN
STD8DOPO102: lurk moar
STD8DOPO102: you do caylee to?
murtwitnessonelive: NOPE, MOM BEAT ME TO IT
STD8DOPO102: but you wanted to? Would you have did her sexually?
murtwitnessonelive: SURE
STD8DOPO102: how much money did you get in donations?
murtwitnessonelive: LOTS, GOIN TO THE POORHOUSE