Florida Gov. Ron DeSantis is HUSH HUSH about child trafficking evidence he received from former Minnesota judge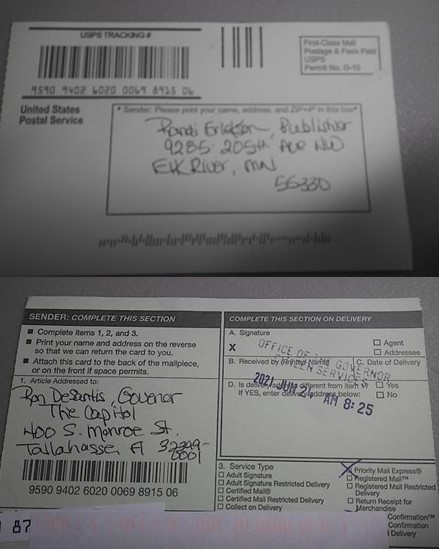 by Pentagon Pedophile Task Force on June 22, 2022, at 11:30 A.M. – USA
Evidence shows Florida Governor Ron DeSantis received evidence of international human trafficking from a former Minnesota judge who escrowed the evidence.
DeSantis appears to be desperately attempting to keep the evidence out of public view. The evidence is connected to the CIA trafficking, blackmail, and espionage operation called THE FINDERS.
On July 24, 2021, the Office of the Governor (DeSantis) signed for the evidence packet which included a sworn affidavit by Erickson.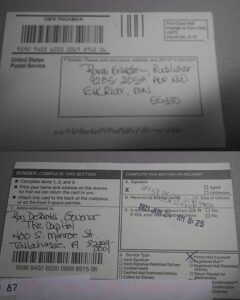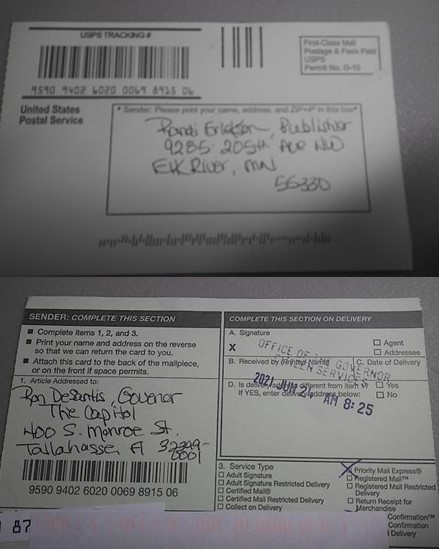 Attorney Peter Ticktin, who represents Donald J. Trump in his RICO action against Hillary Clinton and FBI agents, is reportedly in possession of related evidence.
Records show in 2021, Erickson became a federal plaintiff in Minnesota after she filed for relief from assassination squads trying to murder her, after she escrowed evidence of human trafficking and crimes against humanity.
Federal court records show Erickson entered evidence to the DOD through her JSOC liaison, David Lester Straight, who said he was on Presidential Commissions for "Judicial Corruption" and "Human Trafficking"  under Trump. Straight told Timothy Charles Holmseth he viewed classified video of Mike Pence raping a little boy. Straight said he met with Trump, AG Barr, and had "Secret Service" clearance because he protected "George Bush".
Erickson turned evidence of crimes against humanity over to Fort Campbell, Kentucky.
On February 15, 2022 Droel Law said the following in the Minnesota federal court, "…as well as several murders by Hillary Rodham Clinton in Chicago in the early 1980s, which included the raping, torturing, and eating of children during satanic rituals".
Droel further said, "…and other high-profile individuals, such as Ronald Reagan, Bill Clinton, Joe Biden, Newt Gingrich, Dick Cheney, Dan Quayle, Mike Pence, John Kerry, Muammar Gaddafi, Amy Coney Barrett, and Elon Musk to name a few, as being involved in some Satanic cult that tortures, rapes, murders, and eats children."