FORMER MN JUDGE FILES REPORT TO OHIO SHERIFF THAT SHE RECEIVED A PHOTO OF A VAGINA FROM ADMITTED RAPIST (SHERIFF BRINGS UP FBI AND TRUMP)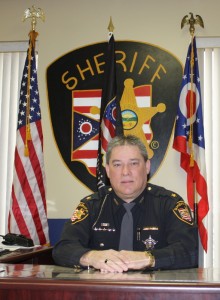 by Pentagon Pedophile Task Force on August 23, 2022 – USA
The following was posted on the Truth Social account of Timothy Charles Holmseth, today.
~begin~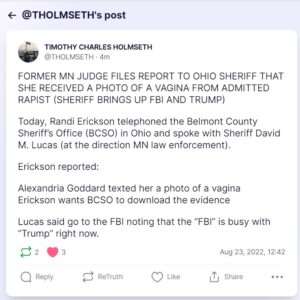 FORMER MN JUDGE FILES REPORT TO OHIO SHERIFF THAT SHE RECEIVED A PHOTO OF A VAGINA FROM ADMITTED RAPIST (SHERIFF BRINGS UP FBI AND TRUMP)
Today, Randi Erickson telephoned the Belmont County Sheriff's Office (BCSO) in Ohio and spoke with Sheriff David M. Lucas (at the direction MN law enforcement).
Erickson reported:
Alexandria Goddard texted her a photo of a vagina
Erickson wants BCSO to download the evidence
Lucas said go to the FBI noting that the "FBI" is busy with "Trump" right now.
~end~
About Author