FOX NEWS interviews former FBI agent about Gabby Petito – FOX doesn't tell public FBI agent is President of a private [secret police] organization called InfraGard

InfraGard for almost two decades now has been at the core of the FBI's outreach to the private sector. It is an association of businesses, of academic institutions, law enforcement agencies, and others who are coming together to share information. – FBI Director James Comey July 7, 2014
by Pentagon Pedophile Task Force on October 2, 2021 at 7:26 P.M.
On September 30, 2021 FOX NEWS published a video of Neil Cavuto interviewing a woman named Maureen O'Connell about the Gabby Petito murder investigation. The investigation involves the 24/7 coverage by the mainstream media of the manhunt for Brian Laundrie.
O'Connell was billed in the headline as "Former FBI Agent" and made predictions about Laundrie being arrested alive soon.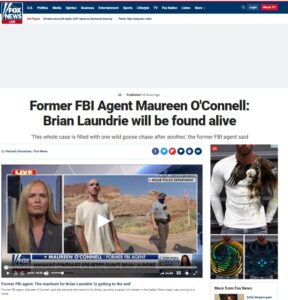 What FOX NEWS did not tell you should shake you to the core.
O'Connell's bio says she retired from the FBI in 2016 and became the CEO of her own company called MOA – Maureen O'Connell and Associates.
"I was also named the National President of InfraGard National Members Alliance, the FBI's critical infrastructure protection outreach group," O'Connell's bio said.
The following is on the cover page of InfraGard.
~begin~
Welcome to InfraGard
InfraGard is a partnership between the Federal Bureau of Investigation (FBI) and members of the private sector for the protection of U.S. Critical Infrastructure. Through seamless collaboration, InfraGard connects owners and operators within critical infrastructure to the FBI, to provide education, information sharing, networking, and workshops on emerging technologies and threats. InfraGard's membership includes: business executives, entrepreneurs, lawyers, security personnel, military and government officials, IT professionals, academia and state and local law enforcement—all dedicated to contributing industry-specific insight and advancing national security.
~end~
The Pentagon Pedophile Task Force STRONGLY ENCOURAGES the American public to read and STUDY the following document  "INFRAGARD".
The Great Awakening is upon us.
NOTHING CAN STOP WHAT'S COMING. NOTHING.