Ghislaine Maxwell's secret 'husband' is CEO of worldwide SHIPPING [HUMAN TRAFFICKING] company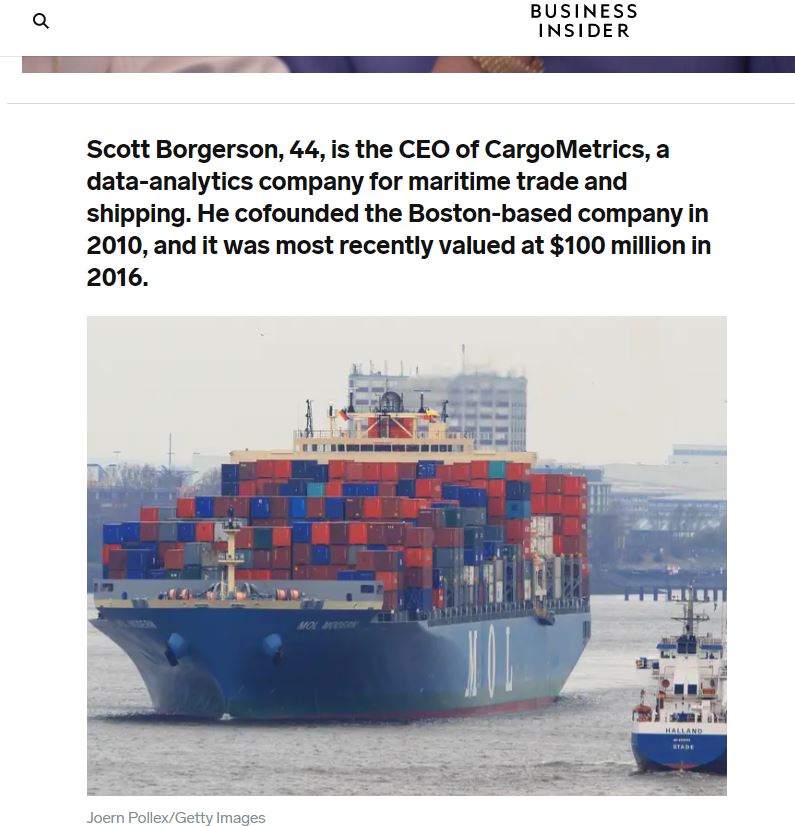 by Timothy Charles Holmseth on July 18, 2020 at 11:57 A.M.
EVIDENCE: Ghislaine Maxwell's secret 'husband' is human trafficking with cargo ships using technology at a scale never-before-seen in the history of mankind.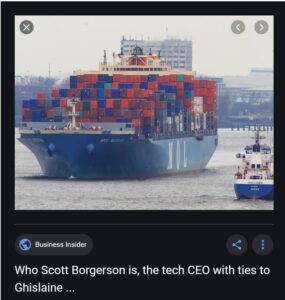 News outlets across the world are reporting Jeffrey Epstein's child procuring madam, Ghislaine Maxwell, is married to a man named Scott Borgerson.
"Scott Borgerson, the CEO of a tech company called CargoMetrics, has been tied since last year to Jeffrey Epstein's alleged madam Ghislaine Maxwell, who authorities arrested in early July," Business Insider reported.
"Scott Borgerson, the CEO of a maritime analytics company, is back in the news for his ties to Jeffrey Epstein's inner circle," Business Insider reported.
On March 14, 2020 CargoMetrics published the following:
A Peek Inside CargoMetrics' Bid To Build The 'NSA of Global Trade'
Greg Miller, senior editor | 14 March 2018
An aura of mystery has long surrounded CargoMetrics Technologies, a Boston-based quantitative hedge fund that uses ship-movement data to place market bets and has secured financial backing from private-equity giant Blackstone, famed investor Paul Tudor Jones, Google founder Eric Schmidt, Israeli shipping magnate Idan Ofer, and most recently, Maersk Tankers.
CargoMetrics is monetising its vast dataset via three business strategies: a hedge fund, a commercial management optimisation business, and eventually, a sale of access to the database to subscribing customers.
"What I'm trying to build is the 'NSA of global trade'," he said, referring to America's information intelligence agency, the National Security Agency. "We have a real-time digital map of the global economy. But more importantly, we have a data archive. More than the patent and the first-mover advantage and the dozens of rocket scientists [on staff], this is the biggest barrier to entry [for a competitor]. We save all the data we receive. We have hundreds of billions of historical records in a searchable database. Think of it as a Google search for trade – except it's secret."
THE DATABASE
The Pentagon Pedophile Task Force (working under Joint Special Operations Command) discovered actionable evidence (turned over to the Department of Defense) that showed the coordination of world-wide human trafficking has been expanded to a massive database that includes every conceivable factor of a human life (e.g. bloodline, DNA, genetics) including medical records.
For instance/example – the pregnancy of an expecting mother is tracked, and her baby (and or any other children she has) can be acquired (kidnapped) by the corporate apparatus (State licensed CPS; State licensed police; State licensed [privatized] [family] courts; State licensed hospitals; etc)  in place to obtain children for trafficking.
The Pentagon Pedophile Task Force has evidence humans are being transported on/in cargo ships and barges.
The database used to track/target/victimize/traffic the population is linked to OBAMACARE.
President Trump issued Executive Orders wherein he ordered the trafficking operations to be shut down. The DOJ, Department of Defense, and other federal agencies have engaged the enemy and are shutting down the operations.
Believe in me I'm with the High Command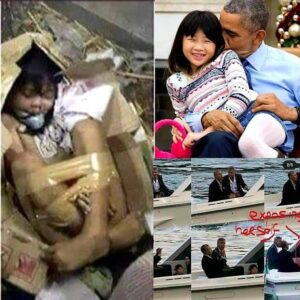 About Author