GOV. MIKE DEWINE 'REPORTER ARREST' SCANDAL MIGHT HAVE BEEN STAGED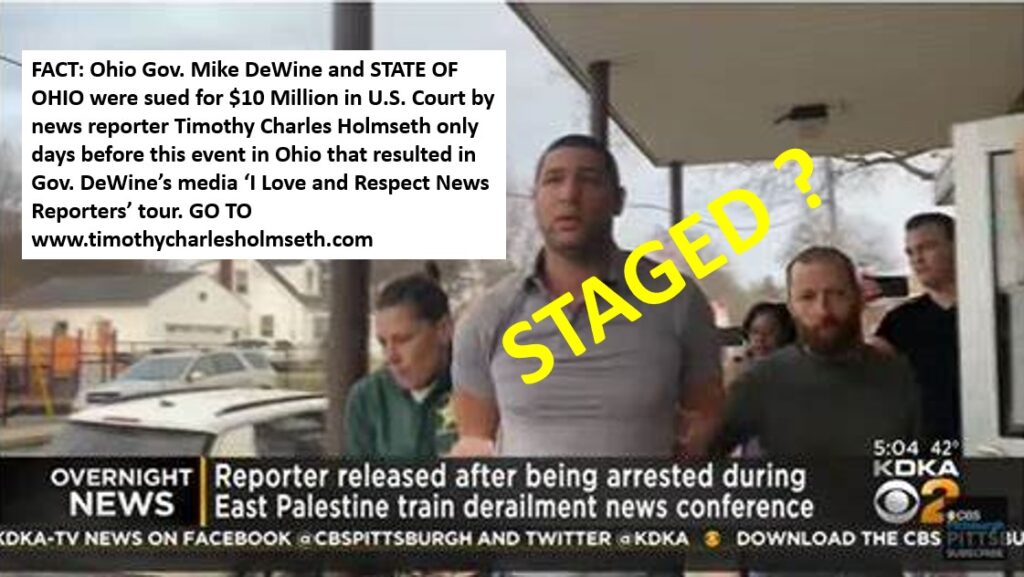 by Pentagon Pedophile Task Force on February 10, 2023 – USA
Is there a secret reason Ohio Governor Mike DeWine may actually have been quite pleased to launch his 'I Love and Respect News Reporters and Would Never Conspire Against Their Rights' tour?
Would a federal injunction and lawsuit for $10 Million against DeWine and STATE OF OHIO filed by news reporter Timothy Charles Holmseth, only days before the high-profile controversial arrest of News Nation news reporter Evan Lambert during a DeWine press conference, have anything to do with DeWine's tour?
The timeline of events leading up to the arrest of News Nation reporter Evan Lambert on Wednesday, February 8, 2023, in Ohio, is creating very serious questions.
Emerging evidence is revealing the true facts and circumstances surrounding the Lambert arrest may be something different than what is being presented to the public.
Yesterday, Timothy Charles Holmseth posted on TRUTH SOCIAL:
ARREST OF NEWS NATION REPORTER STAGED BY GOVERNOR MIKE DEWINE?
Did Gov. Mike DeWine STAGE an arrest of a news reporter so he could run the TV circuit expressing his dismay about what the cops did and show his support of reporters?
U.S. court records show DeWine and STATE OF OHIO are named in an Injunction by news reporter Timothy Holmseth demanding $10 Million.
Shortly after the filing, the arrest of a News Nation reporter occurred, and DeWine began his 'I Love News Reporters' tour.
~end TRUTH SOCIAL post~
Today, Holmseth posted on TRUTH SOCIAL:
Confirming a source very close to the case reports…
On February 8, 2023, the U.S. Postal Inspector for Mail Fraud received evidence showing the STATE OF OHIO conspired to use the U.S. Postal Service in a scheme wherein a Court in the STATE OF OHIO printed a mail label so they could use the tracking number to create the false appearance a NOTICE was mailed to an out of state person – BUT THEY NEVER MAILED IT!
The source would not say if the victim was news reporter Timothy Charles Holmseth.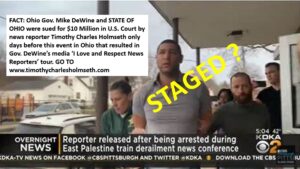 ~end TRUTH SOCIAL post~
In yet another twist, on February 9, 2023, Holmseth posted that he was in communication with the attorney of Richard Allen, the man charged with murdering Liberty German and Abigail Williams in Delphi, Indiana in 2017.
Holmseth said:
DELPHI DOUBLE MURDER: TIMOTHY HOLMSETH HAS SUBMITTED NEW INFORMATION TO THE ACCUSED MURDERER'S ATTORNEY ANDREW BALDWIN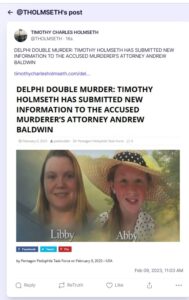 ~end TRUTH SOCIAL post~
The following video also appeared online today.