Hillary Clinton's International secret torture-porn Web – is it MONTAGRAPH'S "Illuminati Data Base?" / Snow White and the Seven Dwarfs CIA server network – Q Posts 143 and 234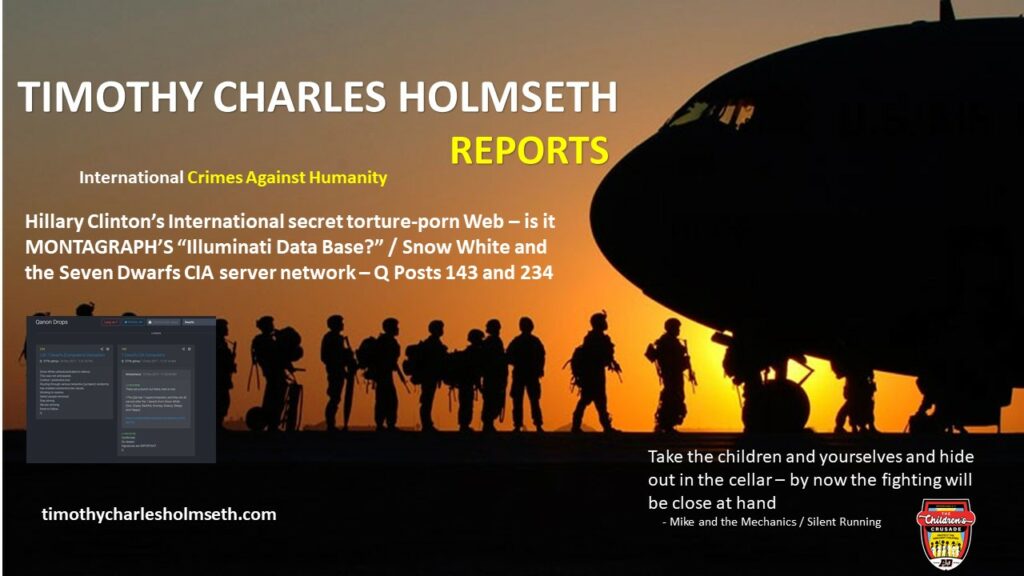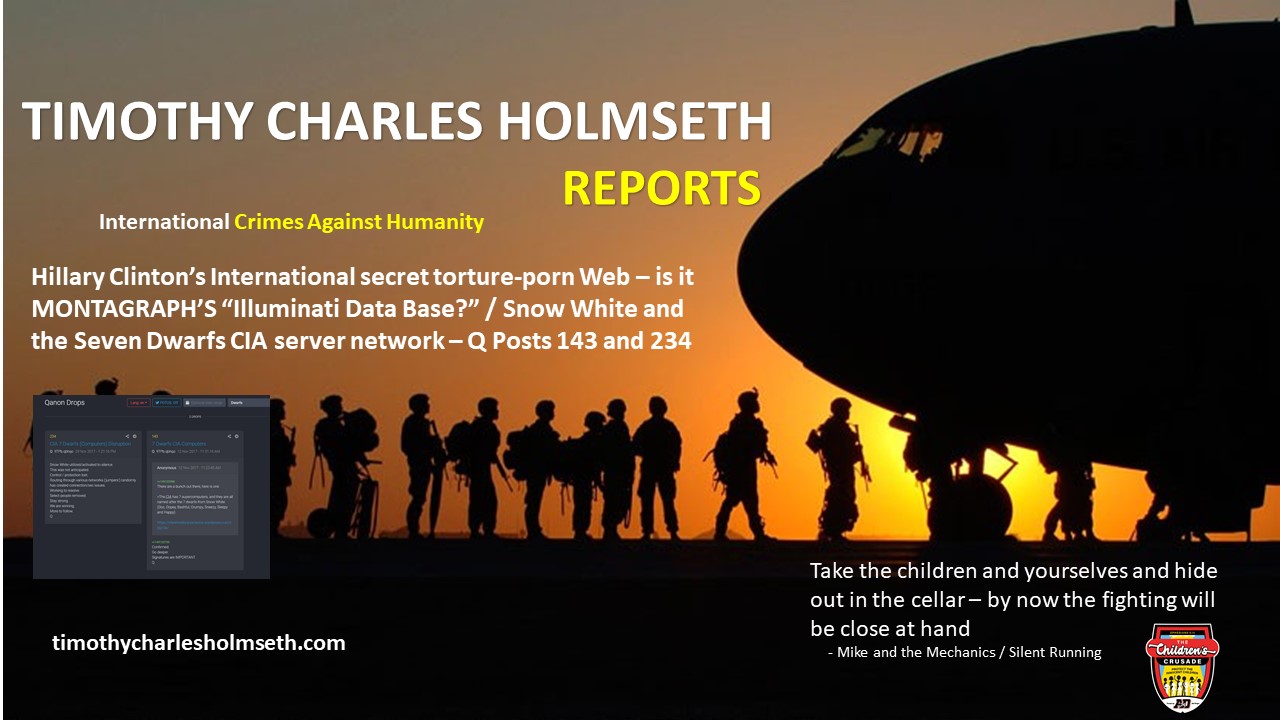 by Timothy Charles Holmseth on December 12, 2019 at 8:20 A.M.
The child torture porn film producer from Colorado called MONTAGRAPH on You Tube who has been Livestreaming ominous (thinly veiled threats)) calls to Joe Biden, Adam Schiff, Trey Gowdy, Lindsey Graham and many others is known to President Trump and his military Generals.
Here's why.
It all involves Hillary Clinton's international Dark Web.
On November 12, 2017 Q confirmed the following from Anonymous "The CIA has 7 supercomputers, and they are all named after the 7 dwarfs from Snow White (Doc, Dopey, Bashful, Grumpy, Sneezy, Sleepy and Happy)"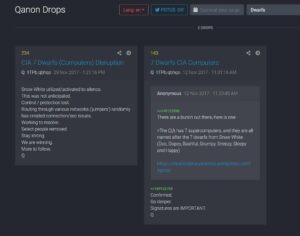 A short time later…
Timothy Charles Holmseth received a telephone call from a federal whistleblower named Kevin Flynn who discovered the secret CIA server network that was being used by the Deep State for everything from spying to pay-per view child torture and murder porn.
Kevin Flynn discovered the network while investigating MONTAGRAPH (a.k.a. Dale Ellis Bennett, Roy Warren Marshall, Steve Quest). Kevin Flynn said MONTAGRAPH was using the CIA server network for pay per view child torture and murder porn.
MONTAGRAPH published a film on You Tube called Little Piggy and the Umbrella Man. The small girl in the video has never been identified by law enforcement.
Kevin Flynn reported what he discovered to General Michael Flynn,  Admiral Michael Rogers, and the Office of the Inspector General at the DOJ using special signatures and trip codes he created.
"The server – the main server that this guy's uses his name is Steve Hyde – he hosts, he basically is the guy that made Alienware gaming computers – but he set up a network himself where he was giving contracts to the DOD to be able to host all of his, like, Skunk Work projects, Lockheed and Area 51 S4 on to servers so it became like the whole Black Operation data vault – but now the DOD knows – it was basically like Hillary and her peoples back door to the entire internet," Kevin Flynn said.
LISTEN TO THE CALL – – –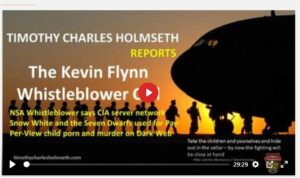 Intro
Tim has been harassed by MONTAGRAPH
Kevin Flynn looked into MONTAGRAPH
Forced to send information about MONTAGRAPH to NSA
MONTAGRAPH involved at Standoff at Wildlife Refuge in Oregon
MONTAGRAPH'S identity
100 pages about MONTAGRAPH
"I am a federal employee" – former U.S. Air Force
MONTAGRAPH'S servers – his racket
Tim's kids
MONTAGRAPH'S real name is Dale
Born in Croatia
Demoralization agent
Pre-loaded credit cards – pay per view watch child born – snuff films
Dark Web
Flynn found the servers – shutting down – one in Virginia – main server in Minnesota
Snow White and the Seven Dwarfs – CIA
Q has been talking about the 7 Dwarfs
MONTAGRAPH threatened someone on Twitter and used his own artork
Sever was linked to seven other servers
Bob Enyart involved
NSA knows about Bob Enyart
www.shadowgov.com
Thunder Road group – George Soros
JonBenet Ramsey MK Ultra basic training obsessions – MONTAGRAPH was probably tazing her
Bob Enyart disinformation campaign
Bob Enyart interest in DNA
DNA evidence at JonBenet scene
MONTAGRAPH symbols is hand – he's mocking everyone that it was his hand-print that couldn't be linked to anyone
Creates sock puppet troll armies
MONTAGRAPH is after Timothy Holmseth
MONTAGRAPH said Kevin Flynn was Timothy Holmseth
God
Department of Justice
Tim's videos are "so awesome!!"
Whistleblower status for government
Save children that are being killed by pedophiles
Kevin Flynn is moniker
NSA shut down server
General Michael Flynn
Used special signatures
Have you read any of the Q posts? – "They're using basically single intelligence codes that we used in the military in order to train a pattern of communication"
Trip codes
"The server – the main server that this guy's uses his name is Steve Hyde – he hosts, he basically is the guy that made Alienware gaming computers – but he set up a network himself where he was giving contracts to the DOD to be able to host all of his, like, Skunk Work projects, Lockheed and Area 51 S4 on to servers so it became like the whole Black Operation data vault – but now the DOD knows – it was basically like Hillary and her peoples back door to the entire internet."
Admiral Michael Rogers
Office of Inspector General of the Department Justice
General Flynn knows Kevin Flynn
Donald Trump knows I am
President's Twitter account hacked to try to track president to kill President in China
General Flynn's Twitter hacked – tracking his location
Julian Assange
Bob Enyart's church – false flags – MK Ultra programming
Kevin Flynn was protecting Timothy Holmseth
Kevin Flynn loves his son
Kevin Flynn said Trump is changing things
100% Pro Trump
There's a light
MONTAGRAPH shut down
Shut down server in United Kingdom
Kevin Flynn prays and thanks Jesus for bringing Kevin and Timothy together and prays for protection
About Author