Mike Pence on the 20/20 Presidential ticket? – read between the lines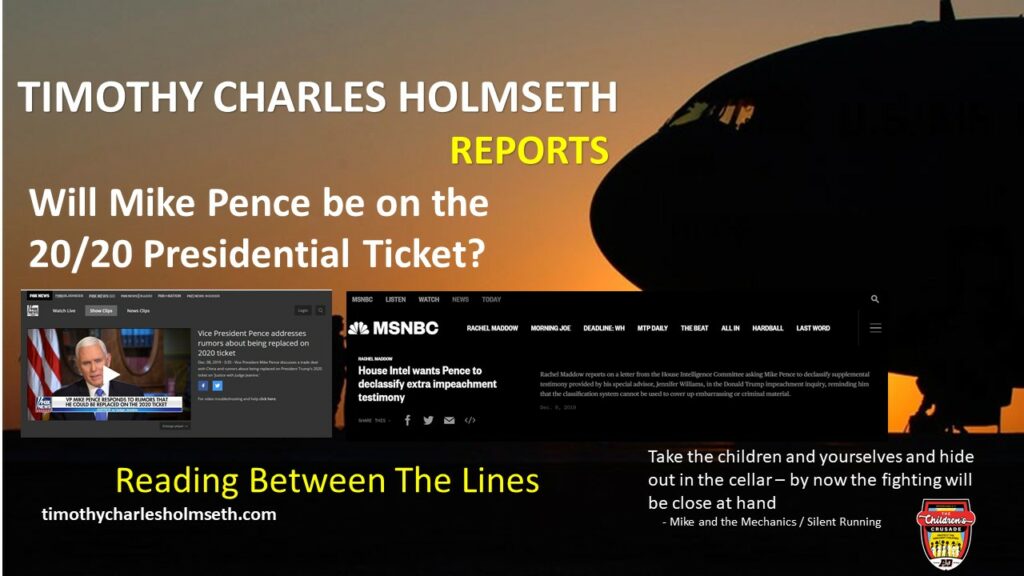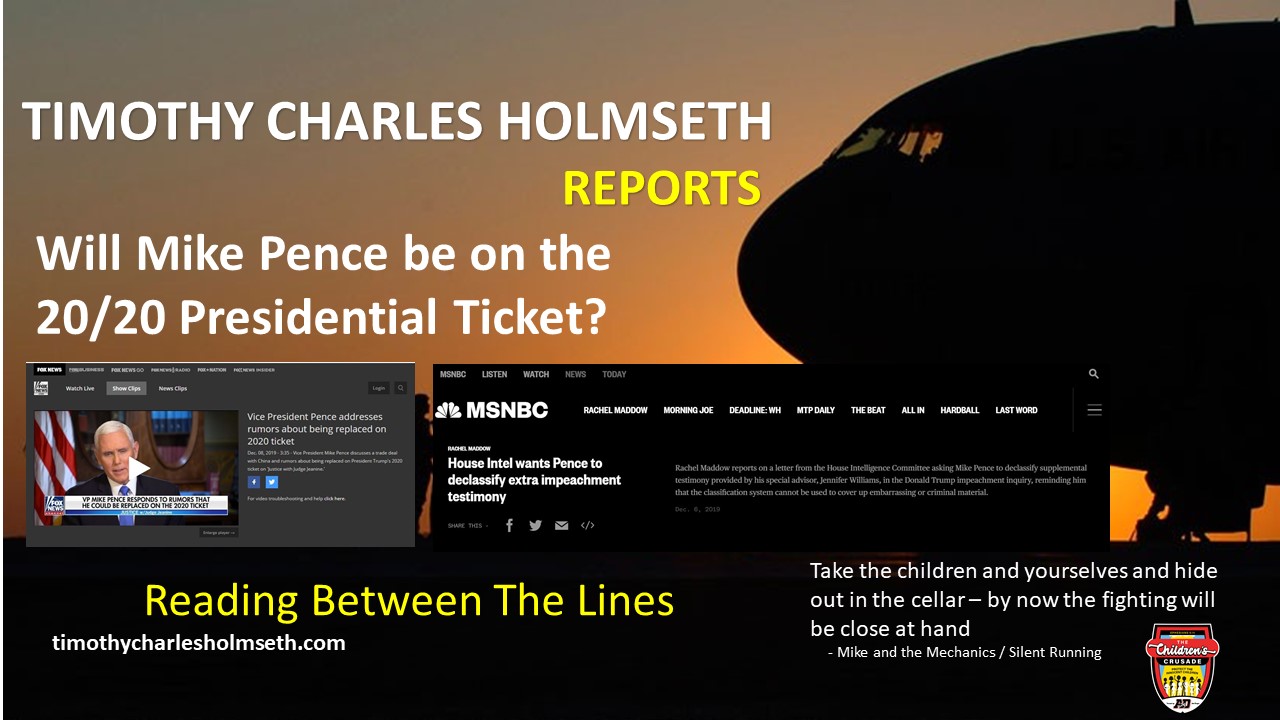 by Timothy Charles Holmseth on December 9, 2019 at 11:58 A.M.
On December 6, 2019 MSNBC reported on a letter send to VP Mike Pence "reminding him that the classification system cannot be used to cover up embarrassing or criminal material."

On December 7, 2019 Jeanine Pirro on FOX talked to VP Pence about the Ukraine scandal.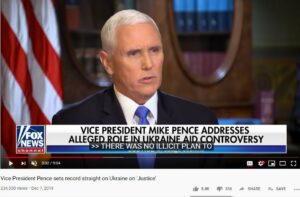 Yesterday, FOX published Jeanine Pirro asking VP Pence yesterday if he was going to be replaced on the 20/20 ticket.
Pence tried everything he could possibly try to avoid answering Pirro's question.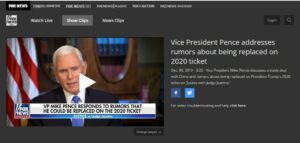 So, what's going on?
I know what's going on.
And Mike Pence knows that I know what's going on.
I am constantly asked what I know about Pence.
Let's do it this way.
Let's talk about National Security.
But before that – let's just get this out of the way.
According to my Pentagon level sources (higher than that actually), Mike Pence traveled to Minnesota in May, 2019 to conspire against me. The State of Minnesota was attempting to imprison me forever (or kill me) because I am an award-winning news reporter and I uncovered a black-market baby sales operation being run through the Ukrainian Embassy. READ THIS – – –  Q – PROJECT AMBITION – Baby sold by CIA operatives connected to Hillary Rodham Clinton – https://timothycharlesholmseth.com/q-project-ambition-baby-sold-by-cia-operatives-connected-hillary-rodham-clinton/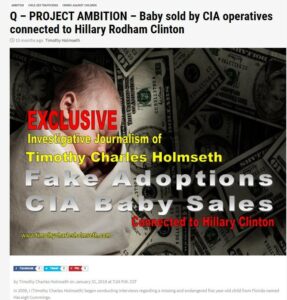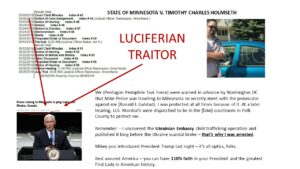 I'm the only news reporter in the whole world to report about the babies being sold through the Ukrainian Embassy – and I reported it long before the Ukraine Scandal broke in the news.
I have it all on tape, too.
Is that story I wrote about the Ukraine black market baby sales something the Vice President of the United States should be angry about?
On October 30, 2019 a man who goes by the name MONTAGRAPH on the Web was wearing a COMCAST jacket when he announced he'd obtained Mike Pence's cell phone number and was going to call him.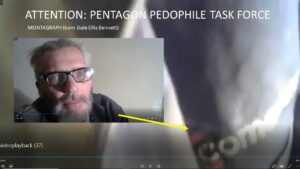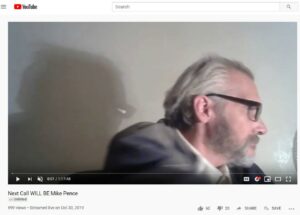 Was MONTAGRAPH bluffing?
Not really – considering he has Livestreamed his menacing ominous calls to Lindsey Graham, Adam Schiff, Joe Biden, Trey Gowdy, Ellen Lord at the Pentagon an many more.
So who is MONTAGRAPH?
MONTAGRAPH is a child torture film producer (see Little Piggy and the Umbrella Man) from Colorado who boasts he can obtain any telephone number in the world. He recently began Livestreaming himself making ominous telephone calls to U.S. Congressmen and high-level officials while ominously mentioning his "Illuminati data base" and boasting he had information that people would not want anyone to see such as 'trips to Thailand'.

My Pentagon source told me MONTAGRAPH and his counterpart Agent 19 are under federal investigation.
And then there's this…
An NSA Whistleblower who called himself Kevin Flynn telephoned me and told me identified the secret network of CIA servers MONTAGRAPH was using for a Pay-Per-View child torture and murder site on the Dark Web. Yes – there is a rumor the caller was Edward Snowden, but I have not been able to confirm that. The caller said he reported the information about the servers (called Snow White and the Seven Dwarfs) to General Michael Flynn and Admiral Michael Rogers. He said the main server is in Minnesota.
MONTAGRAPH's present legal name is Steve Quest, but, he was born Dale Ellis Bennet; he then changed his name to Roy Warren Marshall and then to Steve Quest.
"Montagraph or Montagraphy is Dale Ellis Bennett/Roy Warren Marshall/Steve Quest. He has changed his name three times since the death of JonBenet Ramsey. I believe he had something to do with it," said my source, Pentagon 1.
That's interesting, because Kevin Flynn told me he believed MONTAGRAPH was the man tazing JonBenet Ramsey with a stun gun the night she was murdered.
I wonder what MONTAGRAPH was going to talk to Mike Pence about? MONTAGRAPH even boasted he was going to deliberately provoke Pence's Secret Service detail to come to his home so he could show them secret files.
MONTAGRAPH even boldly stated he believed former FBI Director James Comey may be the infamous John Doe # 2 who was with Timothy McVeigh at the Oklahoma City bombing.
Wow.
He's got some stuff, eh?
Who was in the videos MONTAGRAPH talked about regarding "trips to Thailand?"
There's a lot of questions that need to be answered.
Perhaps we have to search for the truth beginning with this question.  What does MONTAGRAPH have in his "Illuminati data base"?
House Intel Wants Pence to declassify extra impeachment testimony – – – Rachel Maddow reports on a letter from the House Intelligence Committee to declassify supplemental testimony provided by his special advisor, Jennifer Williams, in the Donald Trump impeachment inquiry, reminding him that the classification system cannot be used to cover up embarrassing or criminal material.
– MSNBC, December 6, 2019
Maybe someone should ask Mike Pence – let's see if he'll share with the class – then we'll all know.
About Author