HUMAN TRAFFICKING INVESTIGATION of MADYSON MARQUETTE HER NEWS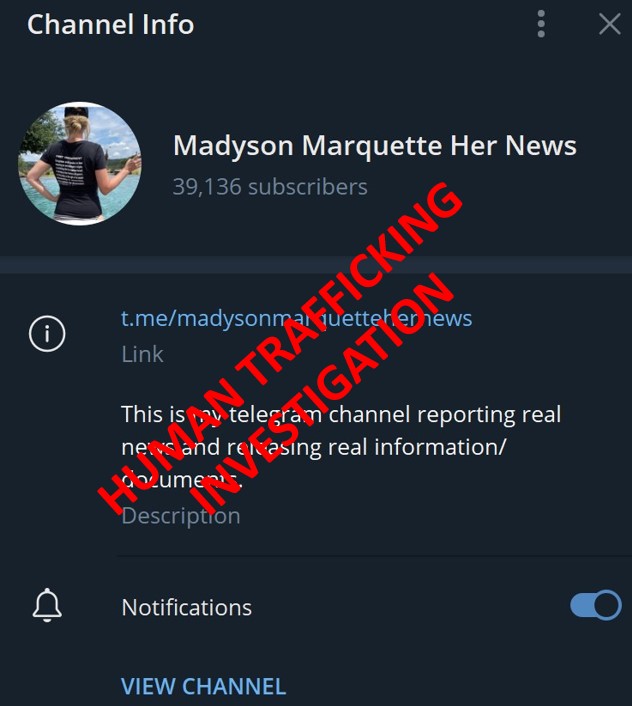 by Pentagon Pedophile Task Force on July 10, 2022 – USA
The following was posted on the GAB account of Timothy Charles Holmseth, today.
~begin~
JOURNALISTIC INVESTIGATION INTO 'MADYSON MARQUETTE HER NEWS'
by Timothy Charles Holmseth – War Correspondent – on July 10, 2022, at 10:22 A.M. – USA
I am releasing preliminary information from my ongoing independent journalistic investigation (I am an award-winning news reporter – First Place with North Dakota Newspaper Association in 2008) into the activities connected to a Telegram channel called Madyson Marquette Her News.
BACKGROUND SUMMARY
My initial journalistic infiltration of an international human trafficking operation began in 2009 when I began to identify the moving parts of an extremely complex system used to enslave actual people; and how the machinery, which is all-encompassing and blankets every facet of life and society, is used to protect the system, itself, from detection and prosecution.
In 2009 I identified an FBI agent who was using the alias "John Regan" (I was interviewed by the FBI about him – the FBI and U.S. Court has records) who was calling himself an "undercover pedophile" for the "CIA" and trafficking babies through the Ukrainian Embassy in Washington DC.
When Donald Trump became President in 2016, I discovered a paramilitary cartel of federal agents and U.S. Special Forces trafficking humans and murdering people. In 2019, David Lester Straight told me he was appointed to three Presidential Commissions by Trump. Straight told me and others (the public) that he was with the "Secret Service". Straight told me he viewed videos of VP Mike Pence raping a little boy. Agent Straight then told me he participated in a rescue mission of 2,100 children caged underground that was conducted by U.S. Marines in California.
In 2020, after a decade had passed since I had sat down with the FBI about "John Regan", I uncovered irrefutable evidence that "John Regan" was overseeing the federal agent-paramilitary trafficking cartel. I also discovered via mainstream news reports that the 2,100 kids existed in reality but, were being trafficked by the U.S. Government (David Straight's story was a cover-story).
Essentially, I learned how the Cartel was cleverly DISGUISING their human trafficking as 'RESCUES'.
Straight was involved with Atty Lin Wood in the events of January 6, 2021 where he swore-in a crowd to indict, arrest, and "hang" members of Congress and VP Mike Pence. He then abruptly fled to Texas with his girlfriend-fake-wife-lover Bonnie Thomas where he gave himself the title of Colonel for Republic of Texas, Texas Rangers. Bonnie Straight became "Counsel General" for Republic of Texas. They set up an "Embassy" and are working with the United Nations. They are now luring people into a new system called State National.
Whoever is operating the Telegram channel located at 'Madyson Marquette Her News' is:
1. Promoting David Straight (and Bobby Lawrence) and State Nationalism
2. Conducting 'rescues' and seeking donations to fund rescues
3. Claims "Madyson Marquette" is testifying at secret Tribunals
~end~
About Author