HYBRIDS-HALF HUMAN-HALF ANIMAL – WHO/WHAT are the "unclaimed victims" FOX NEWS reports being buried on Hart Island in New York?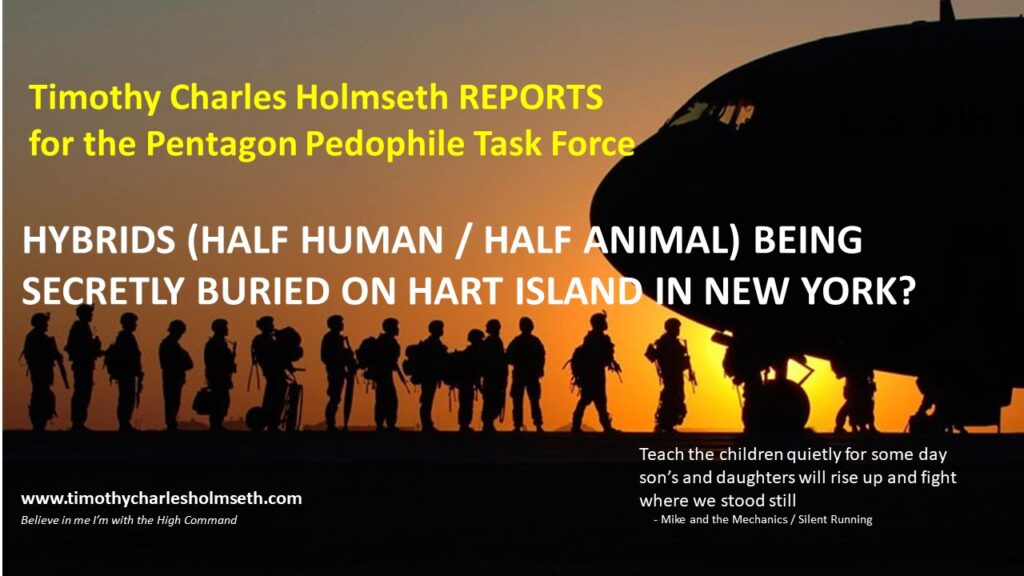 by Timothy Charles Holmseth on April 11, 2020 at 8:00 A.M.
WHO and/or WHAT is being secretly buried on Hart Island in New York?
WHO and/or WHAT are the "unclaimed victims" being reported by FOX, CNN, and CBS News (all outlets attributed in one publication)?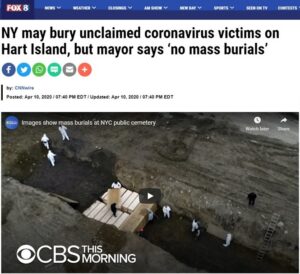 Is the world being lied to about those remains?
Are the remains actually dead children and other 'beings' that are reportedly being brought up out of the tunnel systems under New York's Central Park?
In October of 2019 I reported U.S. Marines rescued 2,100 children from underground in California. My source used famous movie titles to describe what the soldiers found including "It" "The Wizard of Oz" "The Matrix" and "Back to the Future".
According to a source it was "best" some of those beings did not continue to live.
https://www.youtube.com/watch?v=2-x8MgBcenM&feature=youtu.be
Is it impossible to identify the remains of thousands of deceased persons including children and infants that were born underground for genetic experiments, Adrenochrome production, and sex slavery?
How do you mark the grave of a once living being that is part human and part animal as result of mixing genetics?
FOX NEWS reports "unclaimed victims" of the Coronavirus are being buried on Hart Island in New York.
"Mayor Bill de Blasio responded Friday to concerns that mass burials would be necessary because of the high number of bodies caused by the pandemic. Drone photos appeared to show groups of caskets being covered with dirt in long trenches on Hart Island," FOX reported.
Mayor Bill de Blasio said in a tweet, "The heartbreaking numbers of deaths we're seeing means we are sadly losing more people without family or friends to bury them privately. Those are the people who will be buried on Hart Island, with every measure of respect and dignity New York City can provide."
So…
Mayor Bill de Blasio is trying to tell you the Coronavirus is killing massive amounts of people who have NO FRIENDS and NO RELATIVES to privately bury them.
Is there a list of their names?
Because every human being has a name and a life history.
Believe in me I'm with the High Command.
About Author